For a long time, my wife and I have been talking about going to Japan but the timing was never right. However, right around February, she decided to leave her job and I thought it was a great opportunity for us to take a break and fulfill our dream. Happily, she agreed and so I started planning a late March departure, realizing that we were cutting it pretty close.
Initial Planning
I had saved up a lot of AAdvantage miles and Hilton points and wanted as much of this trip to be free as possible. When I started my research, I quickly realized that for us to fly in J to Tokyo, I would have to forget about MileSaver awards, as they were non-existent. But, to my surprise and delight, I could spend just 40k per person to fly to New Zealand from Japan in J, so our trip quickly expanded from being just Japan, to being Japan + New Zealand.
After some toying around with dates, I settled on the following:
3/26: LAX-HND in J for 140,000/person (but then claiming the 10k) on B772
4/4: NRT – BNE – AKL in J on Qantas for 40k/person on A330-200
4/5: AKL – Blenheim on Air New Zealand on ATR 72
4/12: ZQN (Queenstow) – AKL on Air New Zealand on A320
4/13: AKL – LAX in Y on B788, with a SWU applied and a lot of finger crossing
Annoyingly, given the cherry blossom season in Japan, the relevant Hilton properties were insanely expensive in terms of redemptions (and dollars as well), and so I had to book regular hotels and forego taking advantage of free breakfasts for Diamonds. Instead, I booked 3 nights in the Doubletree in Queenstown and 1 night at Auckland Hilton and decided to keep my eye out on the Conrad Tokyo, just in case something popped up last minute.
Change of Plans
I was flying back from New York after a few days of meetings, when I checked my Hilton app and saw that the Conrad had a 95k redemption for a regular room pop up. I've read enough to know that this is not considered to be good value relative to what people have gotten before, but considering that Hilton Tokyo was going for 200k points/night, this seemed a bargain and I always wanted to check out this Conrad.
I basically willed Gogo Wifi to power through enough of the flight, so that I could book this room and cancel my other reservations in Tokyo. I wouldn't regret this decision!
Visas
As my wife is not a US citizen, but a green card holder, she had to apply to get visas for both countries. As I said before, we cut it close with the planning, and the visa component was perhaps the one that caused the most stress. Though she received her NZ and Japan visas four days prior to our departure, I was ready to call the ExPlat desk and reschedule our first flight to Japan, as I feared the snow storm on the East Coast (and the shutting down of the NZ embassy) would prevent us from getting her passport back in time.
Visas, tickets and hotel bookings in hand, we were ready to go.
Departure
I was excited to check out Qantas' new First Class Lounge at LAX, so we made sure to arrive a bit early to explore it all.
Combined with it being my wife's birthday, the whole morning felt extra exciting as we passed through T4 security, walked through the TBIT connector and made our way to the lounge floors. We missed the turn to the F lounge and waited, somewhat impatiently, at the OneWorld Lounge entrance to receive directions. There were two groups of people ahead of us, both flying in domestic J on AA that were trying to gain access and yet the attendant went back to her manager every time to inquire whether to let them in (wrong!) or not (right!). There was quite a line that built up behind us of people who were rightfully annoyed to be waiting for so long.
Anyway, we finally made it into the First lounge and I was quite surprised to see how few people there were, given the number of OW flights departing for international destinations. The OW lounge is usually a lot fuller, while the F lounge maybe had 12 people in it.
We settled down for the cooked-to-order breakfast and a celebratory glass of bubbles. As much as I think the OW J lounge is great, the F one wasn't so much better. It was nice, very nice, but compared to some experiences later on our trip, it wasn't amazing. I also very much enjoy the DIY juice machine in the OW lounge and that's not something that they have in First. Anyway, #firstworldproblems
After breakfast, and some FaceTiming with the folks, we schlepped over to the gate (the flight was departing from T4 instead of TBIT) and managed to be the last ones to board the plane. Our seats on this B772 were in the first row in the middle, which was ideal as we could put the separator down and talk. For some reason, given what Seatguru AND the AA seating chart were showing me, I was expecting us to have rear-facing seats but all the seats on this bird were forward facing.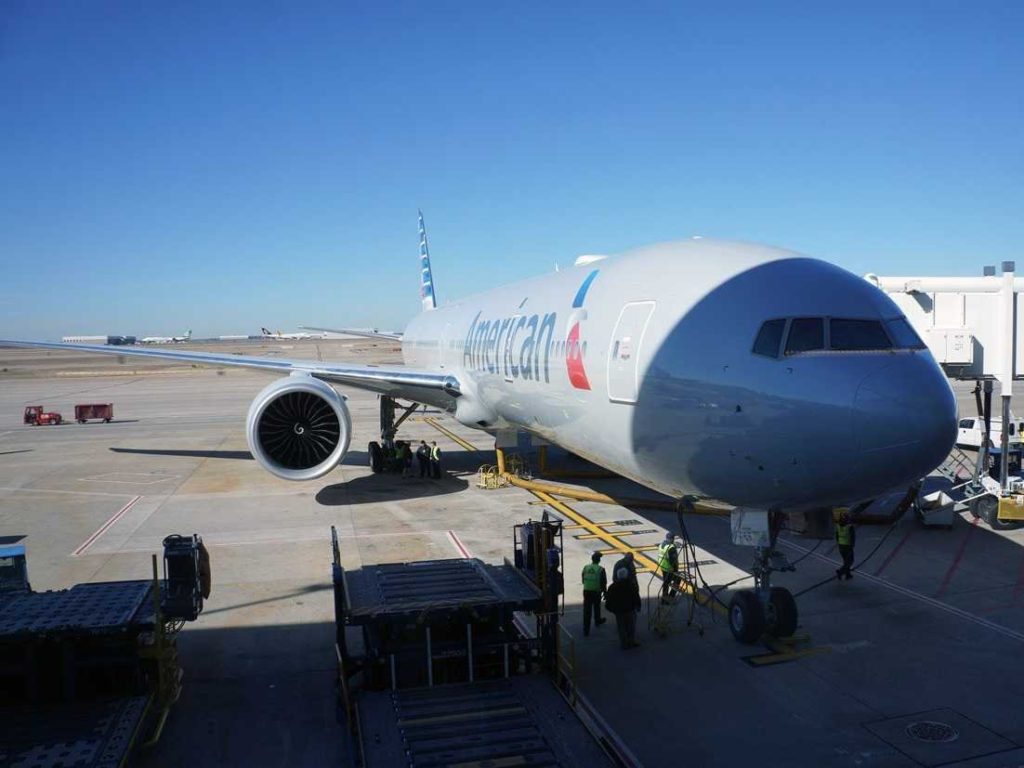 I don't need to describe how spacious and comfortable the new Business Class product is. And you can really feel the extra width on this wide-body. I know that Flagship First is a great product, but J in this case was sublime. It was also the first time that my wife was flying in flatbed J so she was absolutely over the moon with excitement. What better way to mark her birthday than to surprise her with something like this J
The FAs were friendly and attentive. They introduced themselves to us and offered us PDBs. As the plane took off, and we settled in, the meal service commenced. We pre-ordered our choices, with me going for a Japanese meal and my wife for the surf-and-turf. As the FAs were preparing everything, I spoke to one of them about sneaking in a greeting card from me onto my wife's desert tray, which they were only too happy to help with. Needless to say, it brought a huge smile to her and the crew seemed to enjoy doing this for us.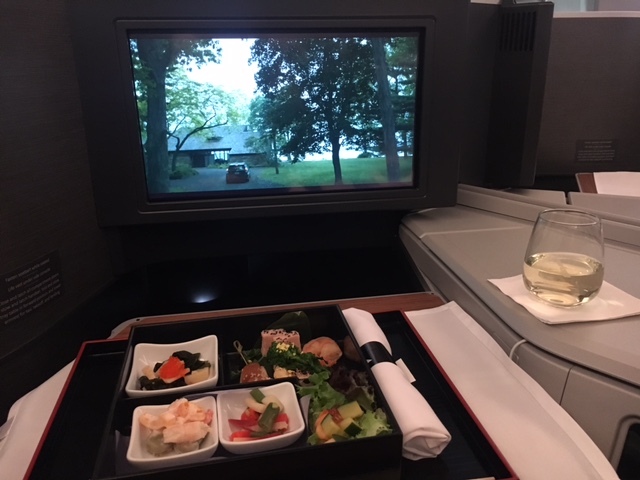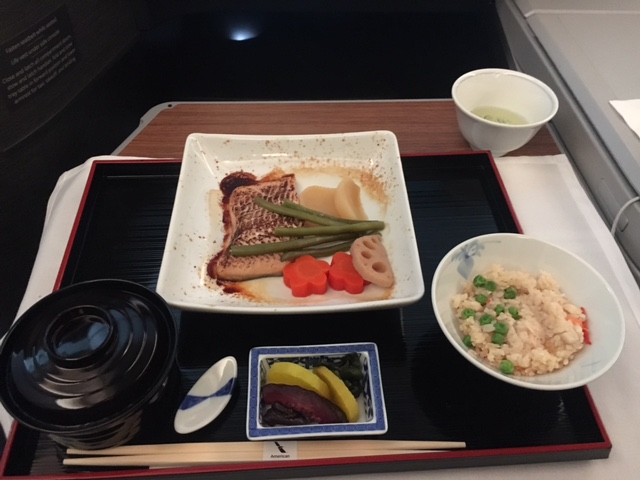 This was also the first time I used wifi over the Pacific. As someone who has to deal with Gogo on weekly basis for my domestic work travel, I was expecting to have better service than what the Panasonic system offered. I heard many good things about its speed, but frankly it wasn't much better than what I usually experience. However, referencing the immortal observation of Louis CK, we are too quick to criticize something that we didn't even know existed five seconds ago. Having internet over the Pacific for less than $20 is amazing and we took full advantage of it, while watching all the recent Oscar-nominated movies and gorging ourselves on food and drinks that were being constantly offered.
The 10 hour flight passed quickly and my wife, who hates flying (well, hated, until she flew on this flight) lamented that it was over too soon and that she was ready to spend another few hours on the plane.
Tokyo
I picked Haneda because of its close link to central Tokyo, and given where we were going to stay, but when we walked out and encountered a bit of the arriving madness, I have to say I appreciated the English speaking staff who were on hand to help those of us who looked a bit like deer in headlights.
For most of our time in Japan, we relied on their amazing public transport system – whether the monorail from Haneda, the metro or the Shinkansen and local trains.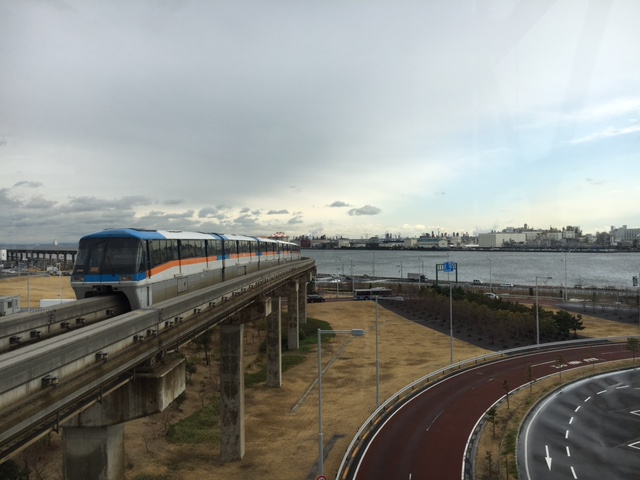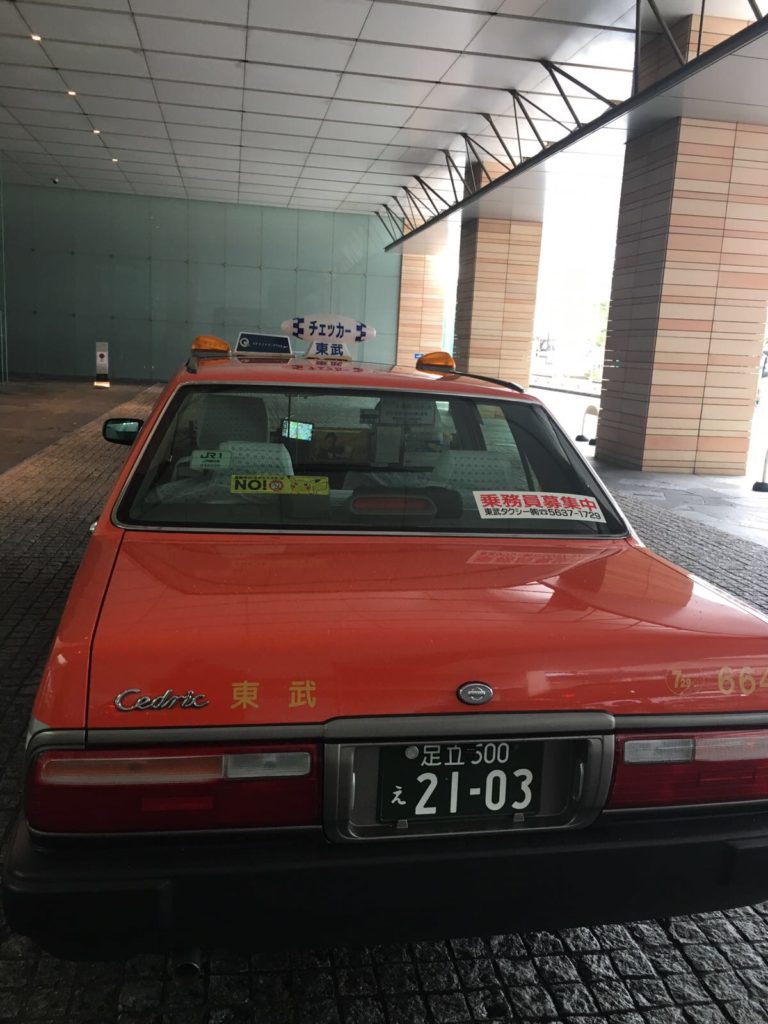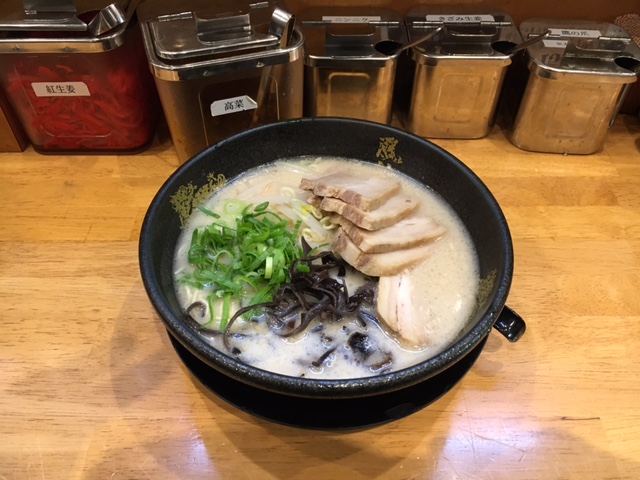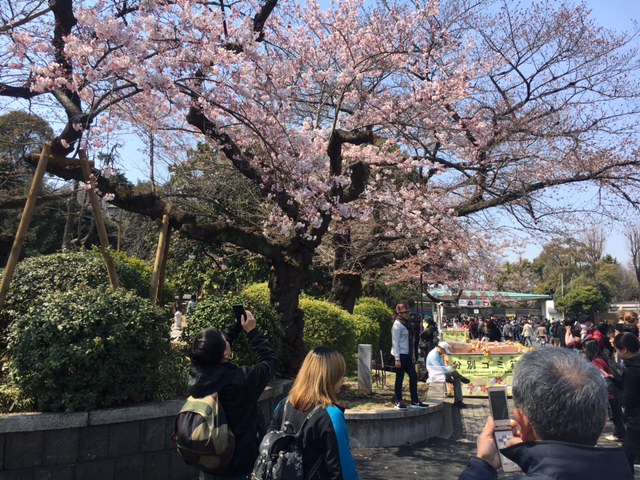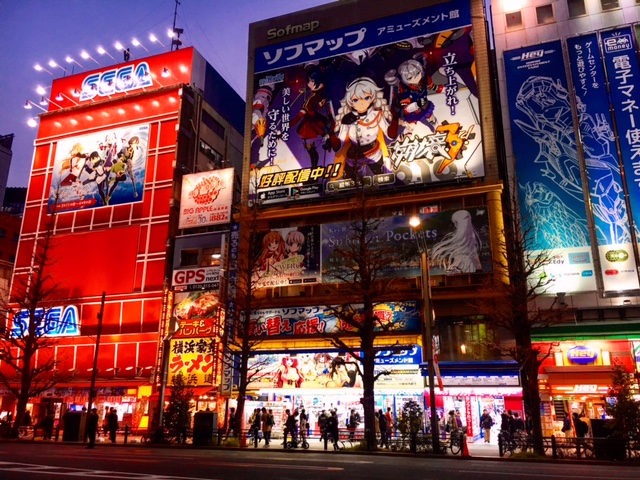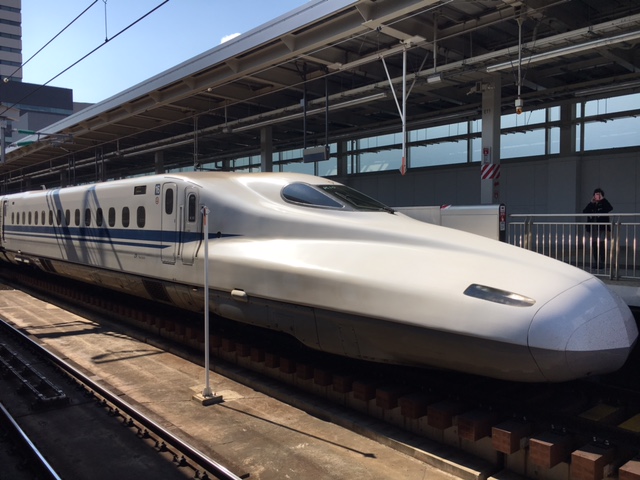 One of the absolute highlights was our stay at The Conrad Tokyo, where we received absolutely royal treatment, thanks to my Diamond status, and got upgraded to an 800 sq ft suite. The room, the shower, the pool on the 25th floor, the executive lounge with fantastic food, champagne and whisky, as well as an unbelievable breakfast the next morning were a travel junkie's version of heaven. My wife, who absolutely did not expect any of this lamented that we actually had plans to go and see a show in Tokyo that evening, as she would have preferred to spend the rest of it in the hotel.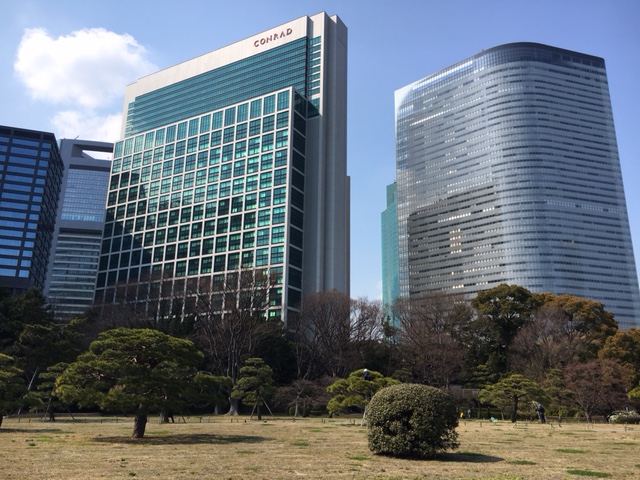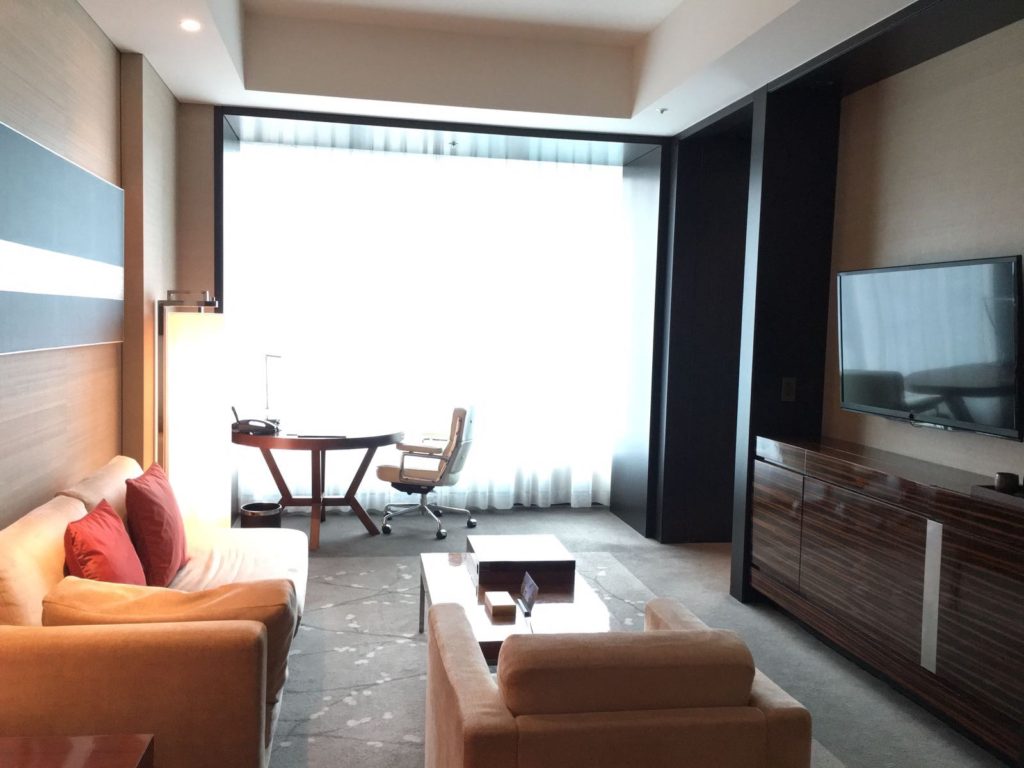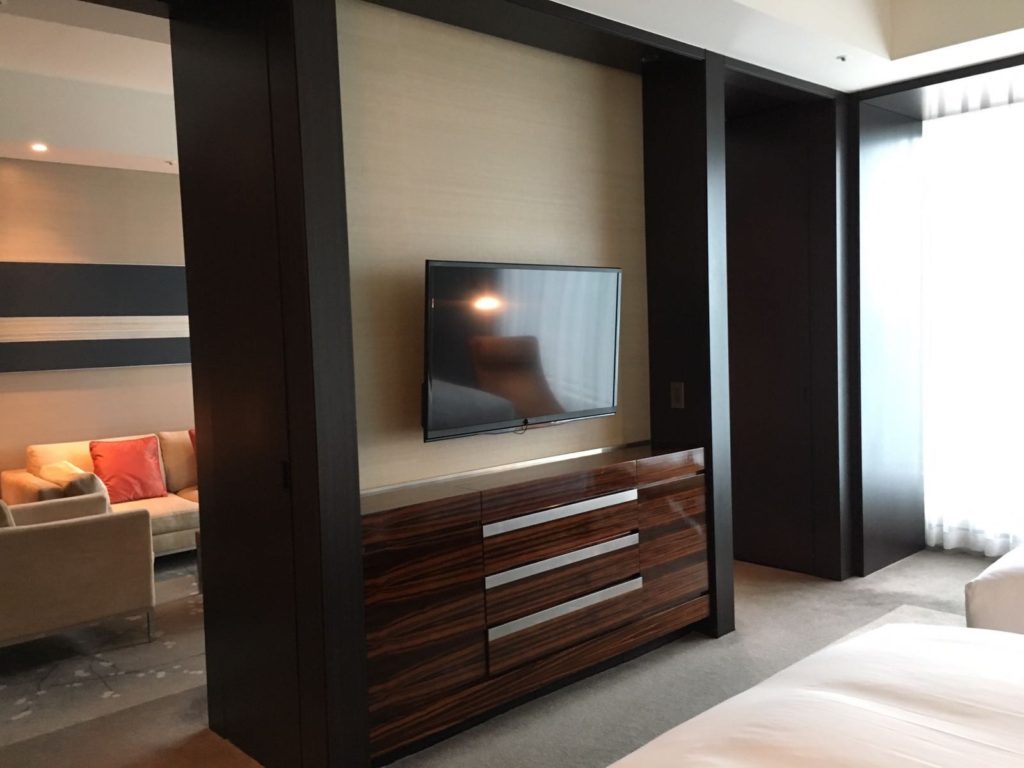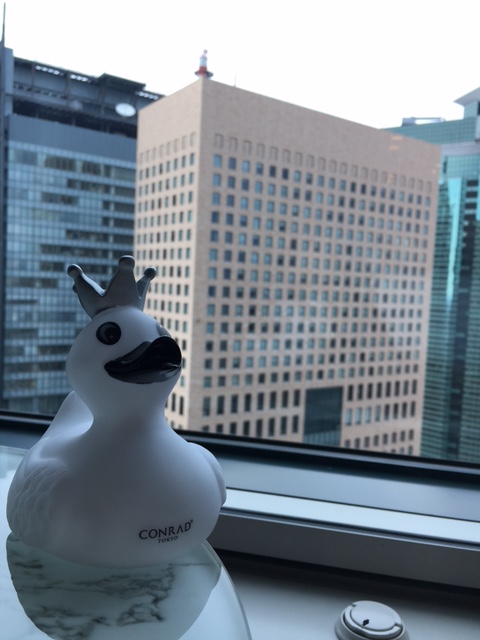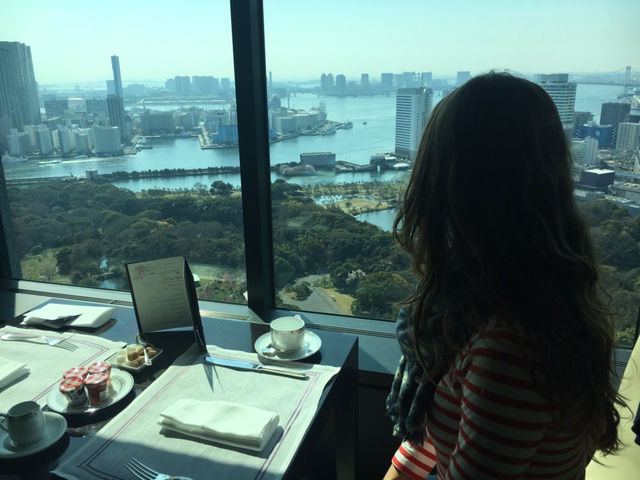 Here are a few photos from this stage of the trip:
Tokyo – Brisbane – AKL…or not?
After spending a week in Japan, we were looking forward to our flight to AKL via Brisbane in QF J. Arriving in NRT a bit earlier to take advantage of the lounge, we quickly bypassed the big Y line at the Qantas check in and appeared with our passports in front of the Emerald check in.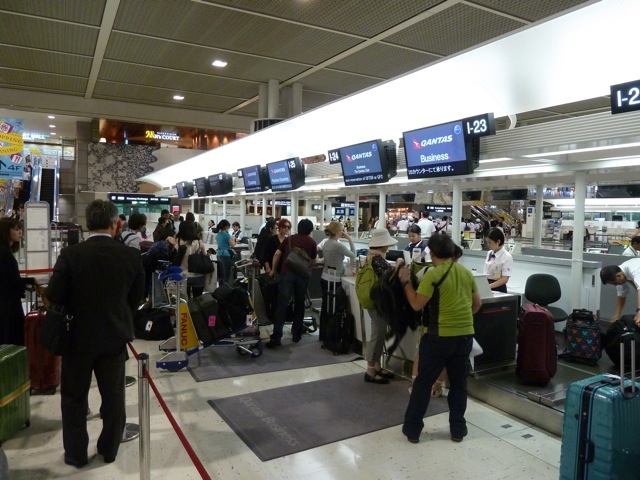 Mentally, I wasn't all quite there like I usually am before a flight. As we were being checked in, I was realizing that certain items I wanted for in-flight were still in the big suitcase, so I was making a bit of fool out of myself by fishing them out as the suitcases were being loaded on the belt. This level of preparedness actually permeated through this whole trip, because of the extremely short notice that we gave ourselves to plan it.
Once the JAL agent checked me in, she turned her attention to my wife, who is a Russian national.
"Visa, please" she asked, even though she had a copy of the New Zealand visa in her hands.
"What visa? You have it" I said, pointing to the papers.
"Transit visa for Australia" she clarified.
My heart sank. I took it upon myself to research all the necessary visas that my wife would need for this trip and could have sworn that for the 1.5 hour transit time, where we didn't leave the airport, she did not need one. My heart started racing, as I quickly evaluated my options and none looked good.
The sympathetic, but unhelpful, JAL staff recommended that we go off to the side and (as if they live in another reality) get a visa real quick and come back to them. With the Aussie embassy already closed and the head offices in Canberra not yet open, we really did not have a way to contact anyone to figure out what to do.
Ultimately, I resorted to calling an emergency hotline for Australian citizens abroad, apologizing profusely for neither being a citizen nor in trouble of the terrorism kind, but just needing help. The relatively patient lady on the other end told me that the airline would need to call the Border Force to see if an exception could be made for us (it couldn't) and that otherwise we were SOL.
Legal options seemingly exhausted, and with the JAL ladies suggesting that we book a last minute non-stop Air New Zealand flight (something I really didn't want to do), I decided to see if I could get some help from American's ExPlat Desk.
To date, this ranks as far and away my best loyalty experience ever.
The extremely competent and sympathetic AAngel who picked up the phone (I was making this call using airport wifi, so it was registering as my Verizon number on AA's end) totally understood our predicament and furiously started looking at options. The line cut out three times and she called me back immediately each and every time to pick up the conversation.
Amazingly, there were two J seats available on Cathay Pacific the next morning and we could be in Auckland less than 24 hours after our originally scheduled arrival. All at no incremental cost in terms of miles, and just a few extra bucks in taxes. On top of this, we would get to fly from Hong Kong to AKL on the brand new A350, which I have never flown.
The sense of relief was absolutely immense. After two hours of not knowing what to do, I felt like American not only did what they were supposed to, but went the extra mile to ensure that my wife and I were taken care of.
A funny side note, for AA to rebook us, they needed JAL staff to "uncheck us" from the QF flight to release the miles. I spent more than five excruciating minutes trying to explain this concept to them until they relented, called a supervisor who spoke better English, and finished the process.
With this ordeal seemingly behind us, all that we needed was a hotel, a dinner and a cold beer. Thankfully, I had just enough Hilton points to book us into the Narita Hilton for a night and within the hour, we were drinking cold Sapporos and enjoying some hearty soup.
Tokyo – Hong Kong – AKL
We woke up the next morning to a view of wide bodies flying over the adjacent forest. Quite the view! After a nice breakfast, we were off to NRT for the second go-around, this time successful.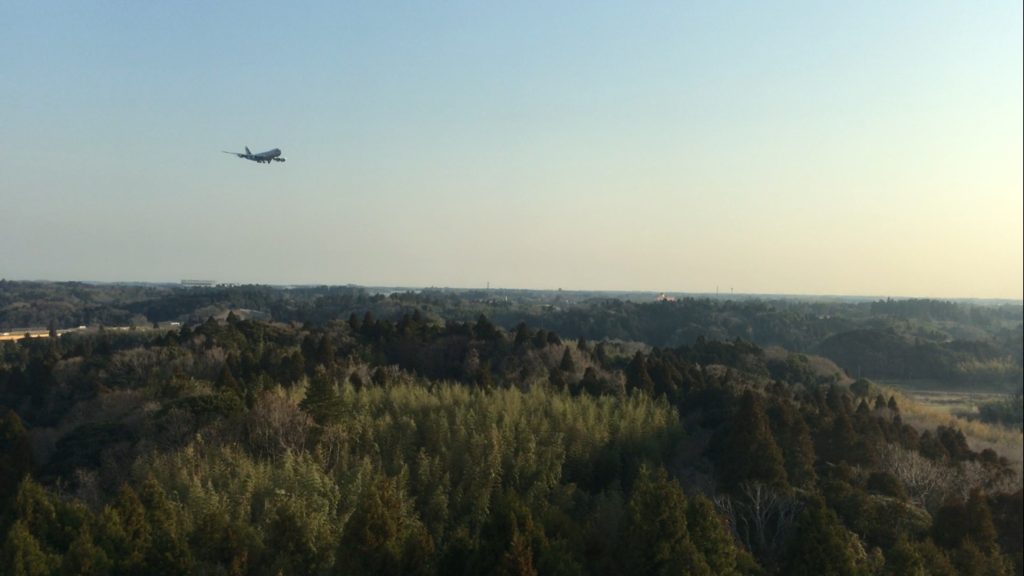 Our quick stop at the Cathay lounge was just that – quick. There wasn't much to do there and we should have really gone to the JAL one instead. But with not much time to spare, we just made our way to the gate and boarded CX 501, a B773ER. Our seats in row 17 of J were great for this relatively short flight. While not flat bed, they had a great recline and were absolutely comfortable for this day time jump over the Pacific.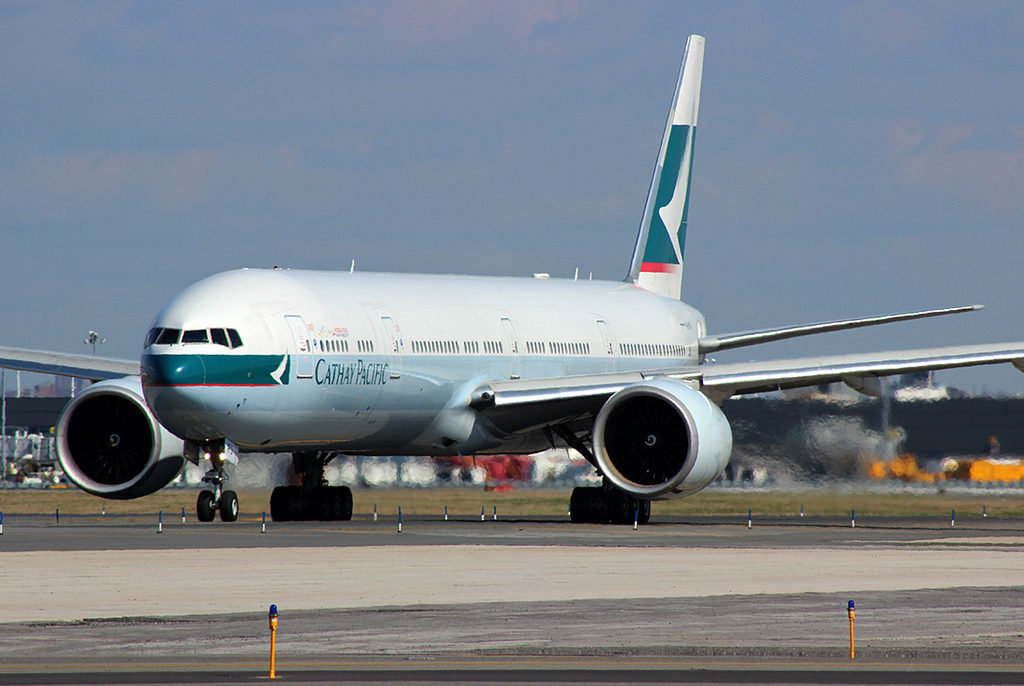 This flight was packed and the FAs were clearly just trying to have an on-time push back, so there weren't a lot of smiling faces. The service on board was efficient and friendly enough, but it didn't come close to what we had with our flight on American to Tokyo. I thought we'd likely experience more friendliness on the longer flight to New Zealand.
We planned to spend part of our 9 hour layover in Hong Kong itself, a plan cut woefully short by my wife leaving her iPhone on the HKG Express train and us spending three hours trying to recover it (we did and decided that we needed to stop being unattentive idiots and start getting together with it).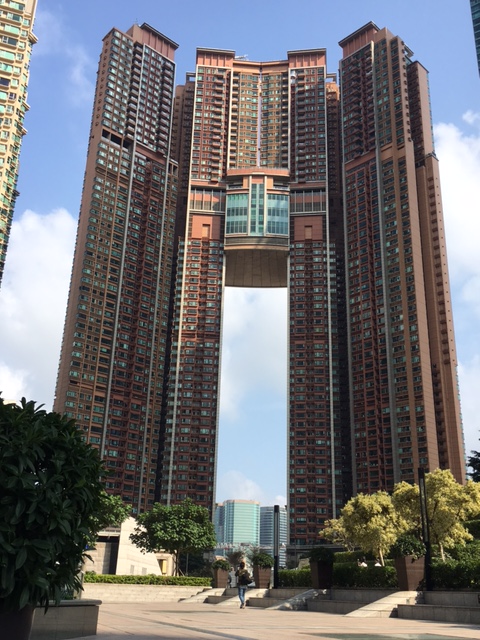 Instead of seeing Hong Kong, we came back, iPhone in hand, to the airport and proceeded to spend the next few hours at The Pier, Cathay's unbelievable First Class lounge (voted best in the world by several magazines and blogs). When I think of things that define the word sublime, I think of The Conrad in Tokyo and this lounge.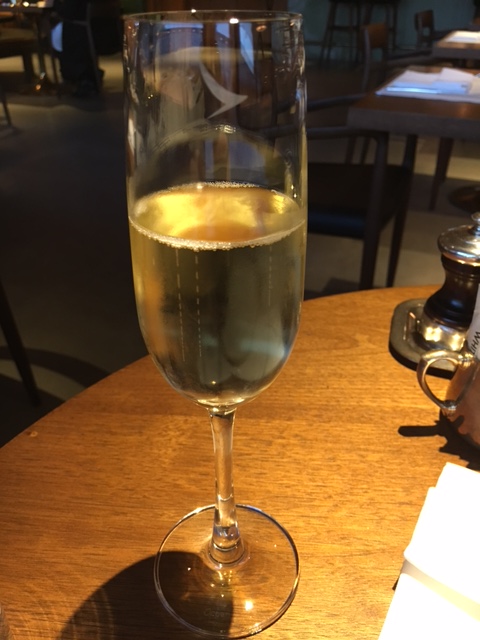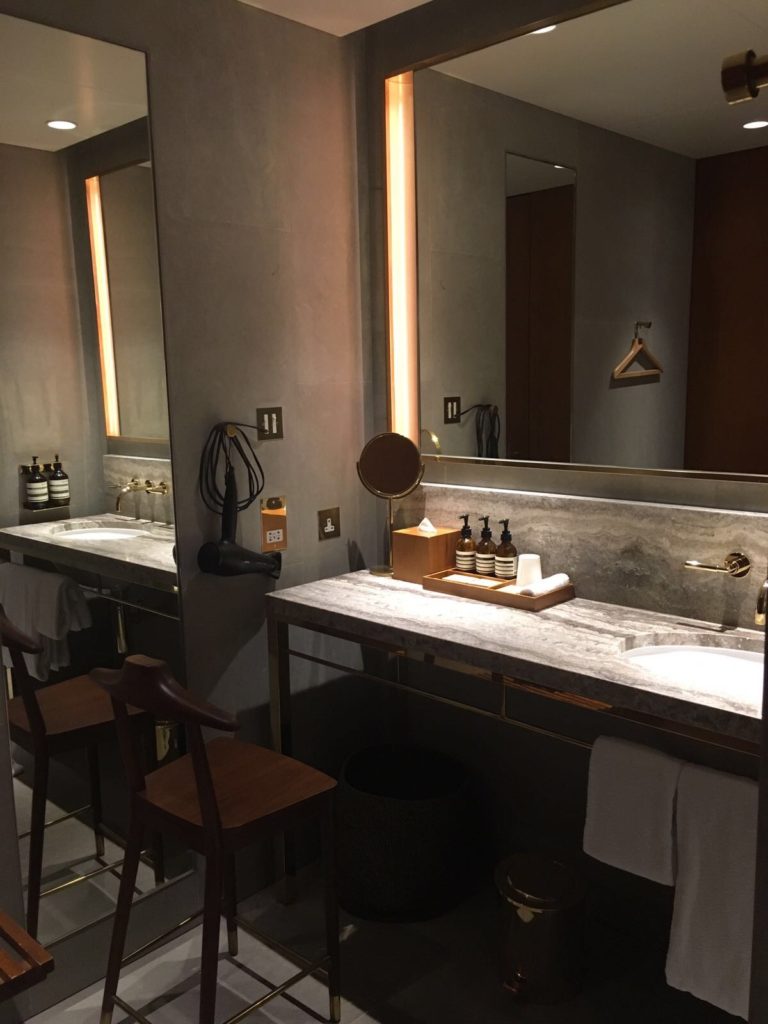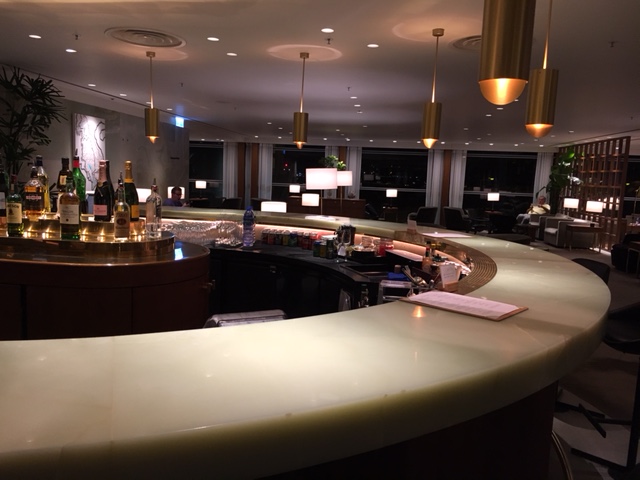 We regretted ever going into Hong Kong, given what we did there and the fact that we could have just gotten sloshed at The Pier instead. After three hours of heavenly relaxation, we boarded CX 197 (seat 12A and 12K, I believe) for our overnight flight to AKL.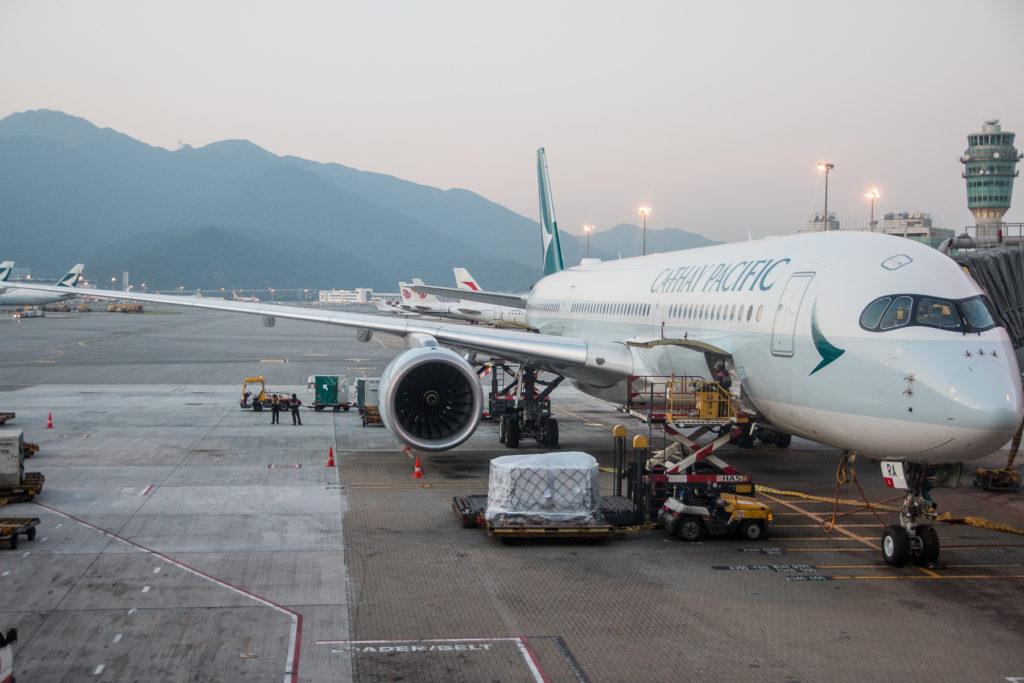 I was really looking forward to this experience. The seats were very spacious and angled to face the windows, which was great. The suite-like enclosure gave a great sense of privacy and there was plenty of space for everything. But I was surprised that parts of the seat were already really worn out and the movable arm rest was coming apart – this is a new plane and already it felt like it has been flying for a while.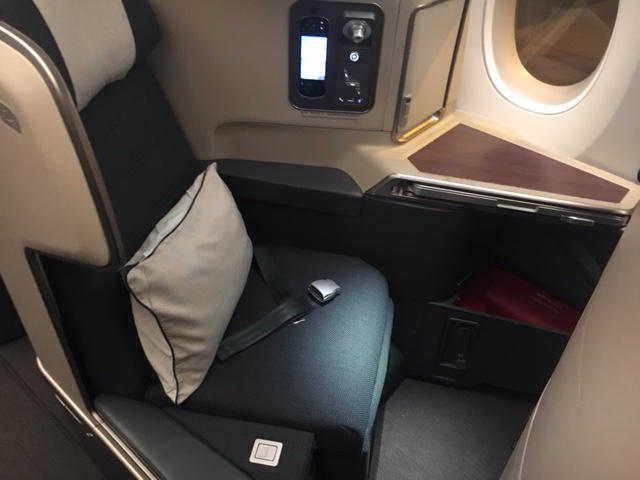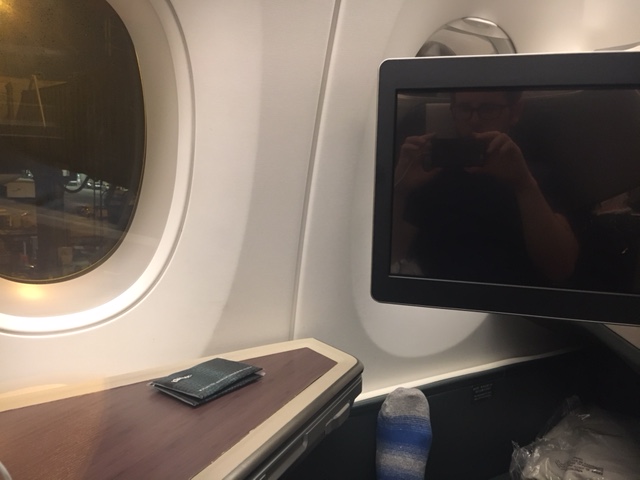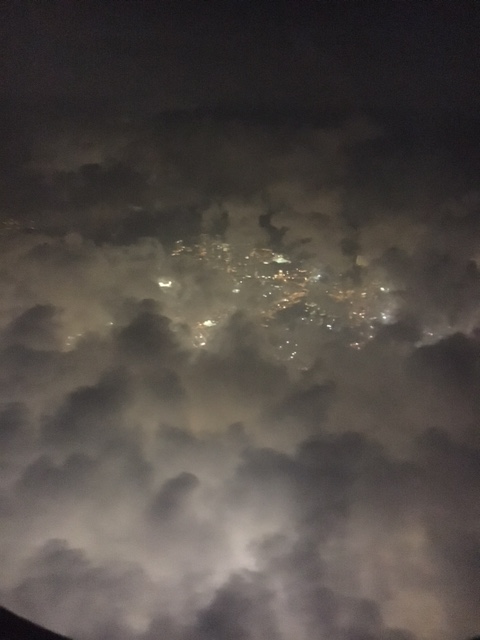 The service was also lacking. The FAs either seemed new or frazzled, but you could tell they were not comfortable with doing anything outside of the prescribed norm. My wife requested to only have a drink and an appetizer, as we ate in the lounge, so that she could maximize her sleeping time, but the FA didn't seem to process it, leaving her without any food. Similarly, I asked to change my drink order, a request that resulted in a huddle until the purser confirmed with me what I wanted and then ensured I got it. Surely, these were not demanding requests and ones that a J crew on a 10+ hour flight should be used to!
On the flip side, I have not slept as well on a flight as I did here. The bed was comfortable, the humidity level on the plane was Dreamliner-like, and the flight itself was quite smooth. I woke up right before breakfast and shortly after we began our descent into New Zealand.
From above, just like on the ground, this country looks like a fantasy land. Lush green fields were joined by a beautiful rainbow as we approached the airport, a sign of the fact that the rainy season was upon us.
Despite some minor complaints about the seat and the crew, we arrived in the country refreshed and ready to continue our adventure.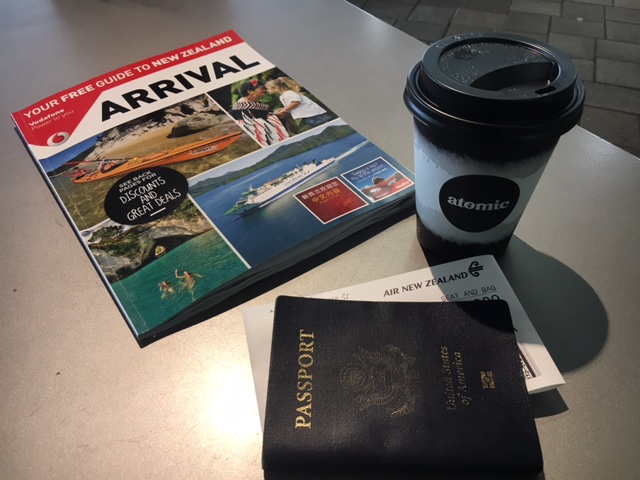 AKL – Blenheim
Our next (and for a while final) flight was on a turbo prop Air New Zealand to the heart of Marlborough country. Talk about a contrast of planes and experiences – from luxury to utility. We boarded our Dash-8 by walking up some simple stairs and then spent the next hour and a half squeezed into some pretty small seats.
Blenheim Airport is about as local as it gets. The terminal is tiny and bags are delivered by a truck – there is no carousel.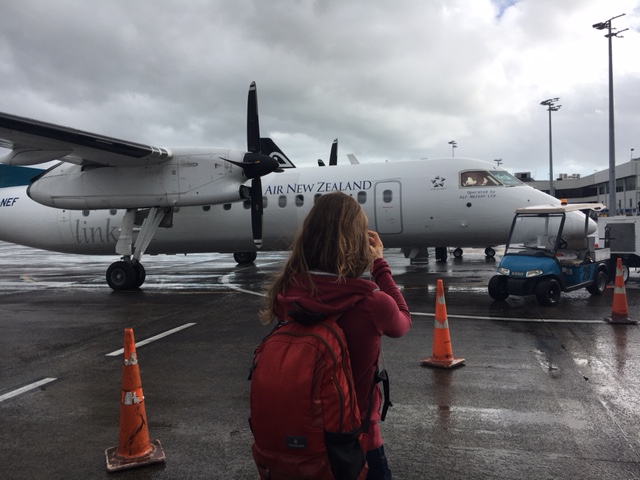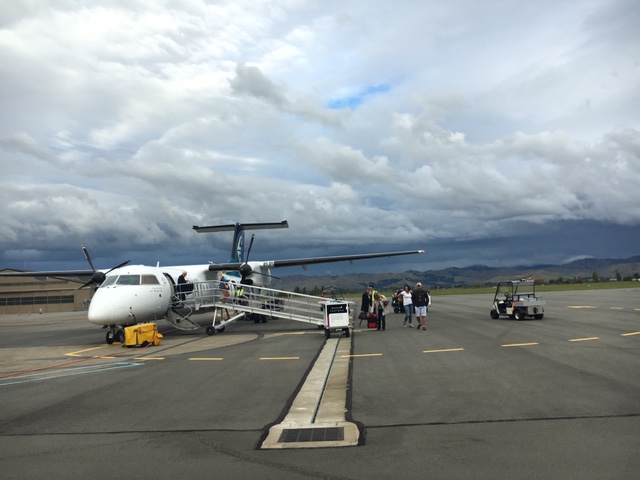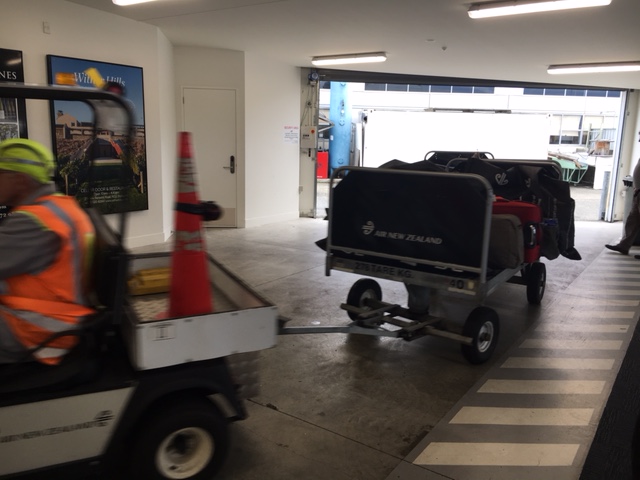 But there is Avis and they were waiting for me as I was their only Avis Preferred customer in several weeks. Our joy ride for the next 6 days would be a white Corolla hatchback, which seemed to be the rental car of choice in New Zealand.
We spent a few days in the wine country and made our way down the coast to Franz Josef Glacier (including a mandatory heli flight to the top of the glacier) and to Queenstown, where we stayed in the new-ish Doubletree on the other side of the lake. I've been to Q-town before, but as a younger guy with friends, and was struck by its setting and natural beauty. Unfortunately, the weather wasn't great this time around and we were constantly avoiding rain.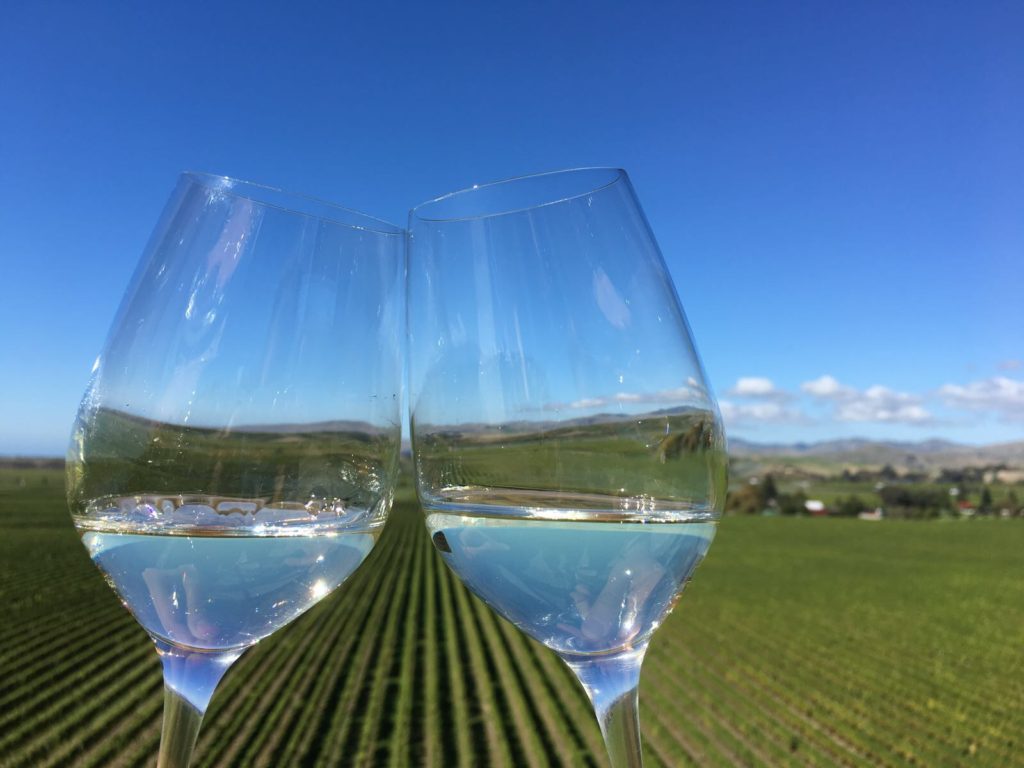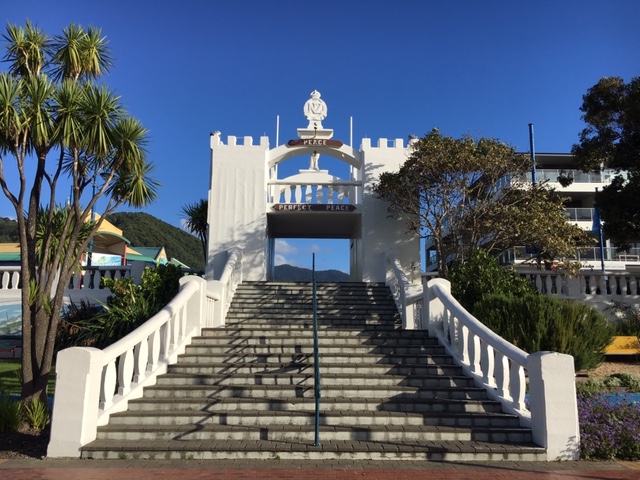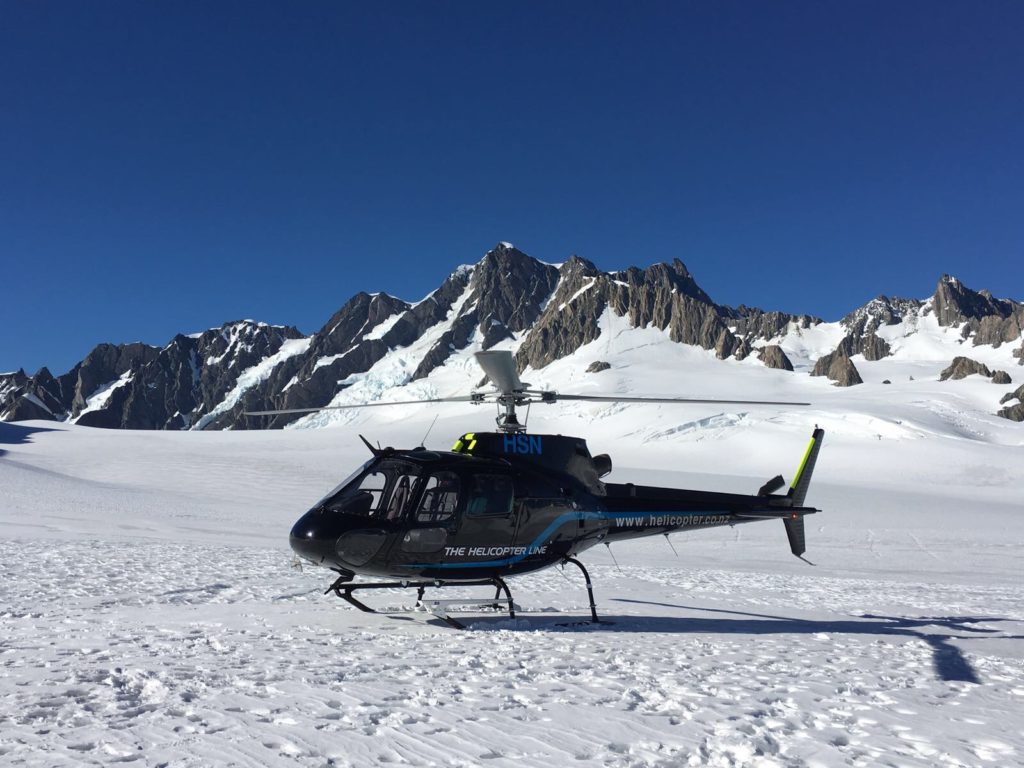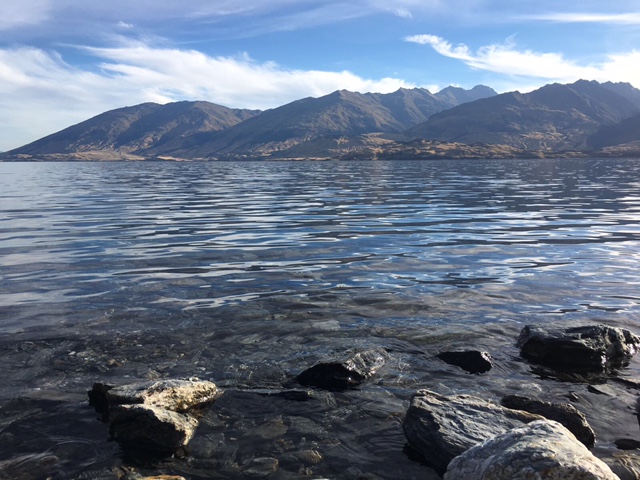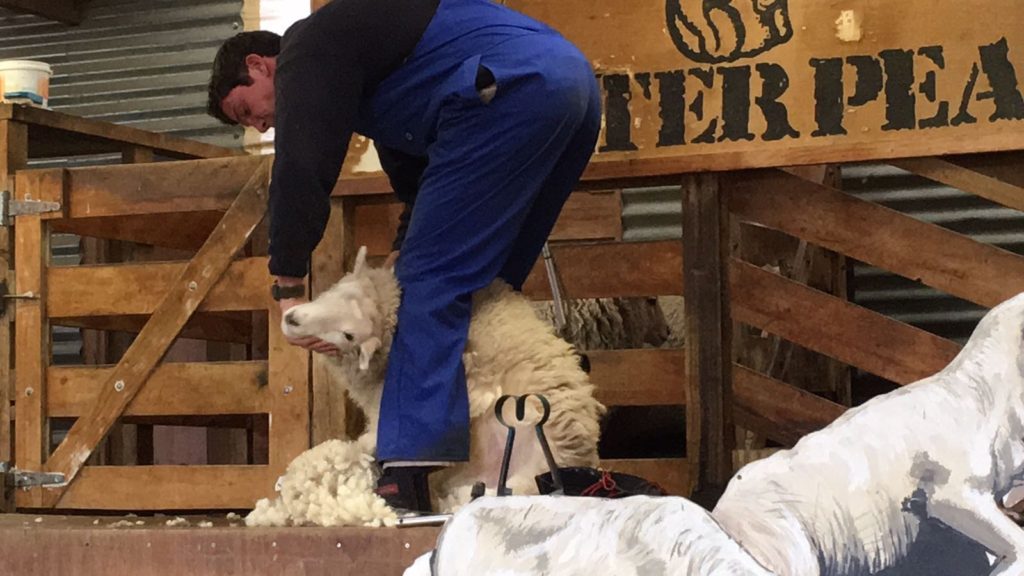 Queenstown – AKL – Los Angeles
We decided to spend only a day and a night in Auckland because as a city to visit, it's really not all that impressive. I am glad that we didn't stay longer, as a typhoon was dousing the city in torrential rain nearly the entire time.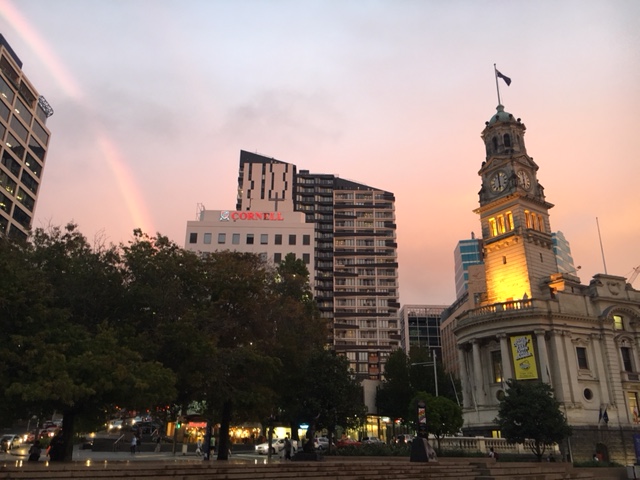 We stayed at the Auckland Hilton, a vastly overrated hotel. The only redeeming thing about it was the breakfast. The rest was just weird, kind of old, and not very convenient at all, given that it's stuck on a pier.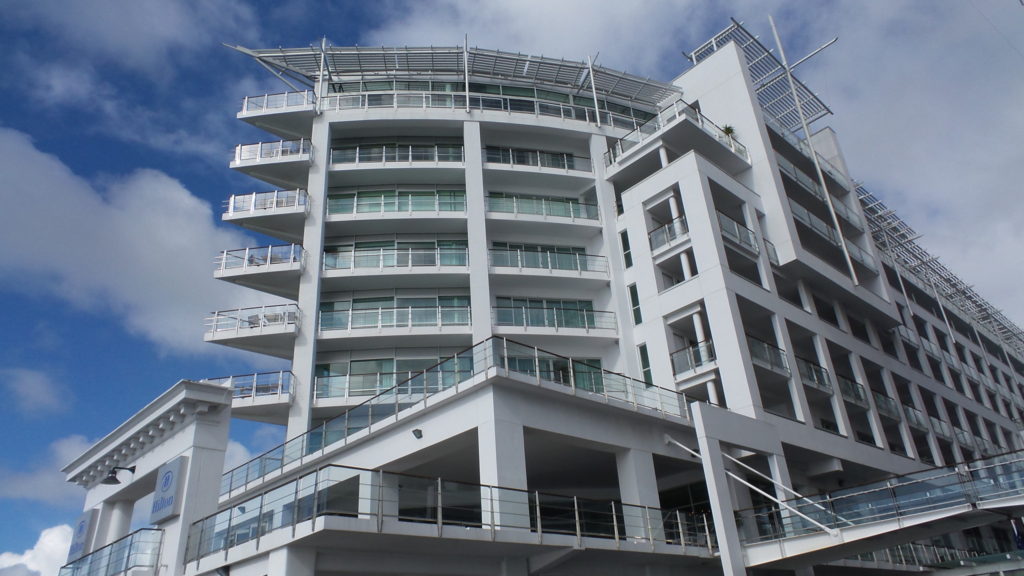 It was also there that I started feeling some flu-like symptoms, which were a real gift considering the 12+ hour flight home.
As this was the only long-haul flight that we paid for with money, I was prepared for us to tough it out in coach. However, right at the gate, they told us that one of the SWUs cleared (mine) and given that I was really not feeling well, my wife insisted that I take the J seat. Those of you who have ended up in this situation know it's not really that great to be the one riding in Business while your significant other is in Economy, but she insisted and that was that.
This wasn't my first time in the American Airlines Dreamliner, but the first time flying in J. I had the reverse-facing seat and of all the long-haul flights on this trip, this was the least comfortable one (perhaps also because I was progressively feeling worse).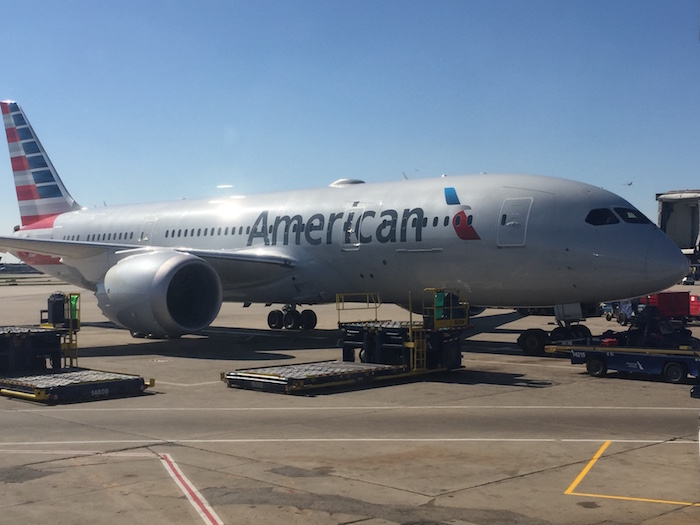 The FA announced that this was going to be their Flagship Service, and pajamas were offered. The food, I thought, was so-so and the portions weren't huge. I was glad to have the snack basket on hand, because I definitely felt hungry.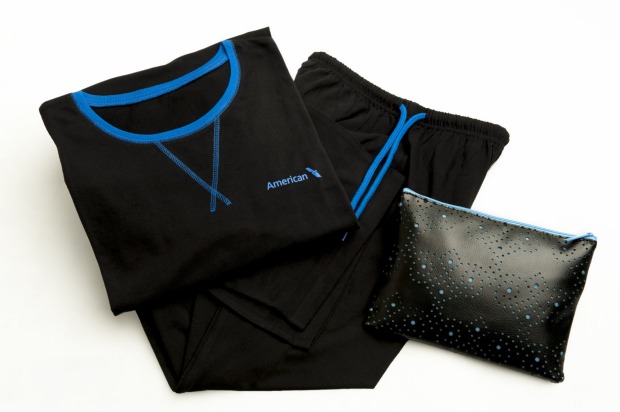 We landed in sunny LA, 19 days after we started our trip, feeling both exhausted, satisfied and full of stories and memories to last us until the next adventure.