March 9, 2016
4:15pm – I'm trying to wrap up my work day, so that I can make it home at a reasonable hour, spend some time with my wife and maybe squeeze a run in. Later on this evening, I'm starting my first all J/F mileage run that will see me go from LAX to JFK, and onward to Miami and Panama.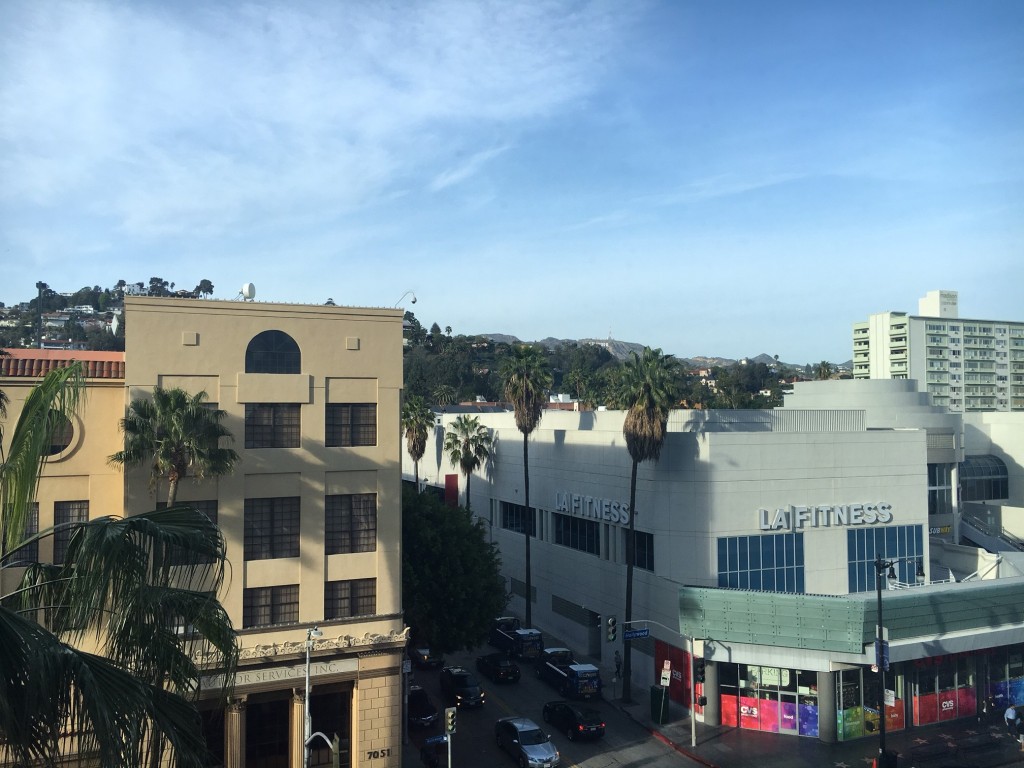 I'm taking this MR to complete my Platinum Challenge with American Airlines and retain OneWorld Sapphire status, as my equivalent BA one expires in a few short months. Whether I'll be able to hit EXP remains to be seen, but this is a good start. The trip was made possible by the FlyerTalk community, which identified a really cheap airfare from LA to PTY via JFK. Why is the JFK bit important? Because it's one of the routes on which AA runs its fleet of A321Ts with a three-class configuration and a real First and Business class. A return flight in Business on the LA-JFK route routinely costs between $1,200 and $1,500. Snatching it for a third of that price, while also adding additional legs to Miami and Panama City was a real steal.
Previously, I have only flown LA-JFK in Y, and despite sitting in the Main Cabin Select seats, which give a bit more room and compare favorably to Delta's Economy Comfort, this is no lie-flat business class seat, so I'm excited to give it a try.
My itinerary is a fairly aggressive one, with very little time spent at the actual destination:
3/9
11:30pm – Depart LAX on AA30 (Seat 6F)
Airbus A321T with lie-flat seats
3/10
7:46am – Arrive JFK
(I have a Global Entry interview between my arrival and the flight to Miami, so this will keep me occupied during the layover)
1:55pm – Depart JFK on AA2382 (Seat 2F)
Boeing 757-200 (International Version with angle-flat seats)
5:10pm -Arrive MIA
6:55pm – Depart MIA on AA959 (Seat 5E)
Boeing 737-800 (recliner-style seats)
9:16pm – Arrive PTY
I'm going to spend the night at the Doubletree Hilton in Panama City, but given my super early departure the following morning, I'm really not going to have time to check out the city (at most a dinner or a drink near the hotel).
3/11
7:00am – Depart PTY on AA960 (Seat 5B)
Boeing 737-800
10:03am – Arrive MIA
12:35pm – Depart MIA on AA64 (Seat 2J)
This is a Boeing 767-300 that will continue on to Zurich, so it's a true lie-flat bed that I'll be in
3:27pm – Arrive JFK
5:30pm – Depart JFK on AA181 (6F)
8:57pm – Arrive LAX
Overall, I'm going to earn 18,868 EQMs (distance x 2) and some amount of RDMs that I'm too lazy to calculate, as my Platinum status will kick in after the first leg of this journey. AA's promo for F/J class travel should also add a few extra miles, so I'll report on the total once the miles post.
10:45pm
Took Lyft from home to T4, missing all the earlier congestion on the highway. Pleasant and talkative driver made the trip a breeze.
The security line at T4 was quite long, but moved along briskly.
The TSA agent was cracking jokes and keeping everyone in a good mood, which is a rarity.
A quick aside: I am testing out a new backpack from eBags, and so far it has been great. More on this later.
I heeded the advice of others and took the TBIT connector to the Oneword Lounge, which is markedly nicer than the Admirals Club.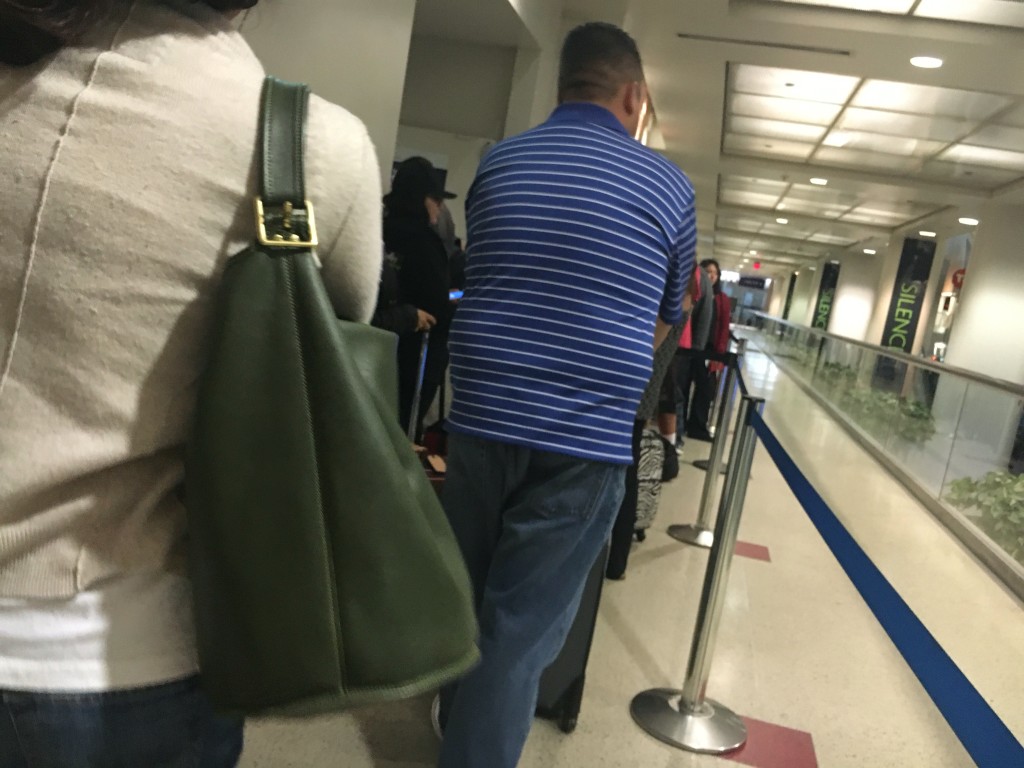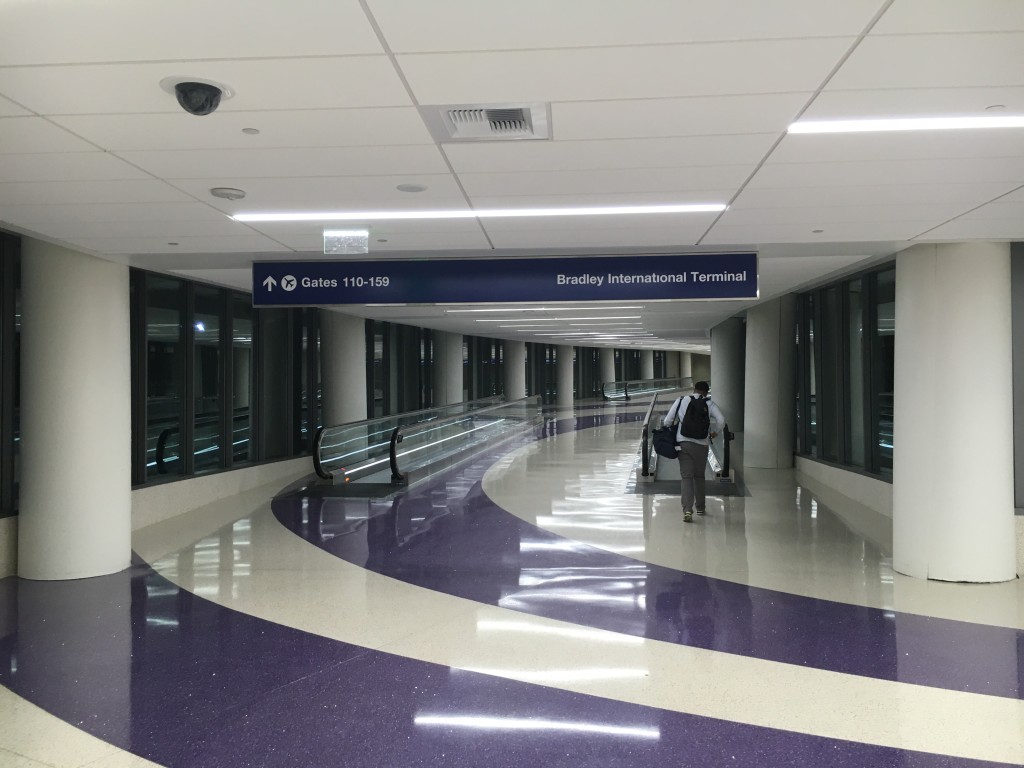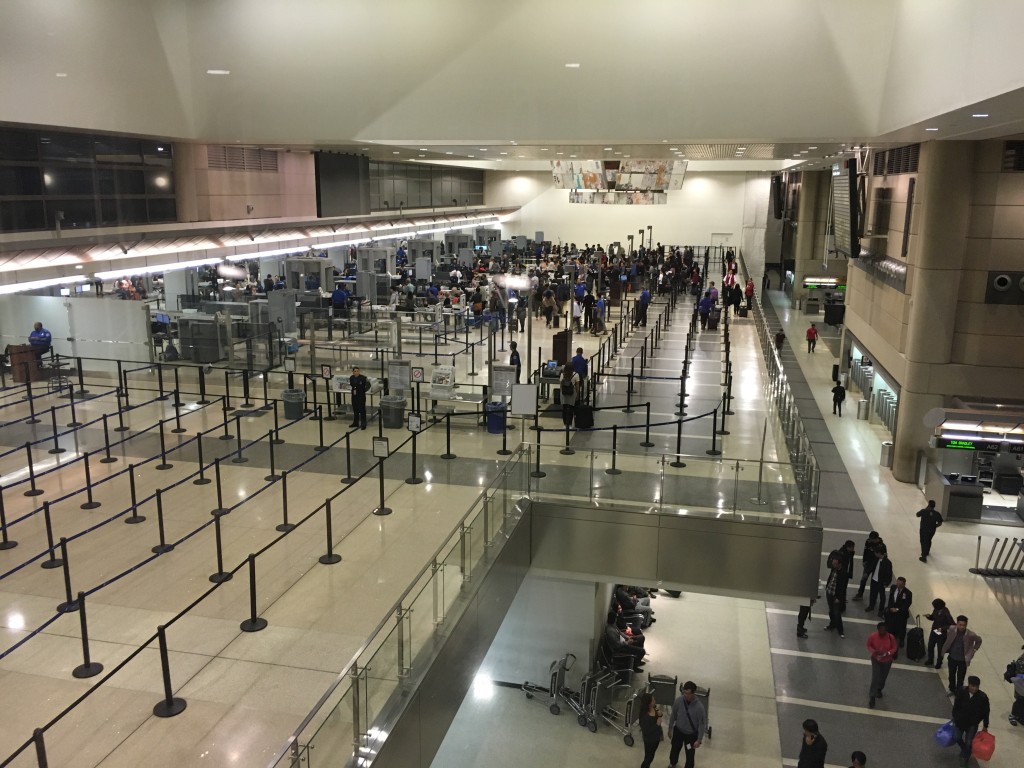 After a quick bite and call with the wife, I made the return trek to T4 and headed to Gate 40.
11:00pm
Boarding was a bit chaotic with Business passengers being told to board with all levels of elite. But once on board, it was nice to not walk to the back of the plane and settle comfortably into the spacious confines of 6F.
The seat is very modern and comfortable, and is slightly angled towards the window, making looking out of it very pleasant. There is good storage space between the seat and the window (slightly behind the passenger) and plenty of well-designed nooks to put phones, tablets and other things. Though I contemplated leaving my backpack at my feet, eventually I put it up.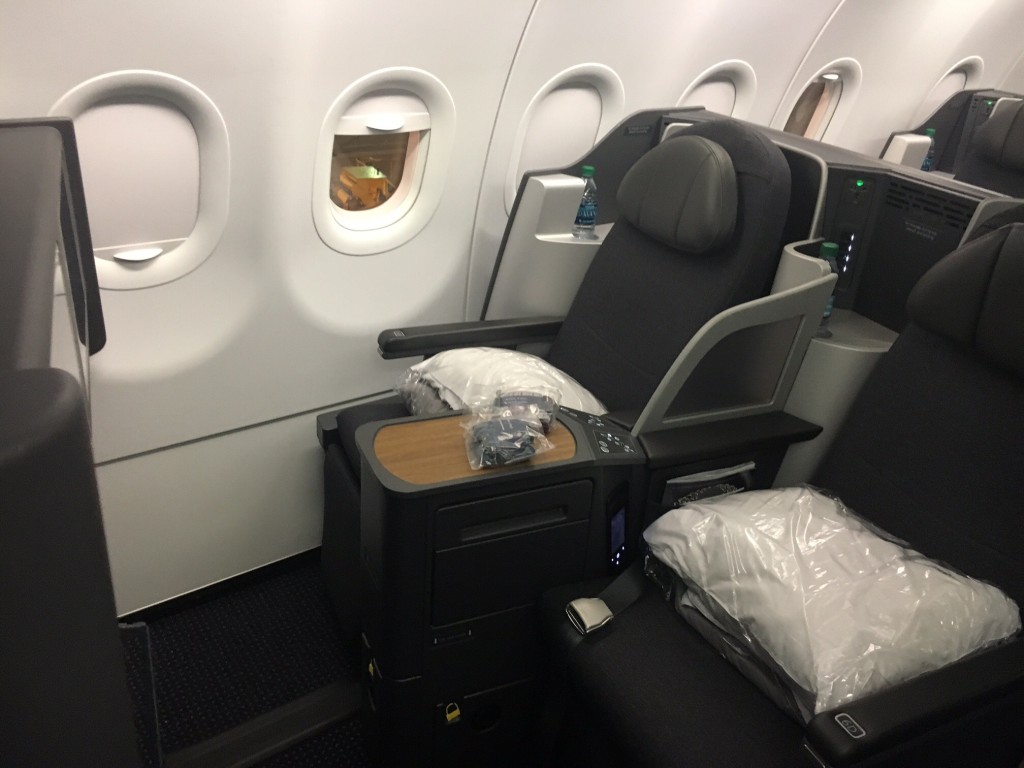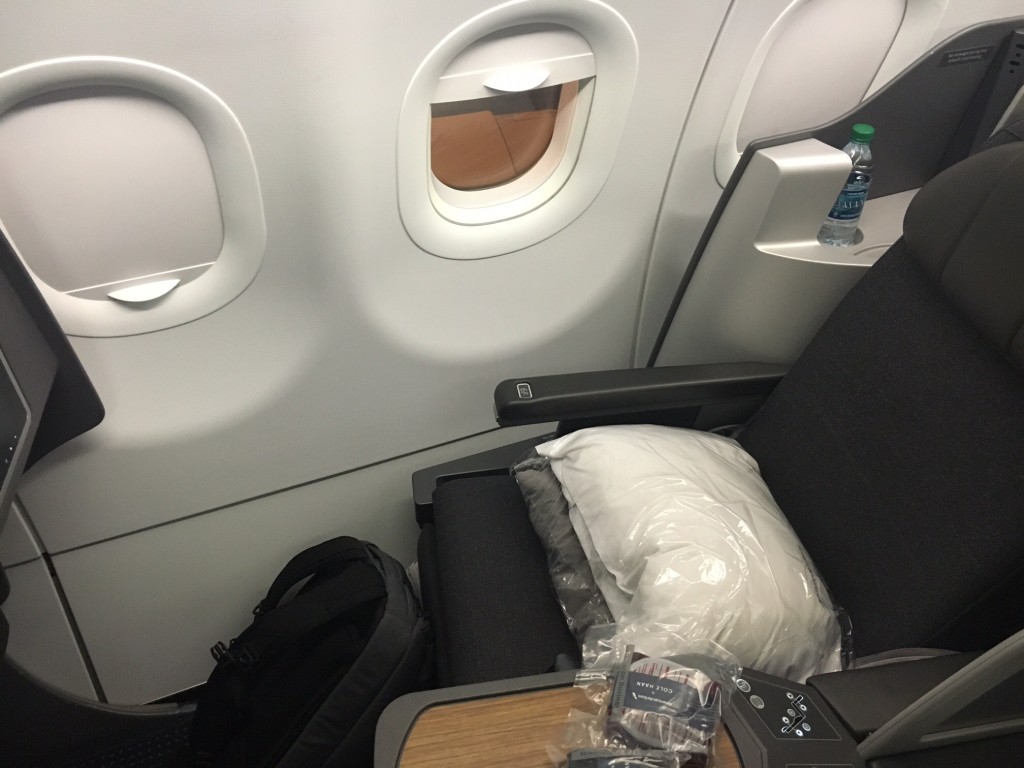 Though American doesn't offer a true amenity kit, there is a small  plastic pouch with Cole Haan (really have a hard time believing that it's anything but a label on top of cheap off-label products) socks and eye shade. The FA, who can pass as Karl Rove, also passed out Bose noise-canceling headphones with a stern reminder that he will collect them or else he'll investigate you like he investigated Hillary and Bill! Also, does anyone notice that the FA's name (the one on the screen) is Barbie?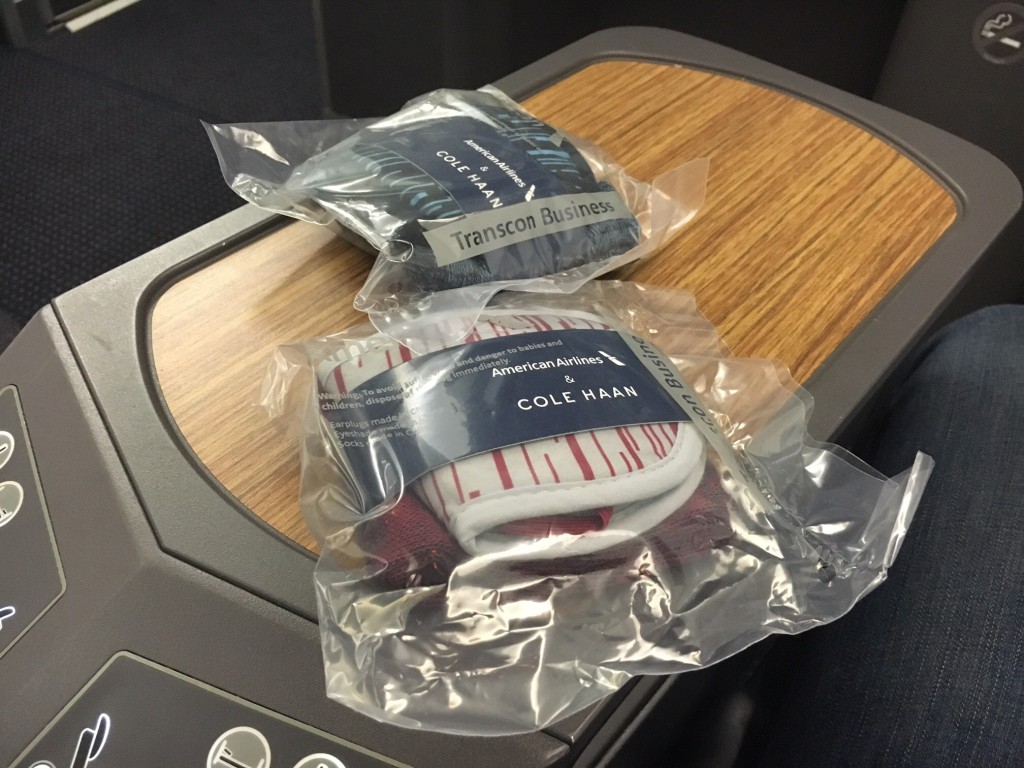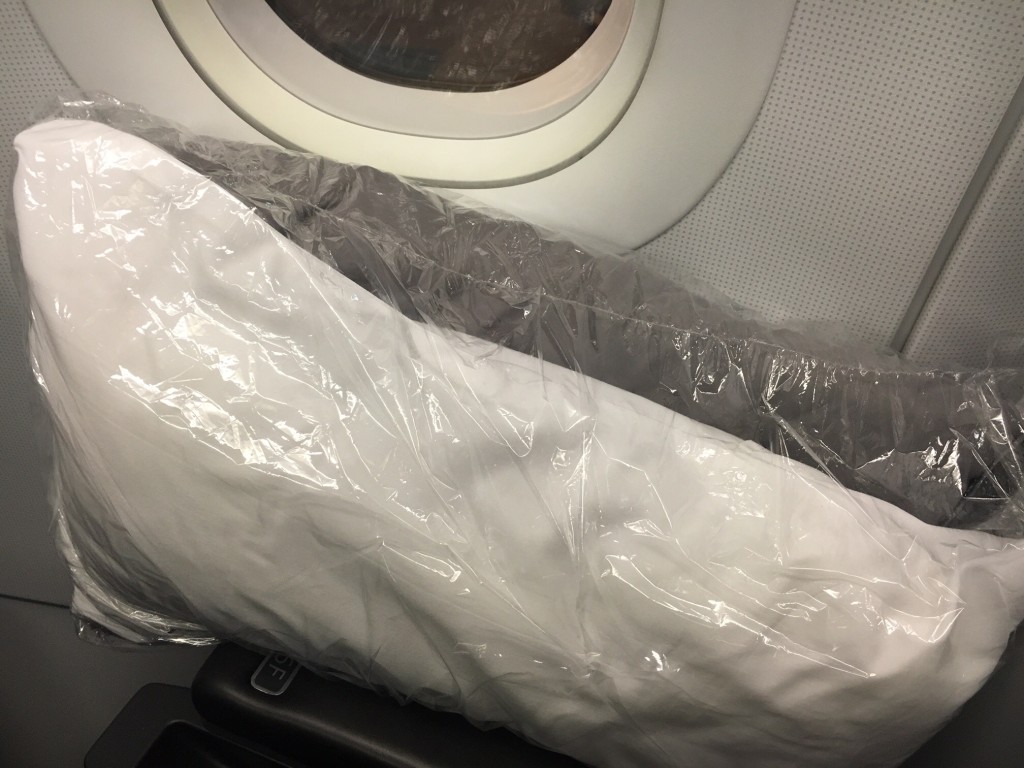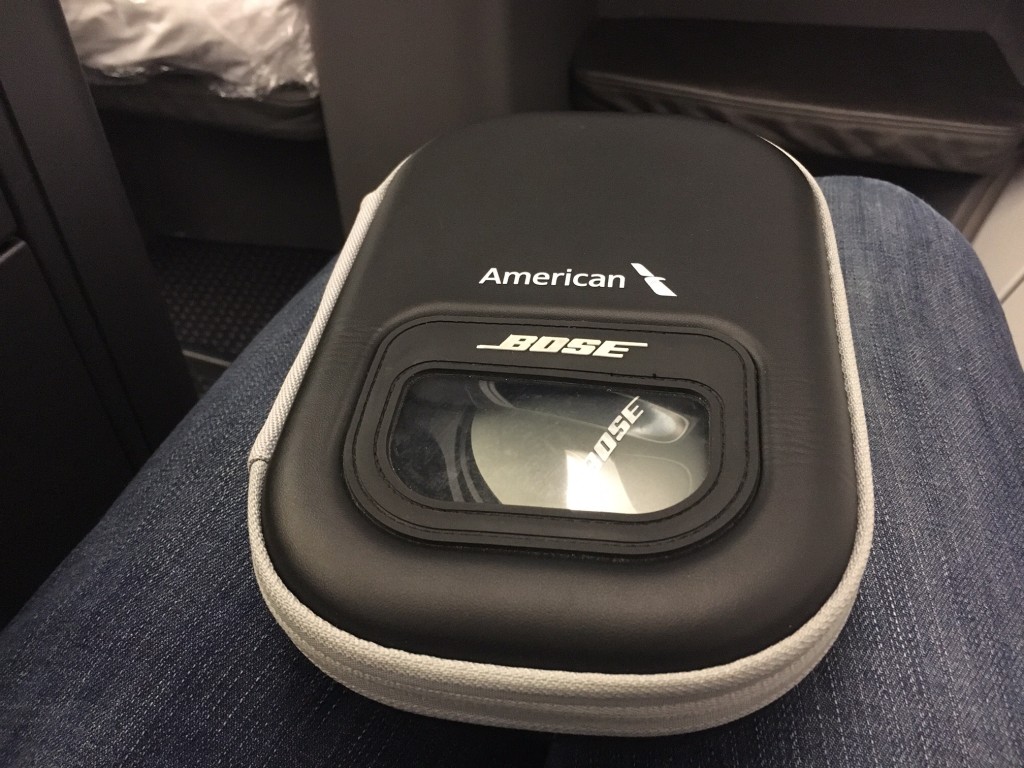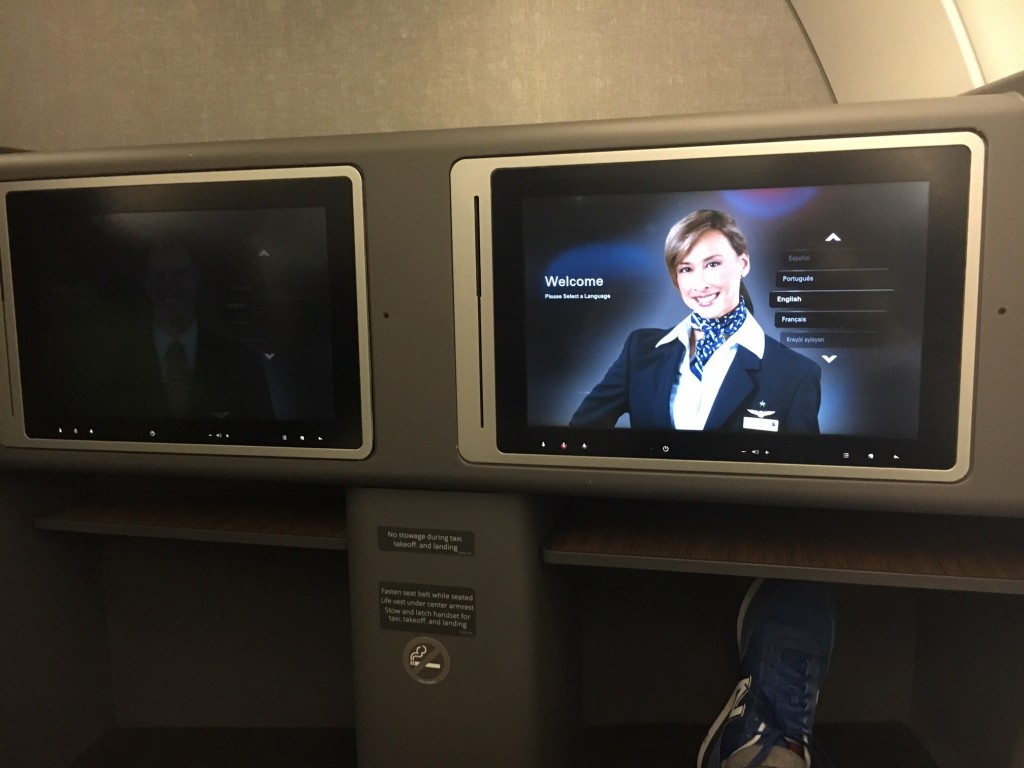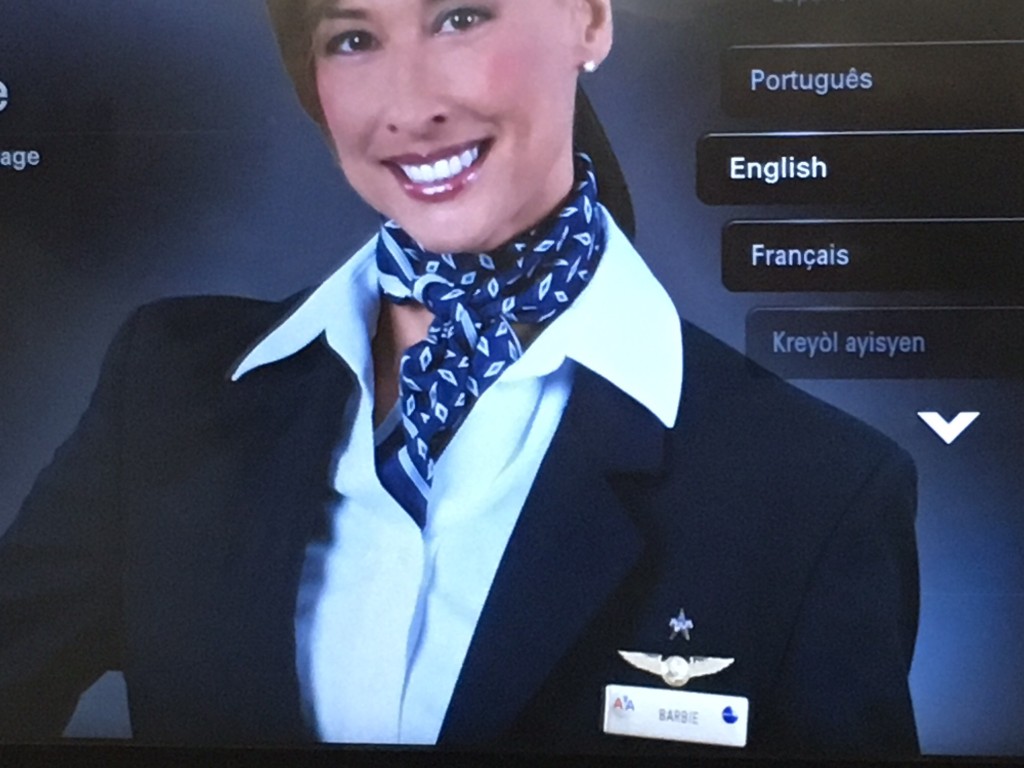 At 11:30, with lights dimmed, we still sat at the gate. Bummed that I gulped down my very passable sparkling wine, I just hoped we weren't going to be delayed to a flock of geese playing with the plane's turbines. Alas, a few minutes later, we pushed back. It was surreal to roll across the apron and see the real big birds of the sky take off in the dark. An Eva Air jet rumbled down the runway, on its way to Taiwan. A Virgin Australia B772 ER preceded us, as did a Cathay Pacific flight. And a 747 from Down Under waited her turn patiently in line. The Virgin and Qantas planes made me think of my three trips to Australia and New Zealand, now many yeras ago. I took one of the first Virgin flights to Sydney, along with a group of my best friends. We bought tickets (then $500) on an airline that had yet to make a single flight. We monitored its delivery of the first two 777s, and finally when we boarded our flight in March 2009, it was a dream come true. This was the best vacation trip of my life, and seeing these jets now made me lapse back to those relatively carefree days.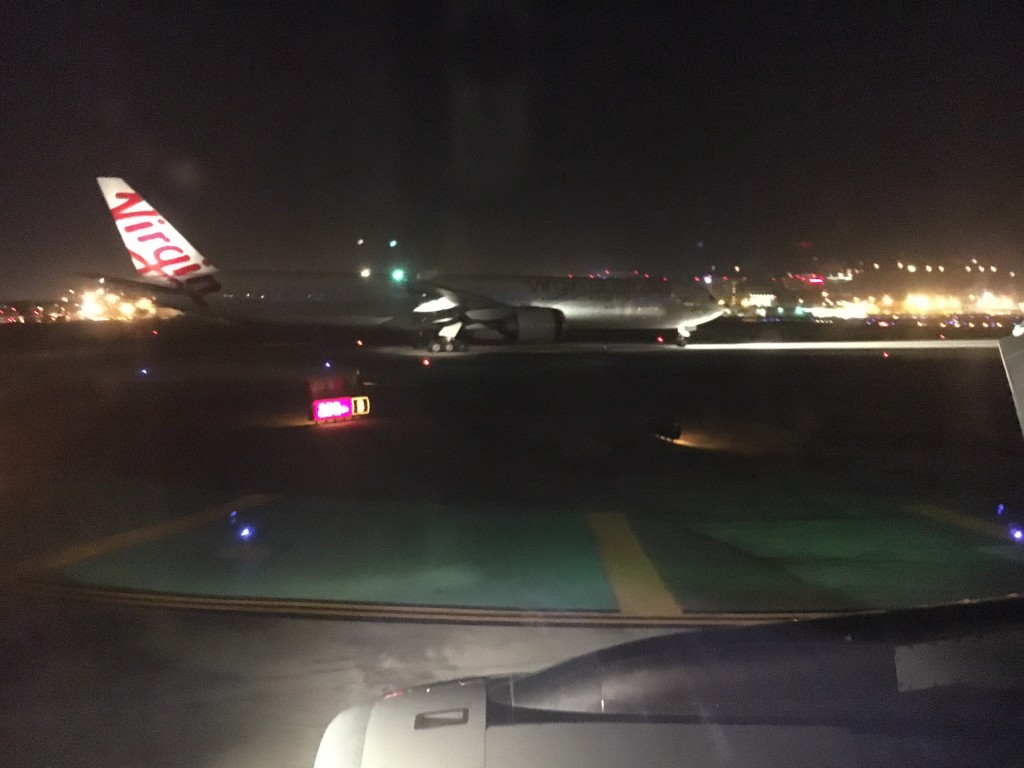 I've learned my lesson about eating and then trying to sleep on planes several years ago, after getting a surprise bump to Business on a Delta flight to London. At that time, I ate everything that the FA threw at me and was bewildered by the sight of people going to sleep without touching their food. Only after I tried to recline into a bed position, did I truly understand that the value proposition of J or F lies in the option to sleep horizontally, rather than in the menu (I know many on FT will argue this point, but I can eat a great first class type meal at any time for less than $150).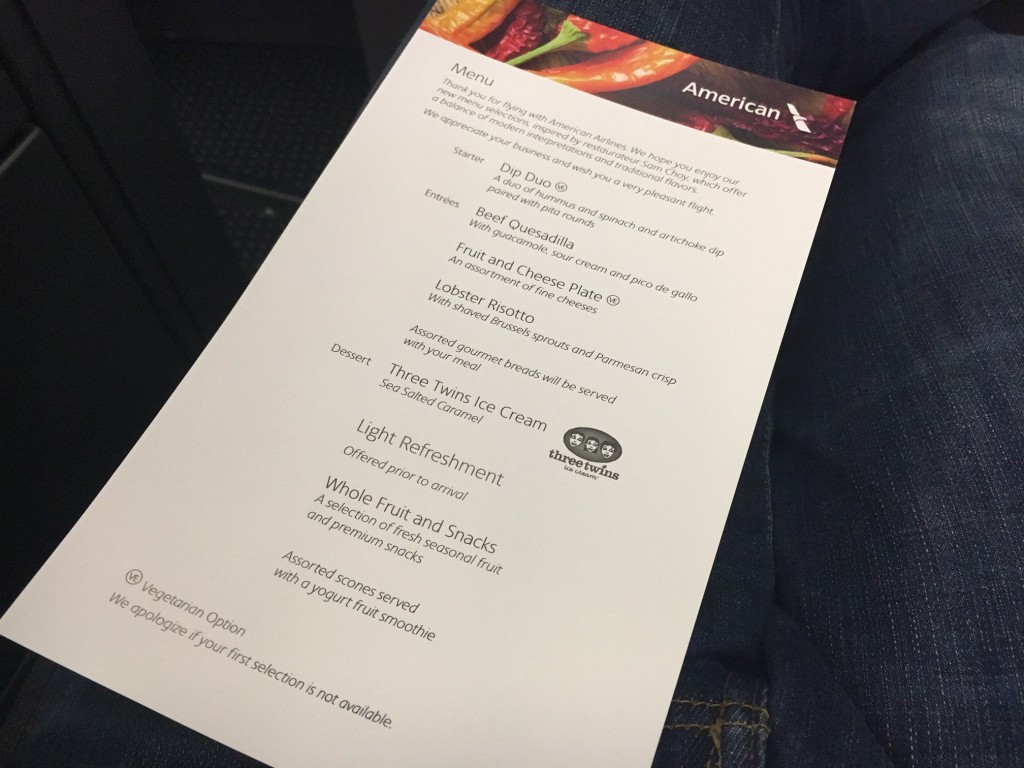 This time around, I got my seat into bed mode right away and went to sleep. Or rather doze, as I still wasn't able to fully fall asleep. The bed was comfortable and it was more my thoughts that didn't let me go into deep sleep. At one point, we flew through some turbulence and I was surprised by how much more comfortable the body feels when lying down rather than sitting up.
I had fully intended not to miss breakfast, but I did. I only woke up when my ears started popping from the plane descending. The sunrise over the Atlantic coast was beautiful – one of these Instagram-worthy photos that makes it seem like a filter was added, but in reality #nofilter.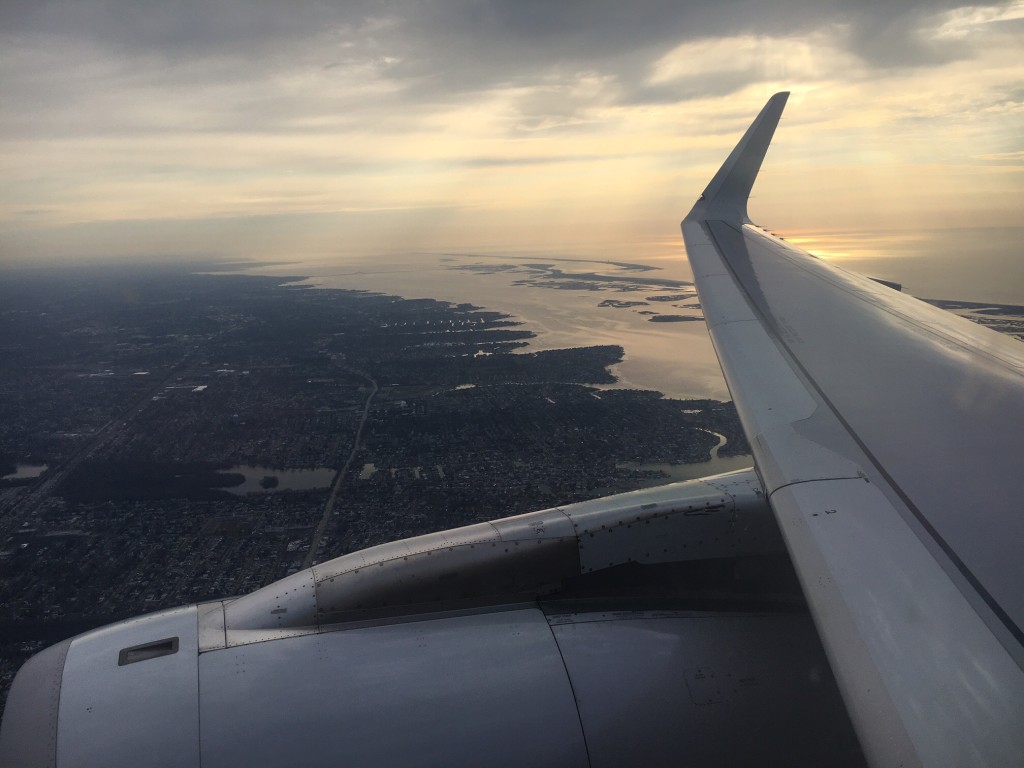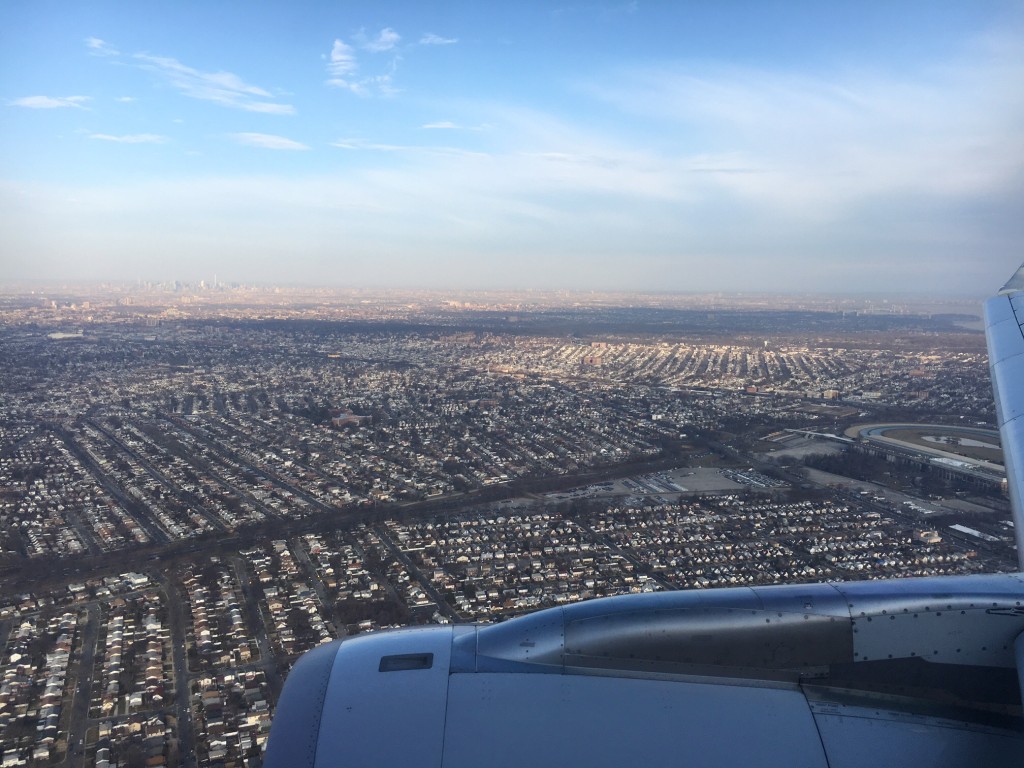 March 10, 2016
Arriving at JFK, and knowing that this was going to be my longest layover of the trip, I decided to head straight to the Admiral's Club and take a shower, so that I wouldn't give Global Entry officers and reason to not clear me after the interview on the account of accented body odor.
There was a bit of anguish at check in, as much for the newbie front desk AAgent (I won't call her an AAngel, as she didn't really make these 15 minutes heAAvenly) as it was for me. She apparently thought that I wanted to check in (which I didn't) and really started scaring me, when she requested my passport, my visa (what visa??!) and then, mercifully, her supervisor. After the 10 minute mark, by far a record for trying to get into a lounge, I quipped that I have all my BPs already. At this point, she didn't inform me that she was trying to check me in, and so I thought that her furious typing was a result of something in the system that required her to verify my passport in order to let me in on an international itinerary.
It's never as complicated as this. She just didn't listen and somehow mistook my shower request for a document equivalent of a cavity search.
Alas, 15 minutes into this exercise in futility, her ears unblocked and, with not the least amount of increduility, she asked/exclaimed "oh, did you say you were checked in already?" followed by a heavy-handed accusation of "then why did you ask me to check you in?" I protested, meekly, but then decided that if I ever wanted to shower, I better just shut up.
With lips sealed, I was escorted to the shower area. I have mixed feelings about the facilities. They weren't bad, but I did wish I had flip flops as the actual shower cabin looked a bit grimy.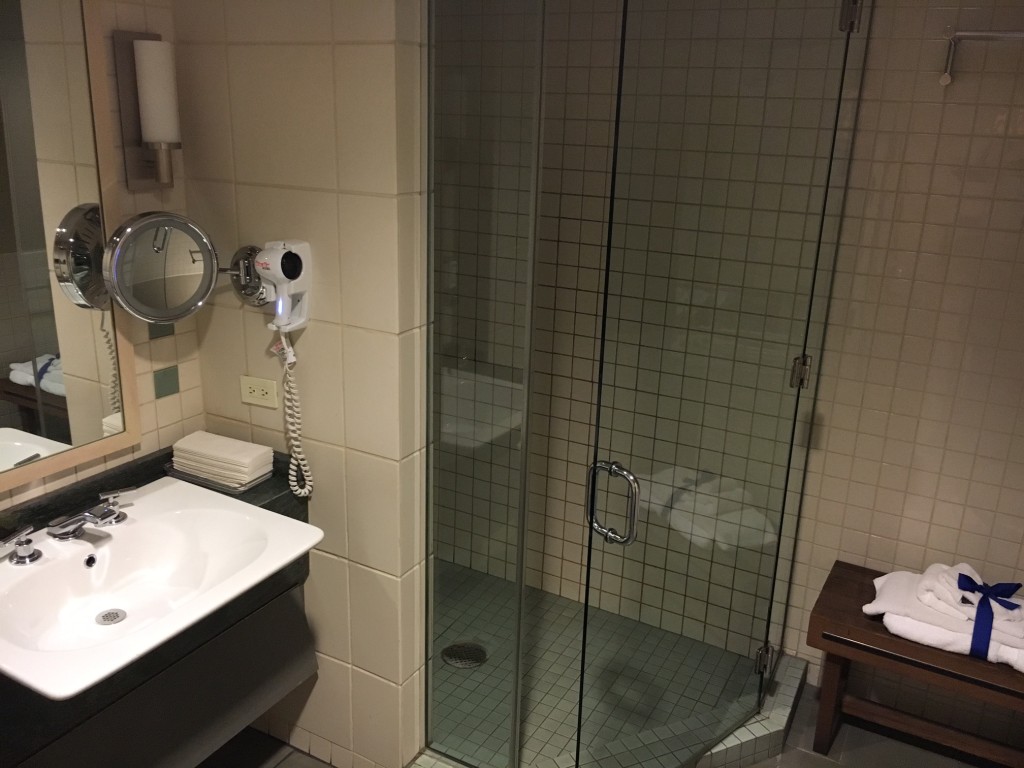 Nevertheless, with the help of spare towels, I managed to refresh myself and look presentable enough for the Global Entry photo shoot.
I patted myself on the back for not scheduling the interview for earlier than 10am, as otherwise my debates with the AA lounge dragon would have prevented me from having breAAkfast. The open area was pretty bare, with only a few people sprinkled around the various nooks of the Club.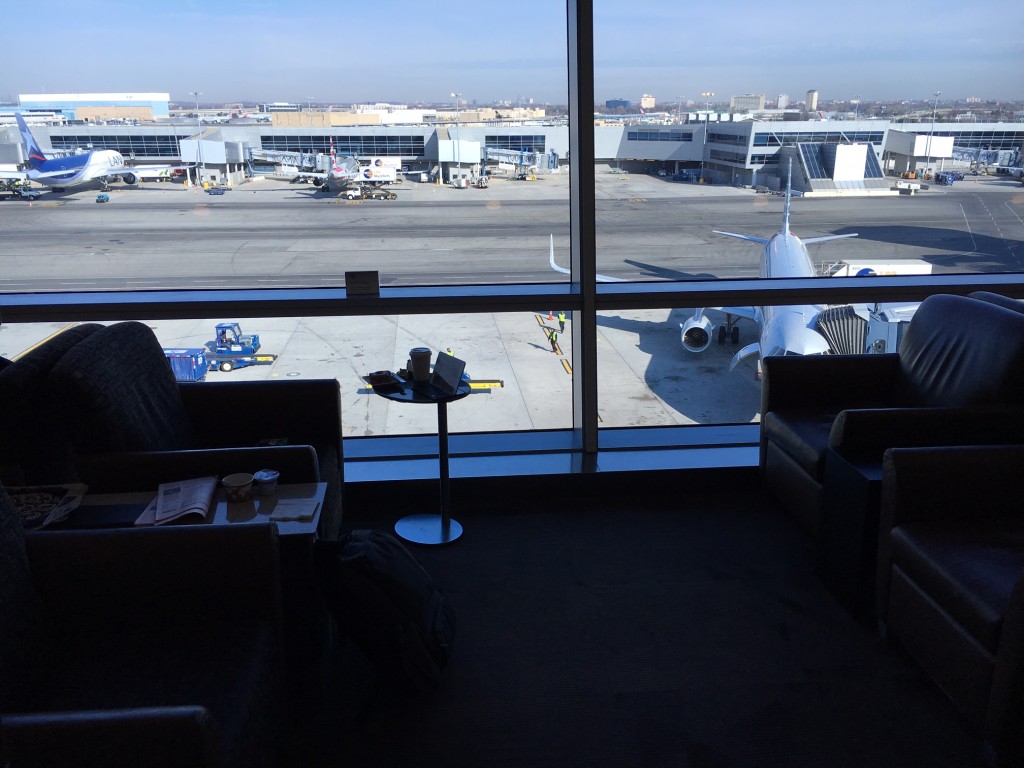 I grabbed a spot by the window and ate a bagel and some cereal, while doing a bit of work that was waiting for me from my colleagues on the east coast.I didn't have a lot of time to enjoy the views, as I still needed to find my way to Terminal 4, where the Global Entry office was, so I left the lounge, doing my best to avoid the dragon's glance.
A brisk 10 minute walk to the AirTrain was enough to restore proper blood circulation and make me feel like a human. I usually try to walk at least 10k steps per day, something that's hard to do when I travel, but I was feeling confident that this trip would have enough walking in it that I'd reach this goal.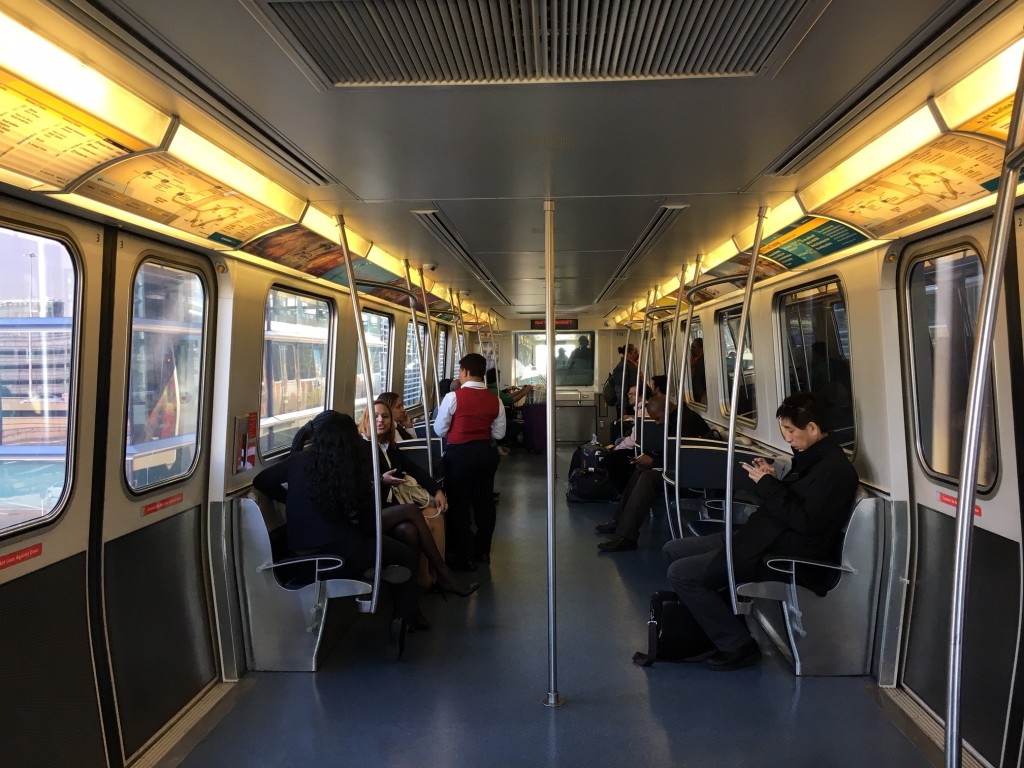 A short ride to T4 and a brief glance at Yelp to help me find the Global Entry office (next to the diner in the arrivals area).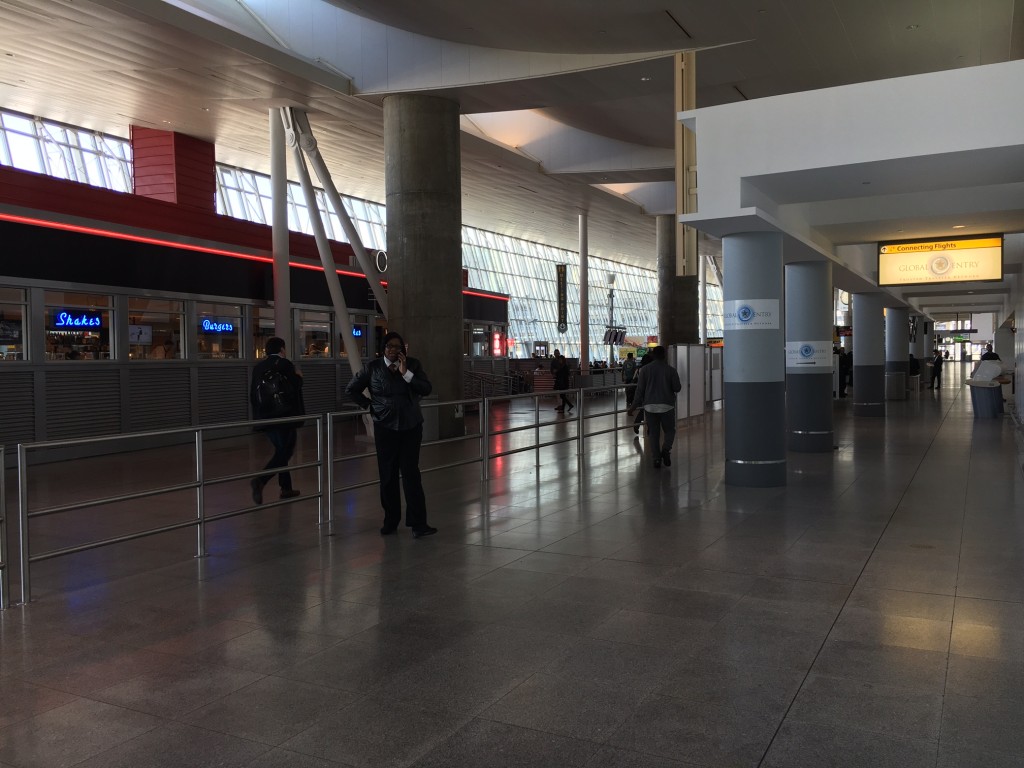 The office itself was very spartan, with a TV playing the tutorial on loop. I did not have enough time to actually watch it as I was summoned by an officer, asked a few brief questions, photographed and dispatched out of there all in 10 minutes flat.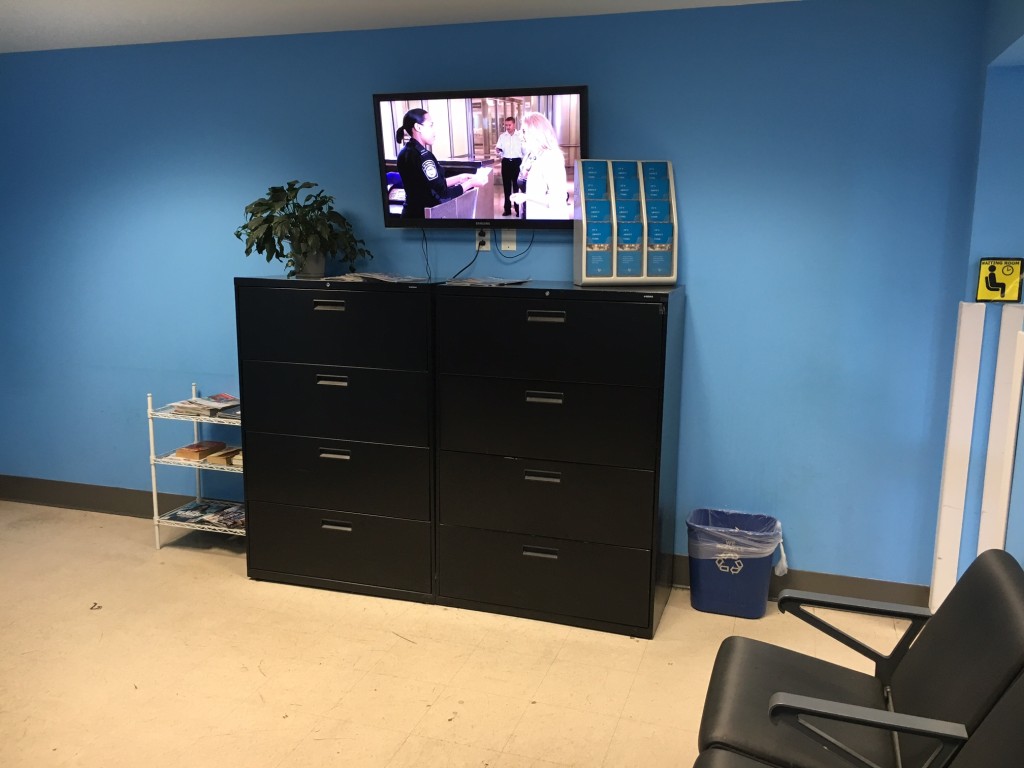 Who ever said that the government can't be fast?
Global Entry procedures finalized, I meandered back to Terminal 8. I would have liked a chance to spend some time outside, but alas I think only Delta offers an outside lounge at JFK, and I wasn't going to be welcome there.
Re-entering T8 through security was a hassle. I came at 10:30, right when all the TSA agents were changing shifts. I think the new shift was a bit late, and all but one TSA agent already left, meaning that both the premium line and the hoi polloi (I kid, I am one of you most of the time) had to wait for a solid 15 minutes while the agents finalized the change.
Then, as if by magic, a presidential length caravan of wheelchairs appeared, with no end in sight. At least 10 wheelchair passengers, each accompanied by entourages of relatives, skipped the line and made their way to the front of the waiting masses. Since I was in no hurry, and since the latest Freakonomics podcast was about the no-tipping policy of Danny Meyer, I didn't stress out. But if I was on a flight that was leaving soon, I think my rage-o-meter would have spiked at this point.
Finally, I cleared security and paused to take a photo of a bejeweled AA jet.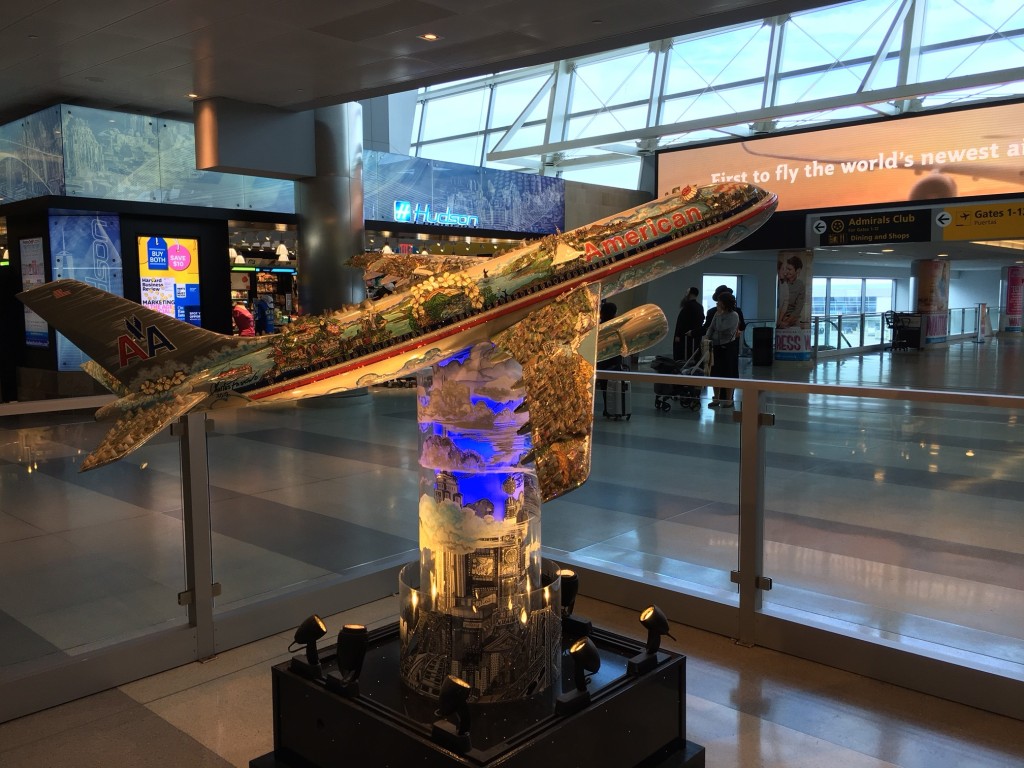 I then decided to simply walk around a bit, before secluding myself in the Admirals Club for the remainder of my layover. After all, I had my 10k steps to schlep! What I like about T8 is that it's relatively bright and spacious and is not cluttered with places to eat and spend money at every step.
I really wish there was an airport terminal gym concept that would allow people who are willing to part with some money to get some physical exercise during layovers, without having to clear security or go to some adjacent hotel.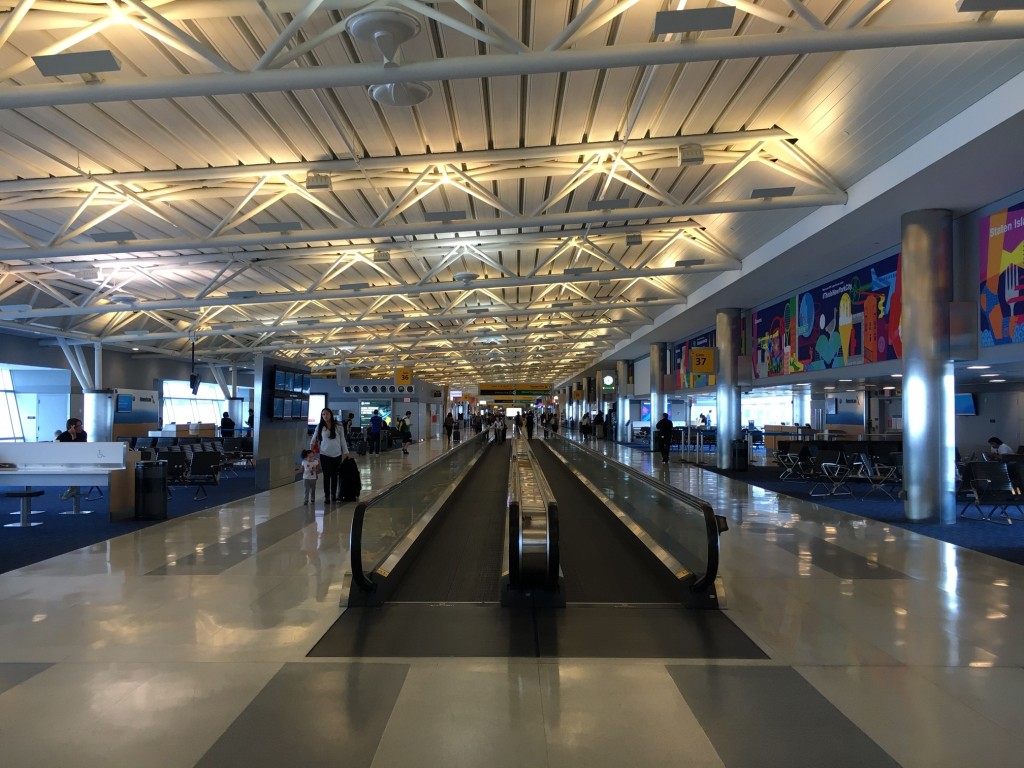 After burning off some calories with the airport equivalent of mall walking, I was back to the lounge, ready to sing praises (via this post) to my new travel backpack.
After a recent spike in work travel, I found myself wanting a backpack that was well designed, and took the modern business traveler's needs into consideration. I didn't need a "brand", but a backpack that was extremely functional and, to my own surprise, this backpack ended up being made by eBags, the eponymous company that is the Zappos of bags. I ended up ordering the TLS Professional Slim Laptop Backpack, which, after a discount, came to $89 (from the original $109). There are several variations of this bag, with roomier versions for those looking to pack a couple of days worth of clothes, but I didn't want something bulkier than this.
The backpack has several intelligent compartments, each designed to be discreet yet functional. There is even a zip-out bottle pocket, which my previous business backpack lacked. In addition to a dedicated tablet pocket, the sturdy compartments are have either L or U shape zipper openings, ensuring that the bag maintains its structure and not giving you more than you need. Its hard shell charger compartment at the bottom is great for chargers (yes), as they don't get tangled up, but also for glasses, in case you forgot your case.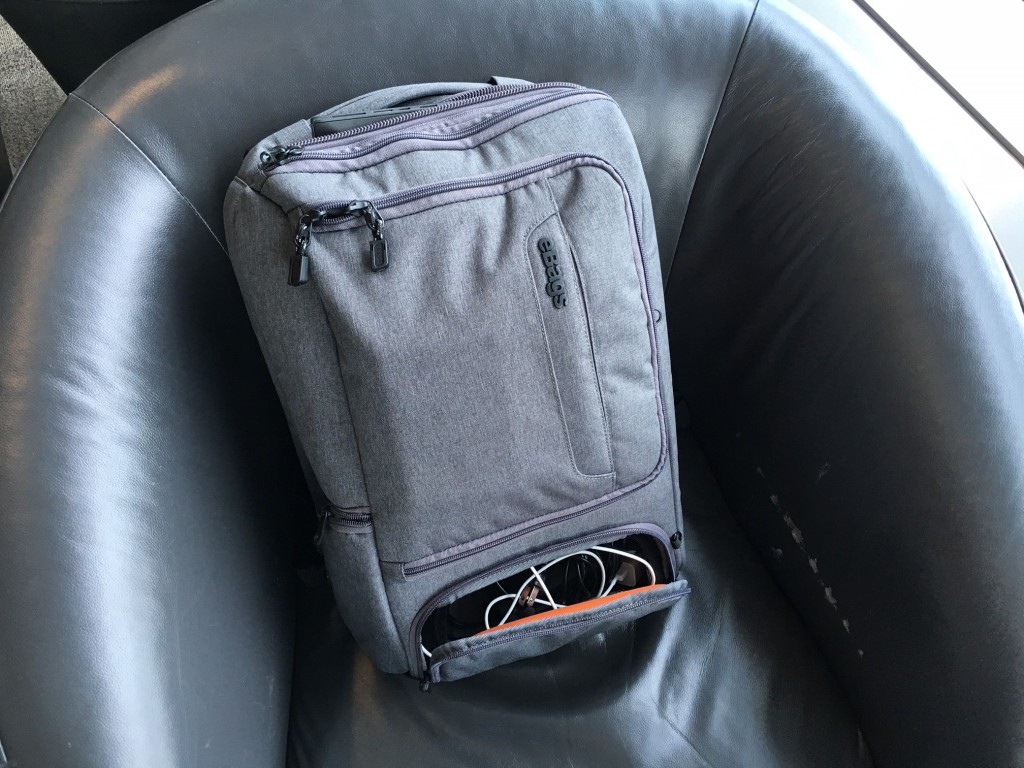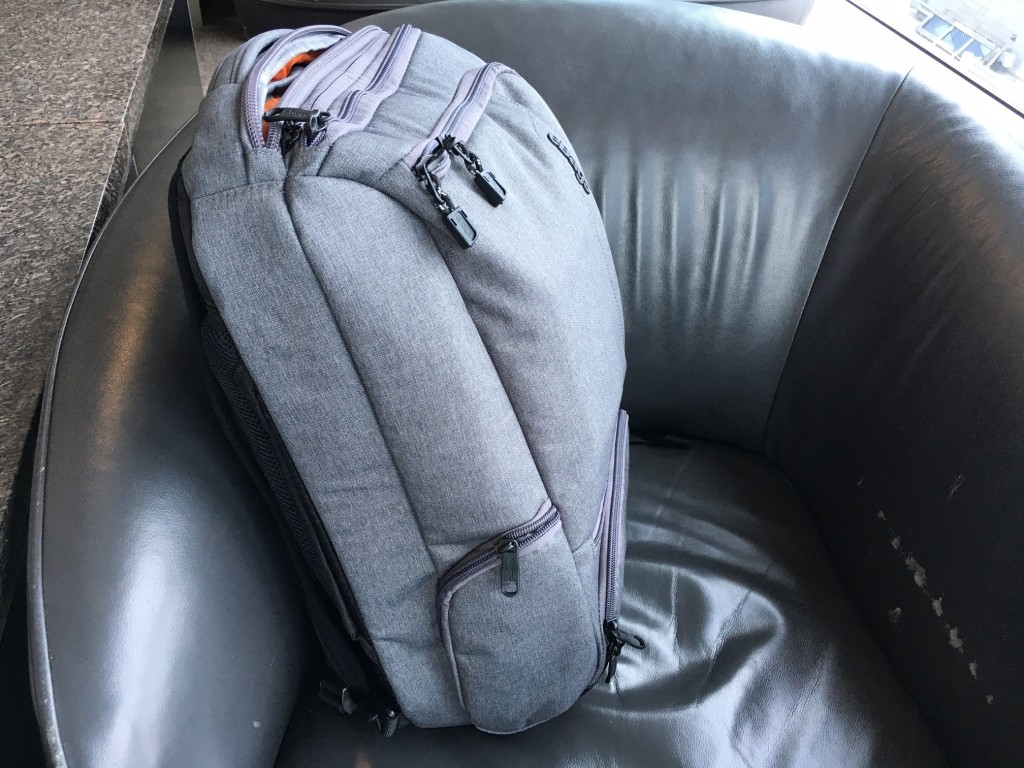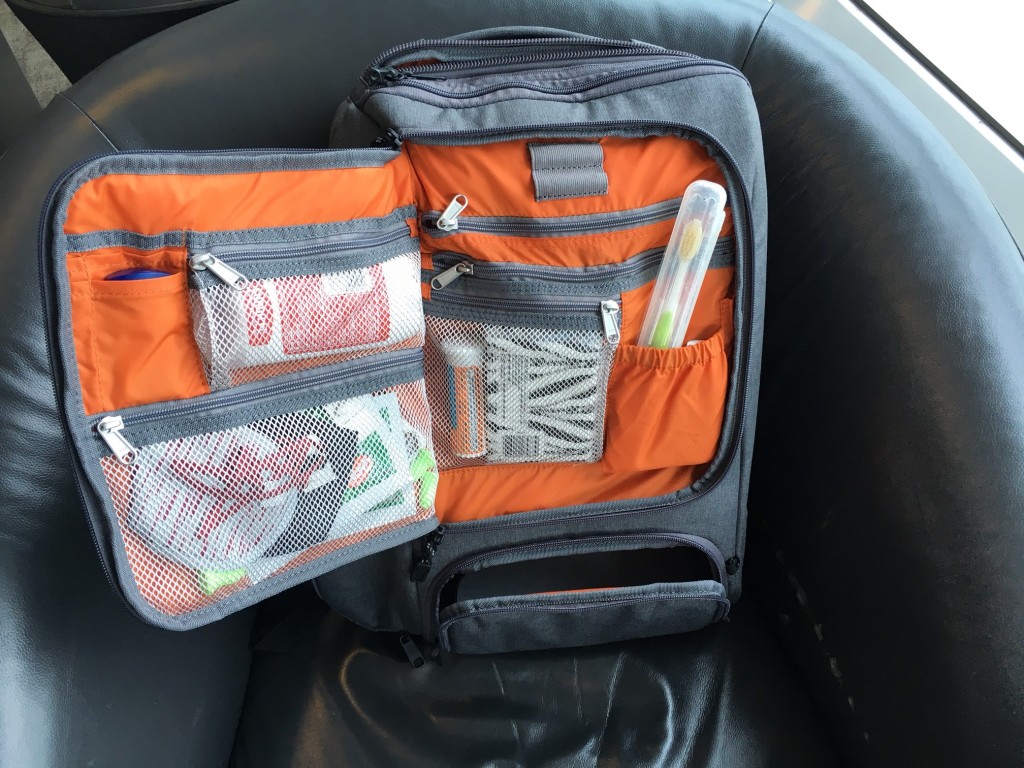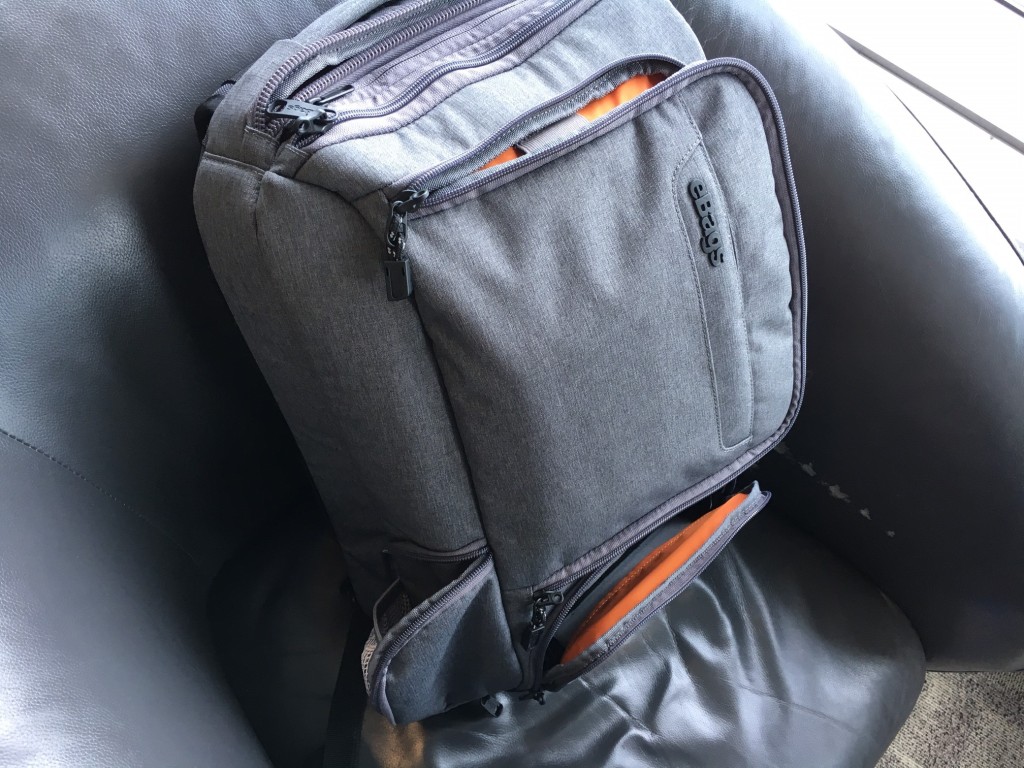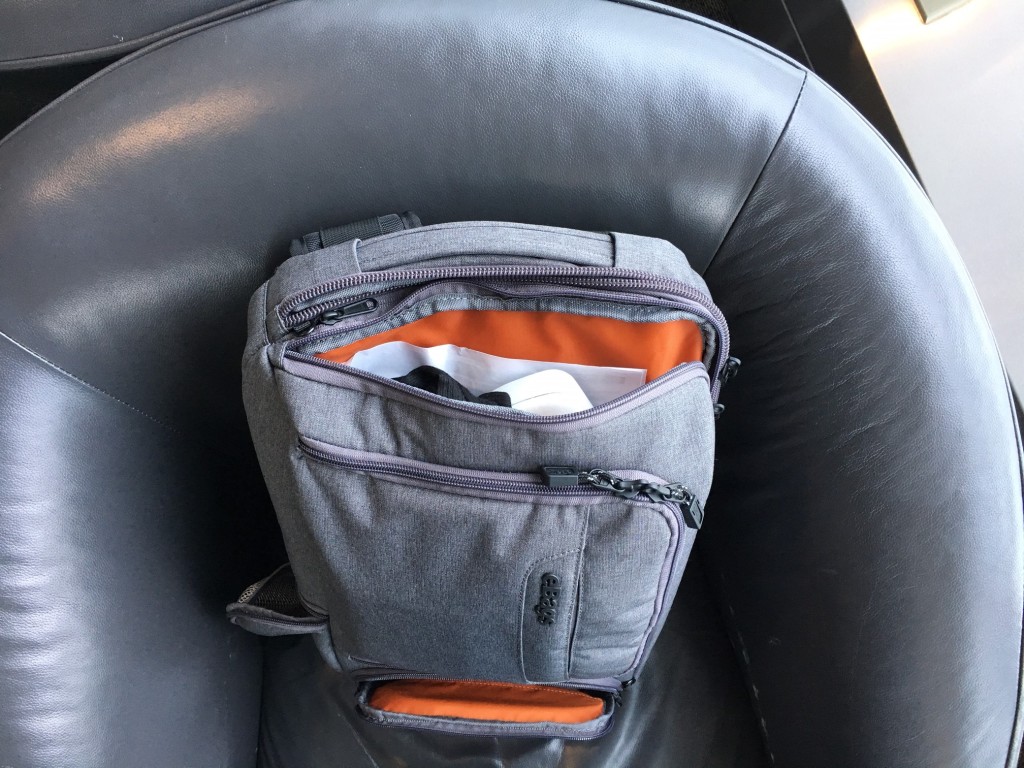 I managed to pack everything I needed for this trip (laptop, iPad mini, chargers, a couple of magazines, a change of clothes, basic toiletries and my sunglasses). What a painless way to travel when all you have is this, and you don't need to rummage through each compartment while going through security!
1:55pm
It was time to fly to Miami. As you may have seen in the earlier part of this post, I was under the impression that I'd be flying in a Boeing 757-200 with a Business class that featured angle-flat seats. The reason for thinking this was the map on AA.com which showed only four rows in Business, which eliminated all the other 757s in their fleet (at least according to SeatGuru).
Well, to my surprise and chagrin, the 757 we flew had more than four rows and all the seats were regular recliners. This Boeing still sported the old AA livery, and everything inside made me think of the early 1990s.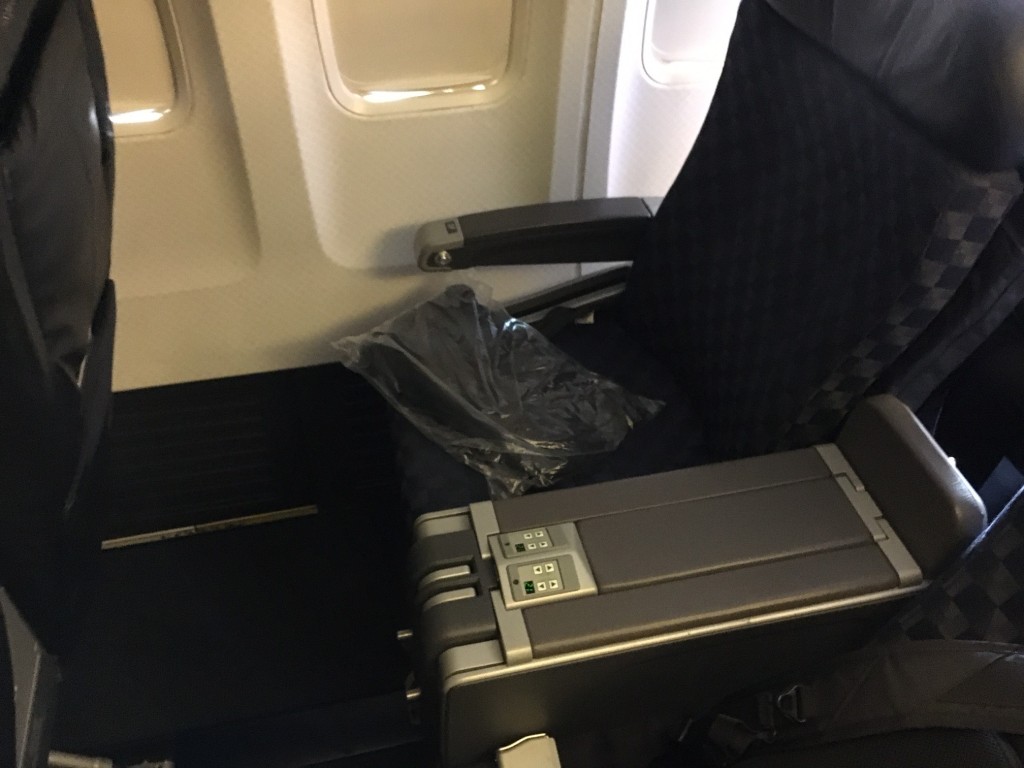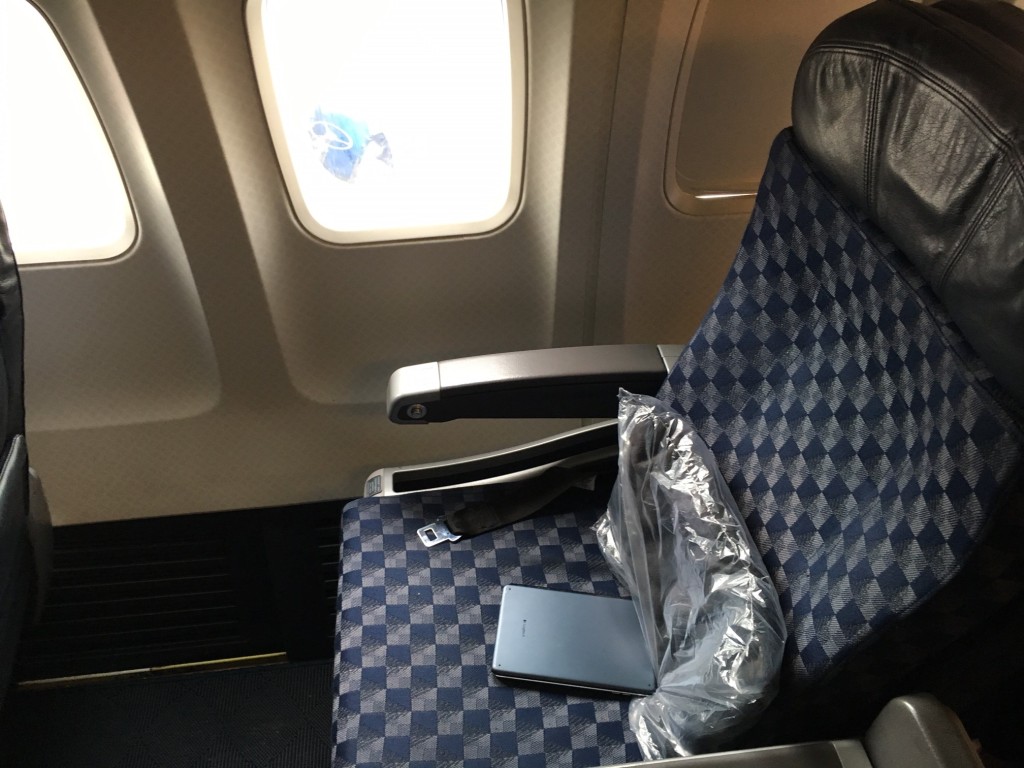 As the clock progressed toward departure time, several seats remained empty, including the aisle seat next to me. With a couple of minutes to go, a very hurried airport employee ran into the plan with a small suitcase and several bags, hurled them into the overhead compartment and helped an elderly gentleman into the seat next to me. I'll just admit right now that I thought this grandpa was not a frequent flyer, for whatever reason, until the end of the flight when I saw on his bag a Concierge Key tag. Cue me eating mental crow.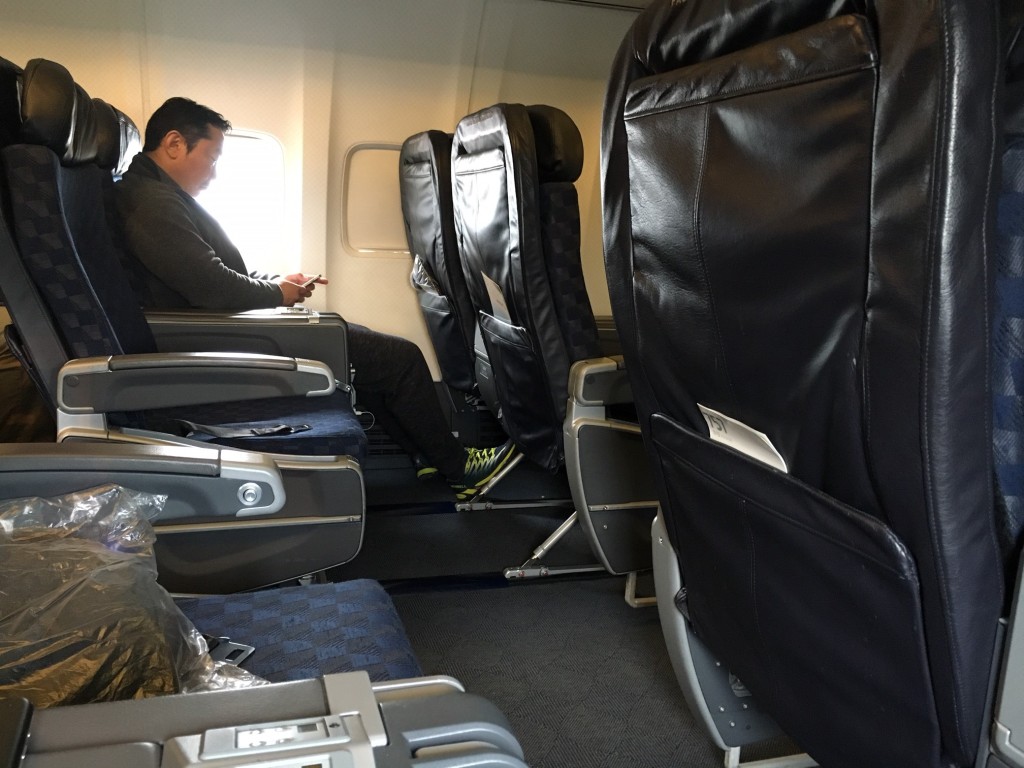 We pushed off on time, despite several passengers arriving late. To our right was an AA plane in OneWorld livery, which I still think does not look as cool as the Skyteam one. As we made way to the runway, I saw a 747-400 freighter sporting an unfamiliar logo of SilkWay airlines. A quick search on Google revealed that this is a cargo operation run out of Baku, Azerbaijan and that SilkWay flies a number of Russian/Soviet planes, as well as these jumbos and 747-800 freighters.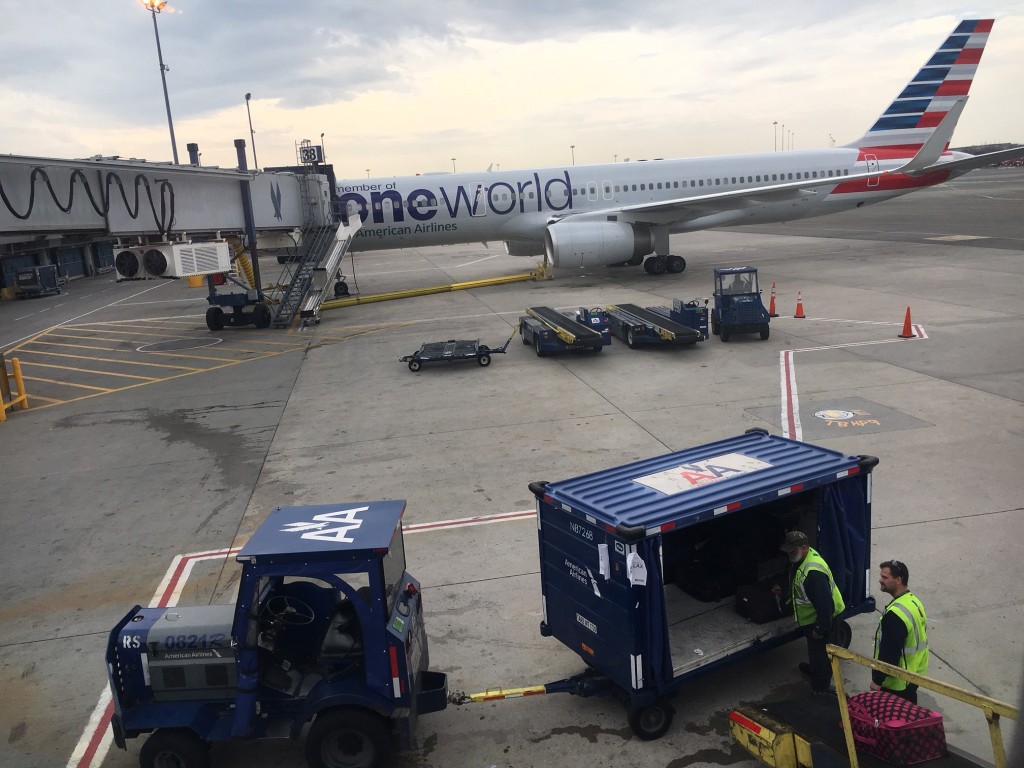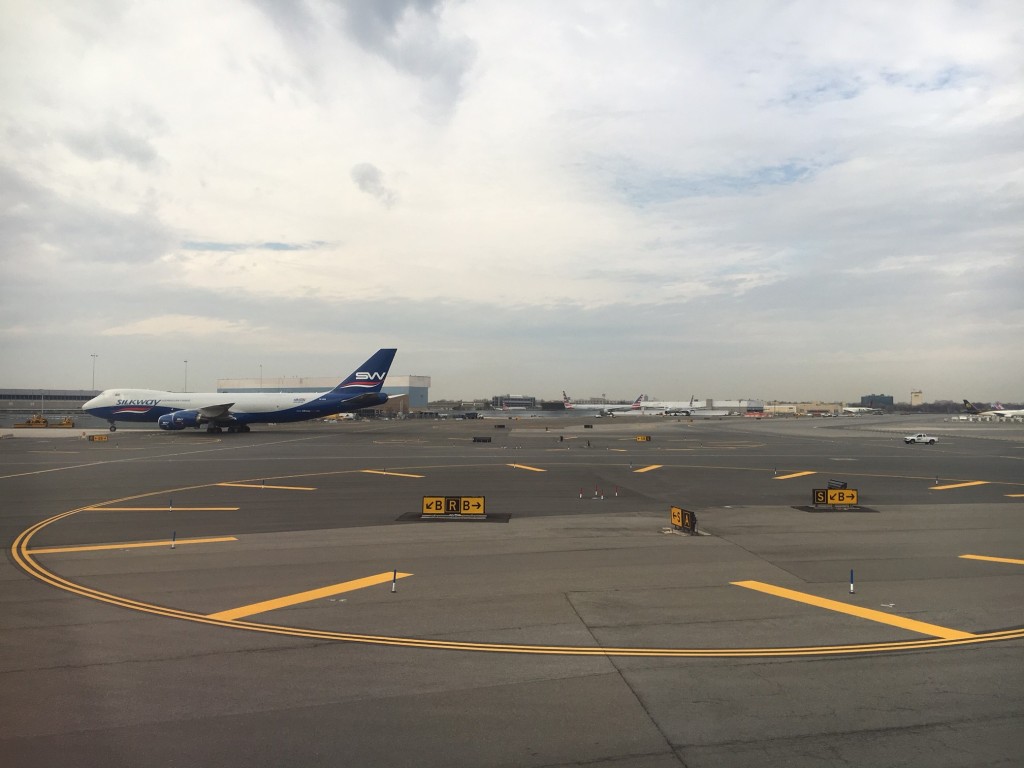 A 757 is a loud plane, compared to more modern jets. The old interior shook and creaked as this bird rolled down the runway and took off, heading south. FAs, who were quite friendly towards the gentleman to my right, but much more reserved when it came to taking my orders, started service quickly. We first had a bowl of warm nuts and a drink (I decided I was going to start drinking on this flight, so I opted for a whiskey and Diet Coke, which came in two different drinking vehicles, each filled to the brim).
Lunch followed, with a choice of chicken and salad or something else (I think ravioli). I opted for the chicken, which was a regretful decision, as it was covered in soggy bread crumbs and made me suspect that American steals it from hospital canteens. The warm pretzel roll was, as ever, quite good.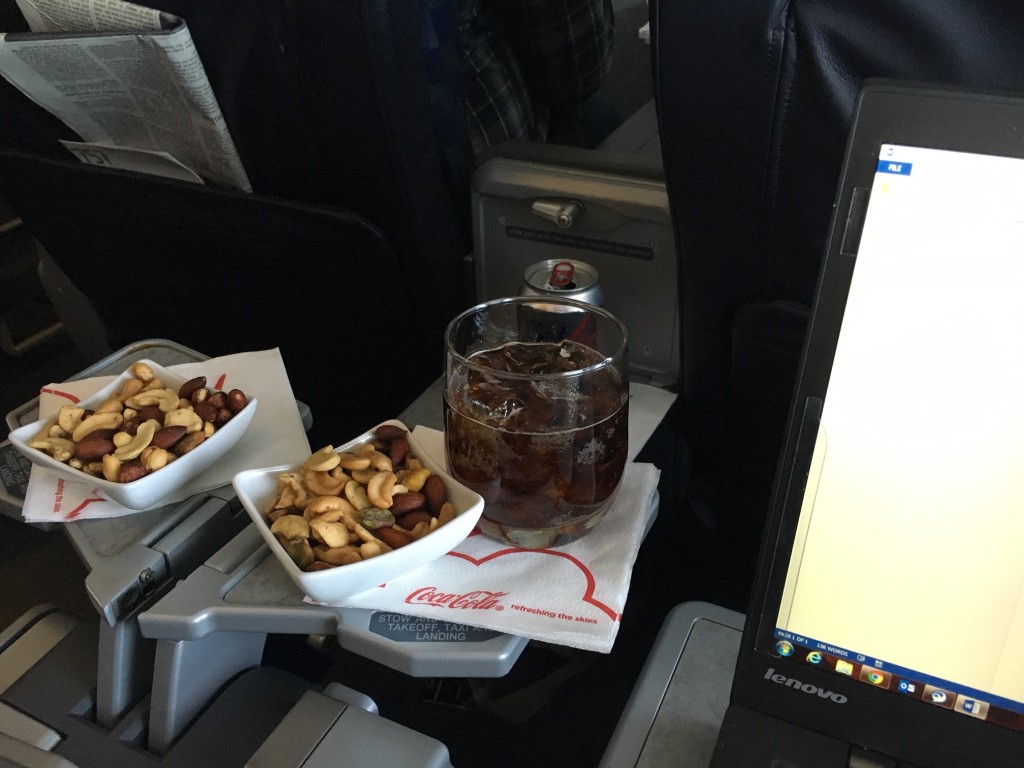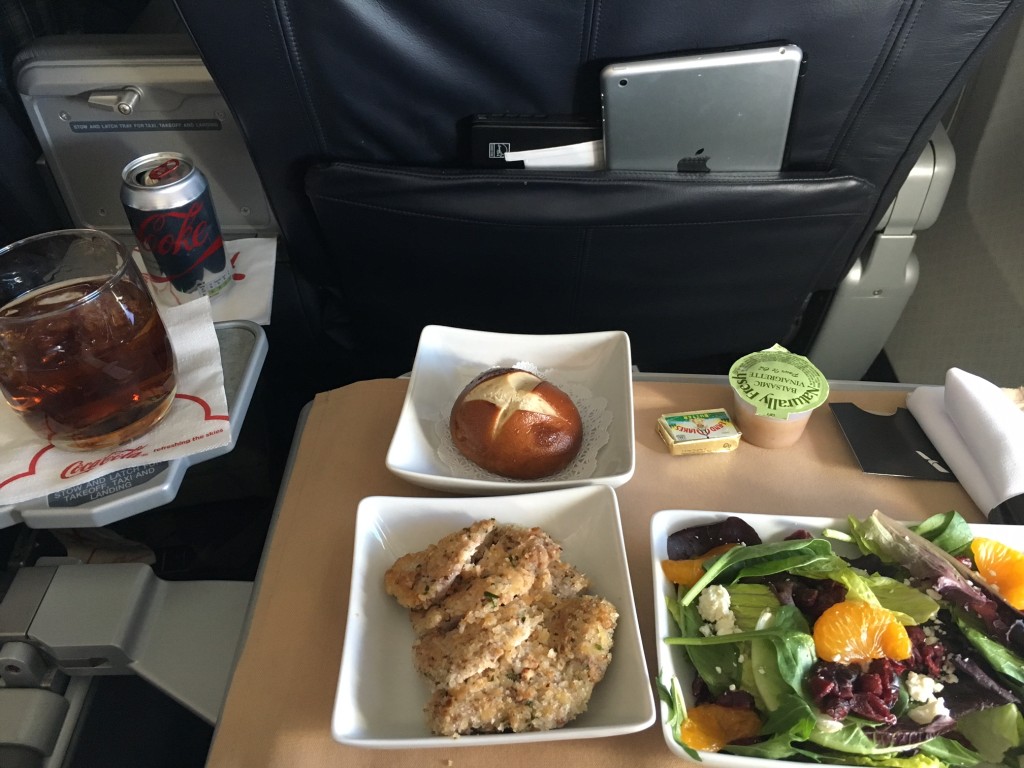 The plane didn't have AVOD, so we were treated to old-school bulkhead TVs that played the new Star Wars. As I munched on my sickly chicken, and half-listened to the movie, I was glad to not have spent $12 on seeing it in the movie theater.
What surprised me on this, and the subsequent flights, was that the FAs didn't order hot drinks, like tea or coffee, after a meal. I'm sure I could have asked, but it felt like something that should be brought out after meal is served. It's not like they had much to do for the balance of the flight.
As we crossed into Florida and began our descent, the clouds cleared, and the passengers on the starboard side were treated to some nice views of what I assumed was FLL and, later, Miami. You can see airports in both of these shots.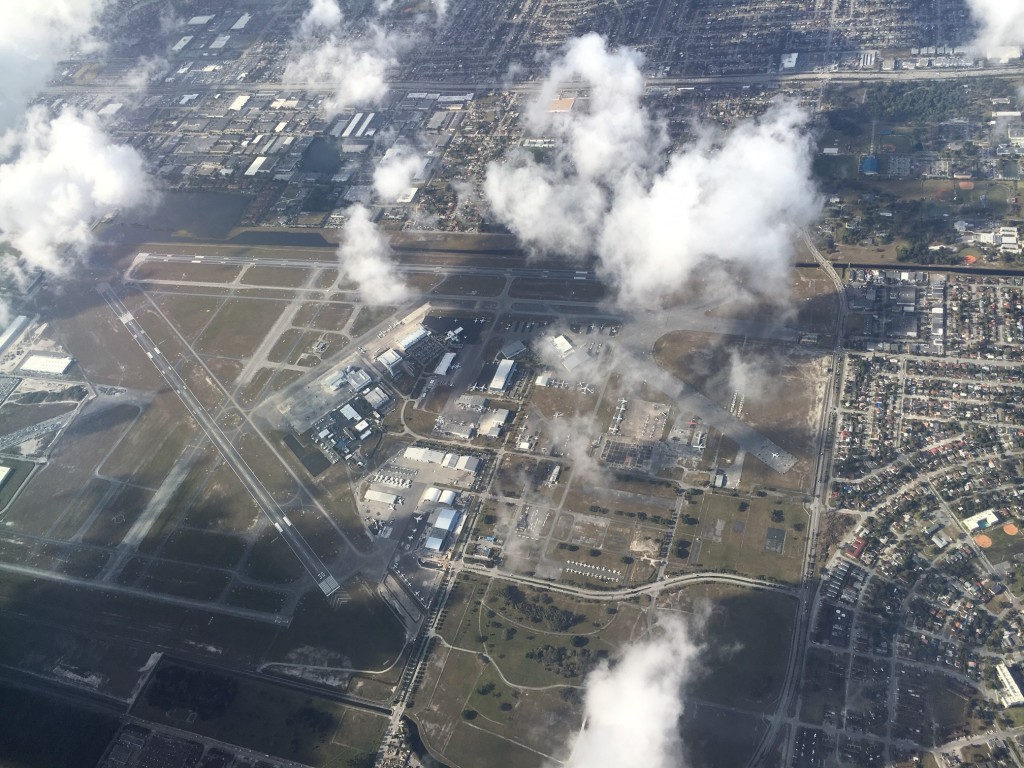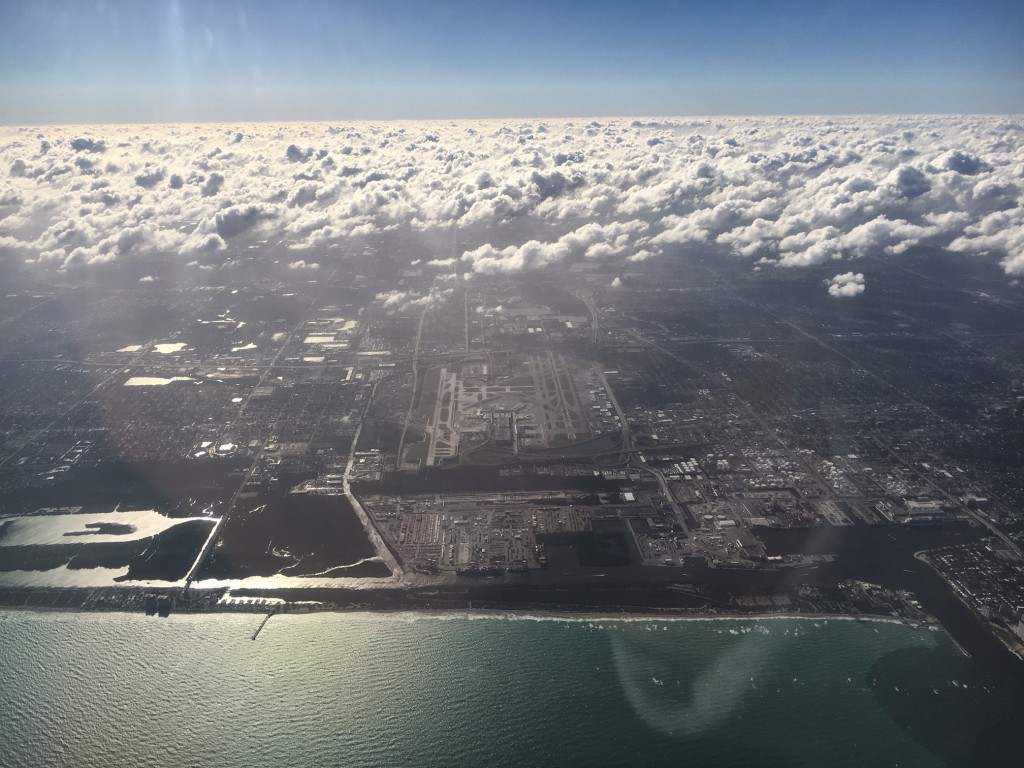 Right before touching down, we flew over the Trump Golf Resort in Doral. I think this is where the world's favorite Presidential candidate had his press conference recently.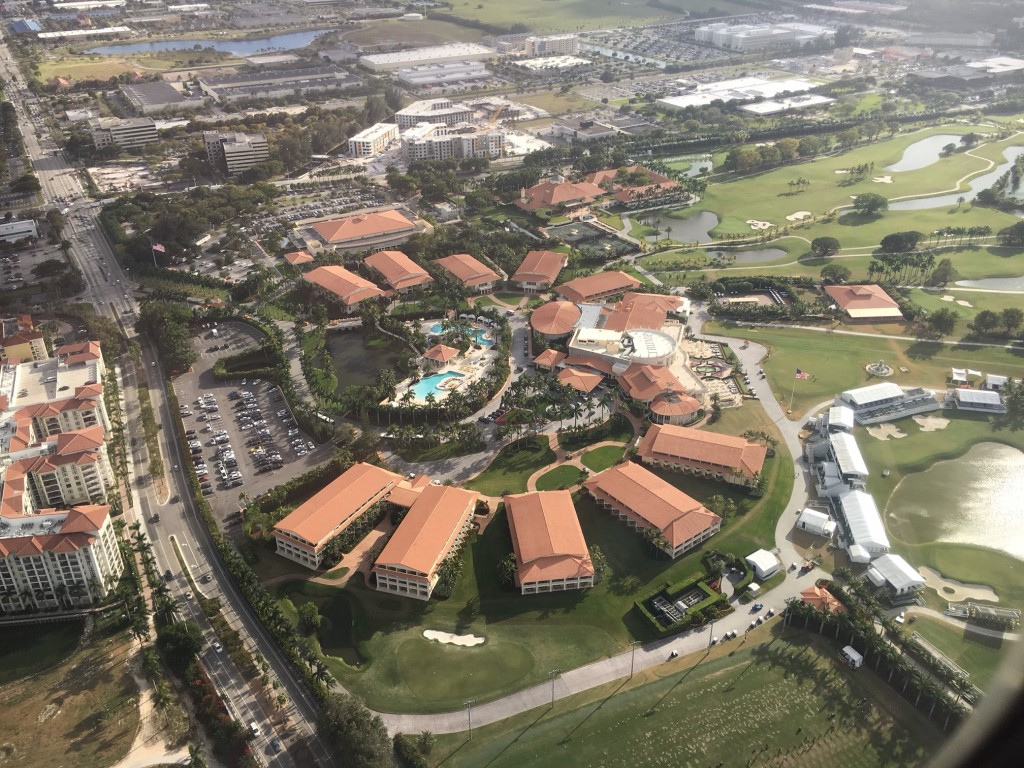 I didn't have time to take photos of the Miami airport as I had to deal with a bit of work and half-ran (half-walked, because of the gallon of Jack Daniels sloshing in my brain) to one of the two Admirals Clubs in the terminal. This particular club was located on a balcony overlooking the concourse and had a very pedestrian and temporary look to it. I think there was a sign saying that the real Club was being renovated and that this might be a temporary location, but between the booze and the need to send some emails, I didn't pause to confirm.
Armed with a few non-alcoholic beverages from the Club, I ran towards my next flight, which was departing at 6:15 (the total layover time was just over an hour).
6:15pm
Our plane looked nothing like I had imagined. In fact, I shared the photo below with a buddy of mine who is an EXP and has flown AA for a decade, and he said he never saw anything similar.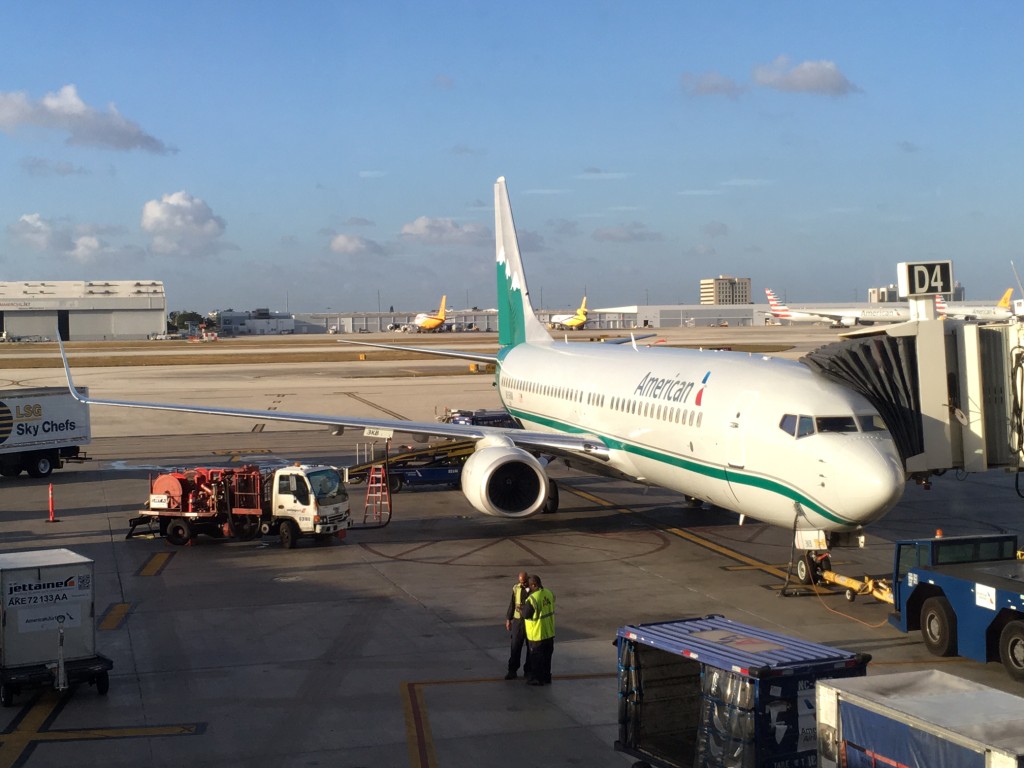 I posted this picture on Twitter, which is when the @AmericanAir Tweet-a-thon began.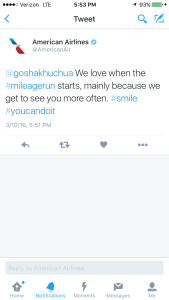 Do they really love when we do Mileage Runs? Especially when it's at a third of a price of what the ticket should cost? Well, for PR purposes at least, I guess they do. As you'll see later, I got response from American for every MR-related tweet, which was pretty amusing and did brighten up my trip.
The Business class cabin was full, with the exception of one seat. There was a group of five folks, probably in their 50s and 60s, traveling together and they very clearly quite happy, assisted, I'm sure, in no small part by a few drinks. One guy, clearly the group's leader, looked very much like Randy Peterson, the founder of FlyerTalk. So much so, that at some point I had to steal a glance at his boarding pass, just to make sure that it wasn't him.
Warm nuts and a drink service once again preceded dinner. Entertainment on this plane was awful. There was no AVOD, and the choice of programming for overhead TVs was some NBC crap that looked bad without sound and, likely, even worse with sound. I was glad to have my iPad and powered through a few downloaded episodes of Mozart in the Jungle.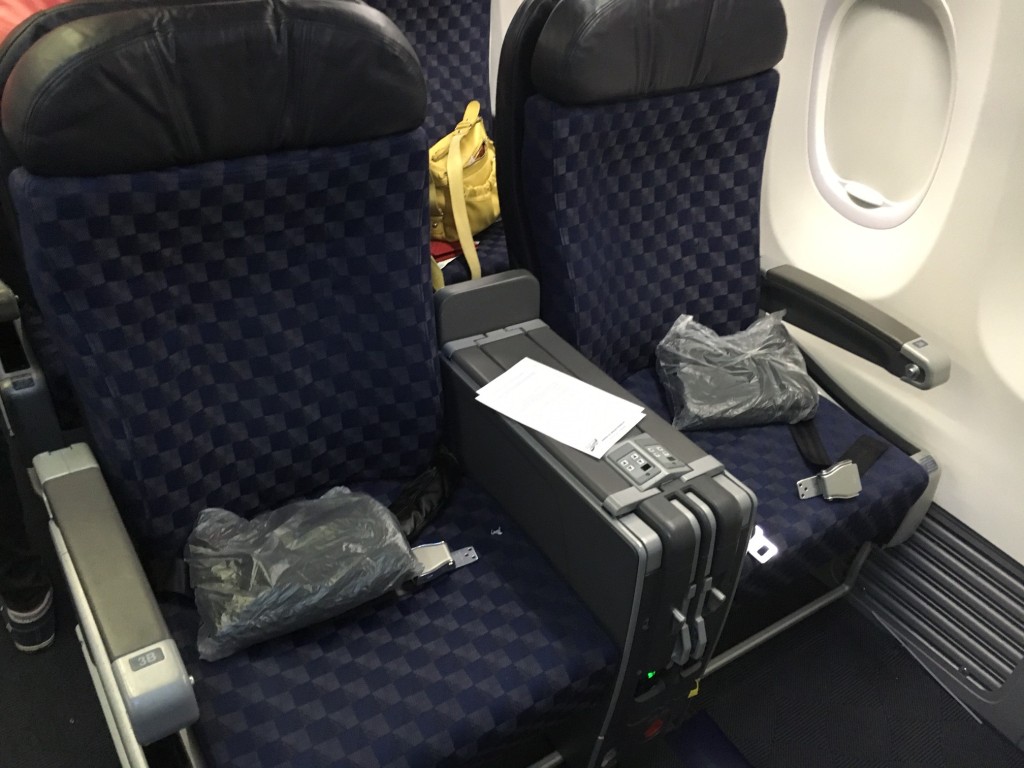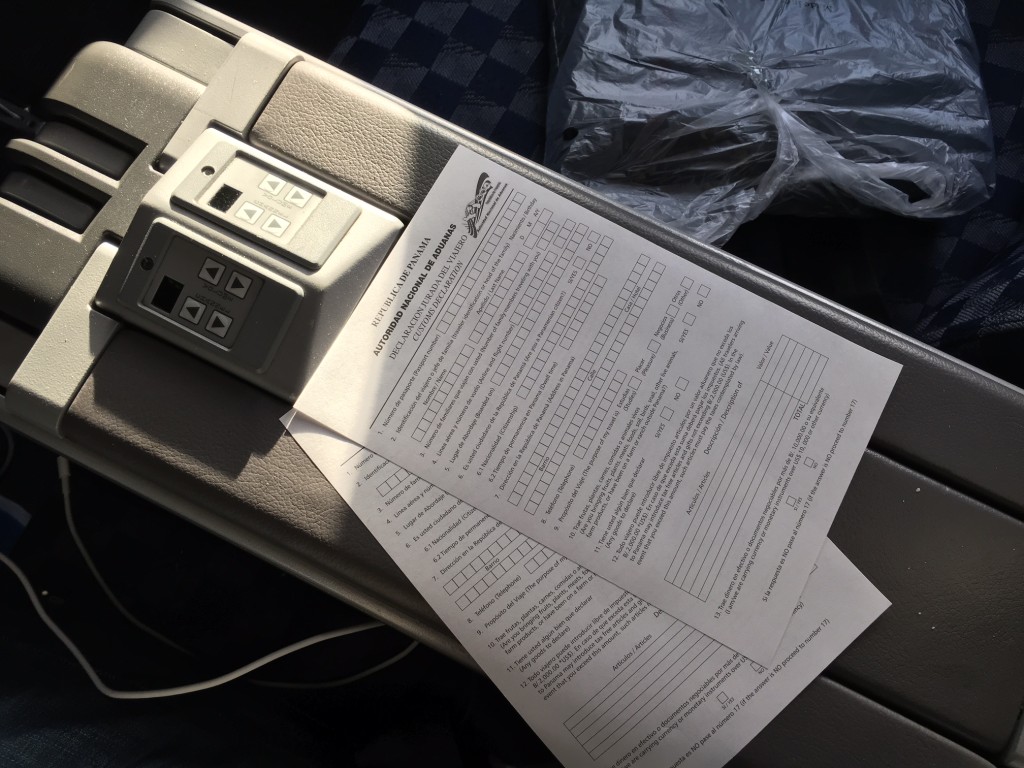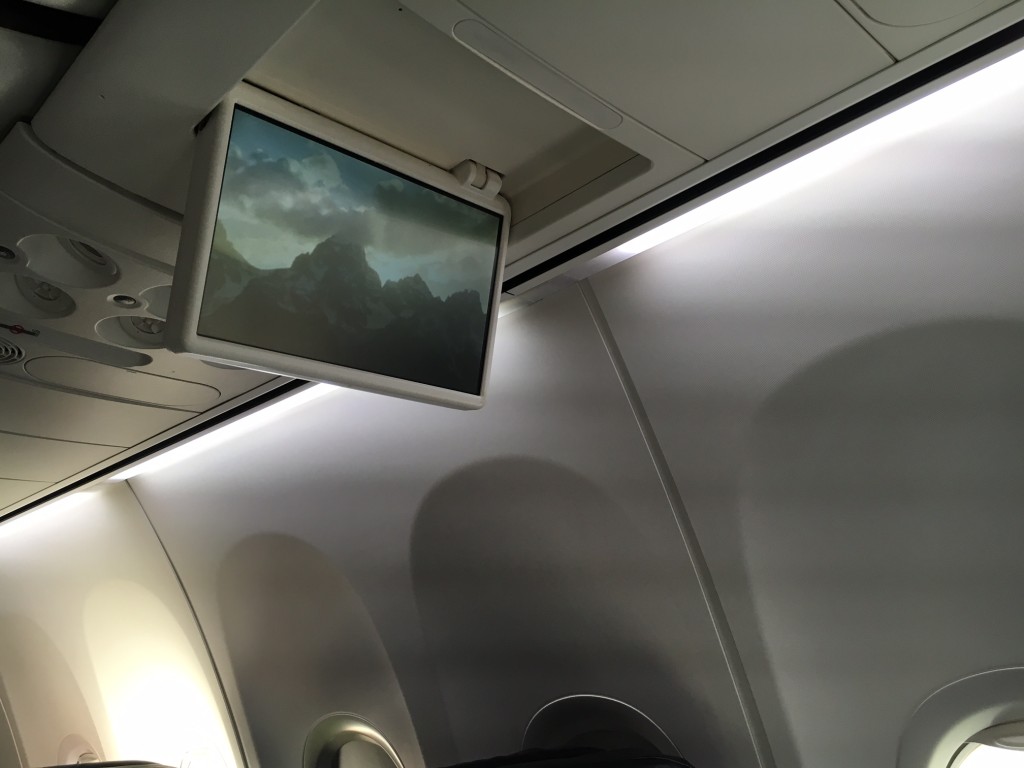 We landed in Panama City airport on time, but ended up sitting on the tarmac for over half an hour. The pilot came on the PA a few times with updates, saying that there was a lot of traffic and we either didn't have a gate available or, when one did open up, that other planes blocked our path.
I was getting a little annoyed, because I only had a few hours to sleep before the return flight, and these delays were biting into this.
Finally, we disembarked and I walked for a small eternity to passport control. Several other flights must have arrived right after, as the line behind me quickly grew. There were a lot of agents serving us, with about half processing nationals. The process was pretty simple, though I did get all my fingers scanned and a photo was taken.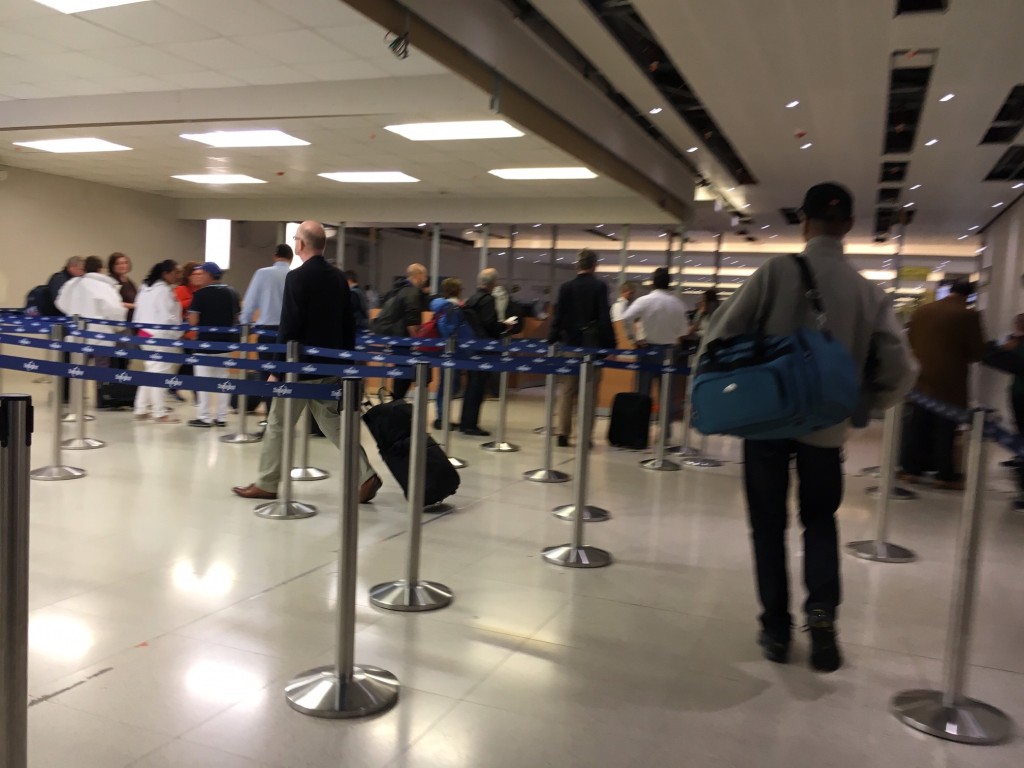 The wifi in the airport was free and actually worked pretty well, despite what others wrote previously. I even ordered an Uber, but then decided that it wasn't worth the wait (and the 4.5 rating didn't appeal to me). I found the taxi stand, negotiated a bit with the driver, and for $30 was driven to my hotel, a DoubleTree in the el Carmen district of Panama City.
The drive, on Google Maps, should have taken over half an hour, but I think all these guys speed so much that we got there in about 20.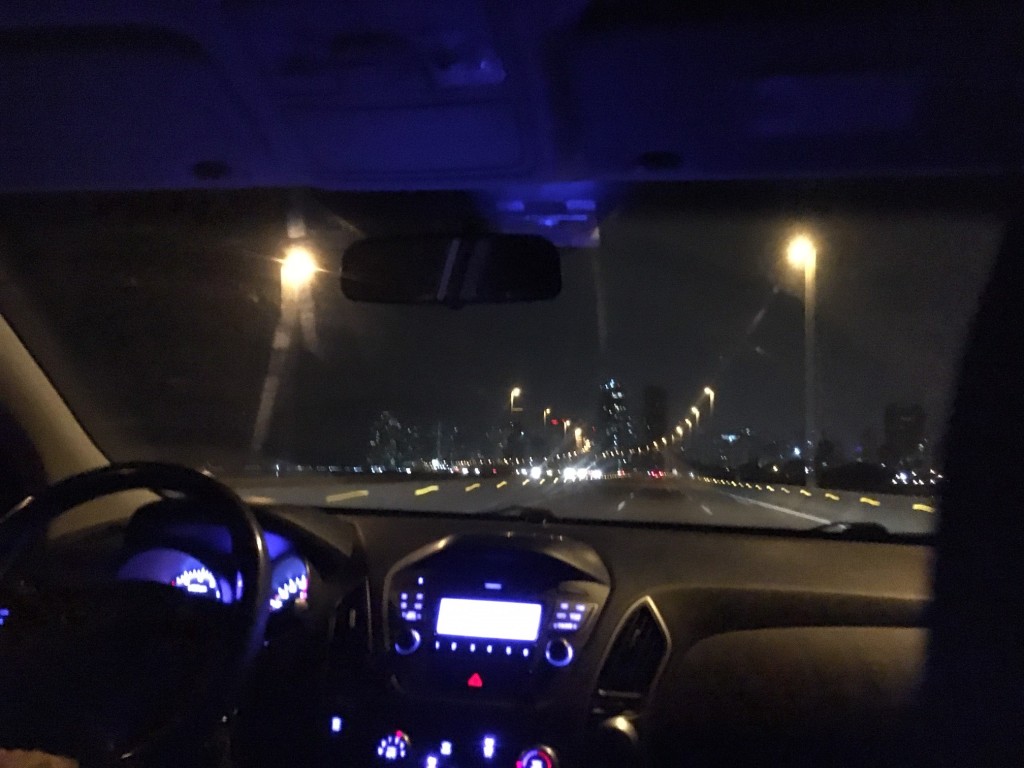 The hotel was a bit run down, with a very bland lobby and a shabby check-in area. The friendly staff processed me quickly and gave me a warm cookie along with my key. My room was on the 5th floor, which is an HHonors floor (this, despite my lowly Silver status). It was a fairly basic room, with the AC set to something freezing (though outside, it was about 95 degrees with 100% humidity). The tile floors which covered the whole room were cold because of it, and the shower was equally uncomfortable. It didn't really matter, though, as I was exhausted and after a quick call home, collapsed into a short, but deep slumber.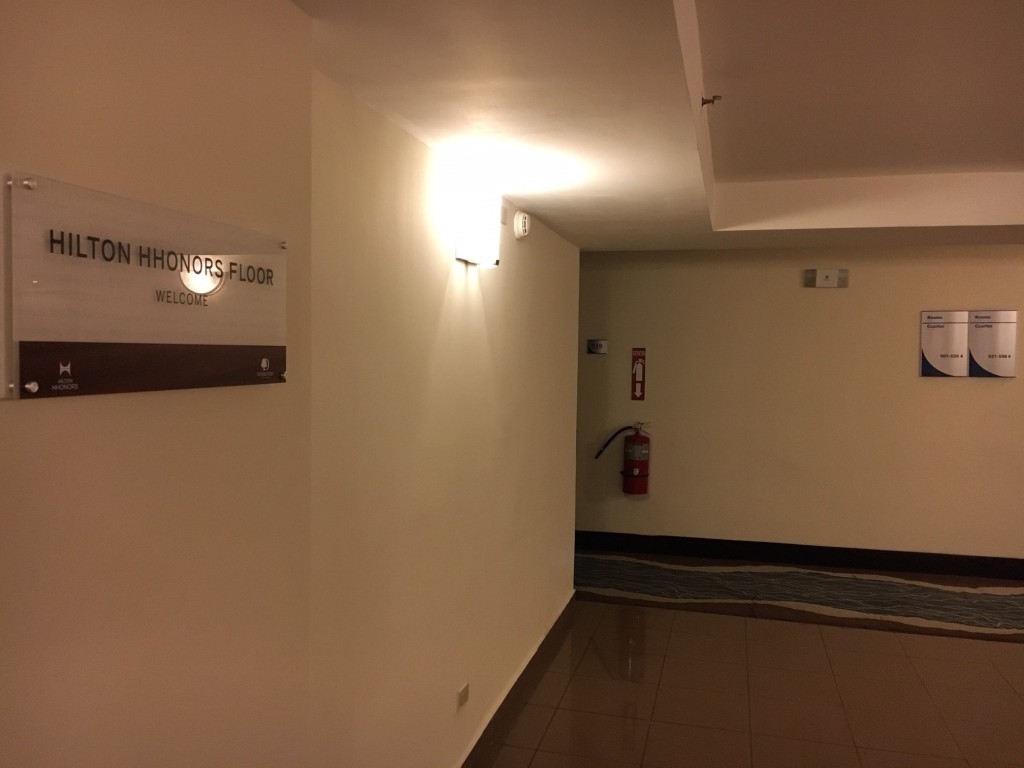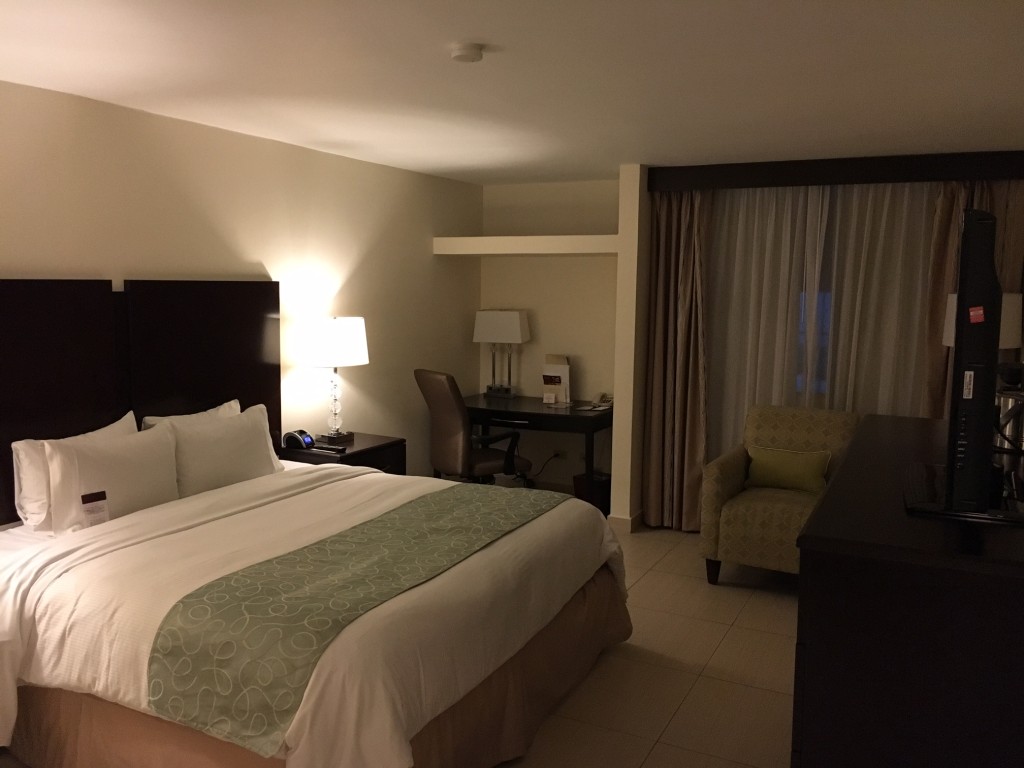 March 11, 2016
4:20am
The phone rings, and I end up having to pause slaying dragons and evil elfs in my sleep to attend to reality. It's my wake up call and my not quite sleep and not quite nap (let's call it a slap) is over. Five hours of shut eye is less than I hoped for when I initially booked my flight and hotel, but it's doable.
A quick aside, there is indeed a hotel that's closer to the airport – a Crowne Plaza. I was contemplating staying there, but it would not have given me a shot at seeing any of Panama City. El Carmen is only 10 minutes further, but is clearly in the bustling part of town, with many bars, clubs, eateries and highrises. Or at least that's the impression I got from my taxi ride to the hotel. In retrospect, I am glad I sacrificed even a bit of extra sleep to at least get a glimpse of the city. I'm usually not a fan of flying in and flying out, without seeing the place, and I would have liked to stay here for at least a day, but I didn't have the time.
After a quick meeting with a toothbrush and cold water to the face, I came down to the lobby, where they told me that my pre-booked taxi was waiting for me. I decided that the $6-7 that Uber would save me over a cab was not worth the potential hassle. Also, for anyone staying in this Doubletree: even though the WiFi does say that it's $5, it's actually not charged to you, if you're an HHonors member and/or booked directly through Hilton. I confirmed this on departure.
The hotel told me that the taxi is $35, so I felt a bit dopey when I got into the cab and decided to confirm the amount, only to hear delight and surprise in the driver's voice, who readily agreed. Point is, you can likely go William Shatner on them and name your own price.
Another thing I shouldn't have done is get back to PTY so early. While I didn't want to risk getting stuck in a long security line, there really was not one to speak of at 5am. The airport wasn't empty, but it wasn't buzzing with activity either. There were a few US-bound flights, as well as a few more going to other central and south American countries. The Copa check in desk was the only one that seemed to have a critical mass of people, along with American.
Curiously, an Emirates ad was plastered above the American check in desks, announcing the much-delayed launch of the Dubai flight, with no date given.
Though I heard that there was no Admirals Club in PTY, I still checked with the agent, who confirmed this sad truth, so I just went through security (which was very lax) and decided to scope out food options.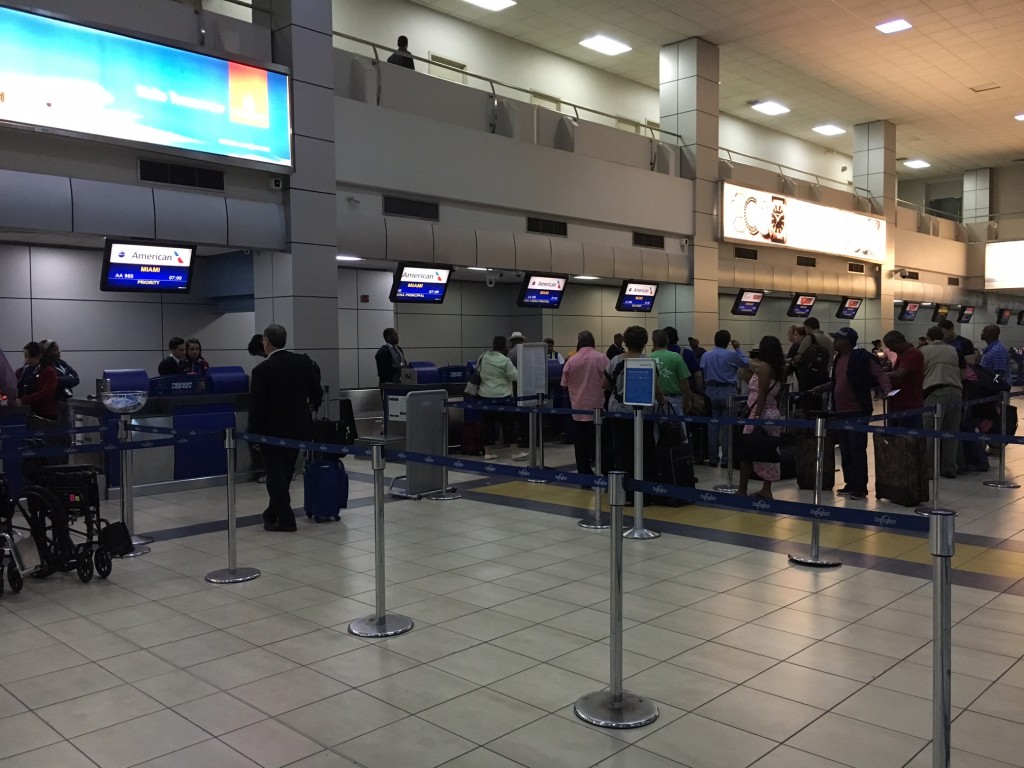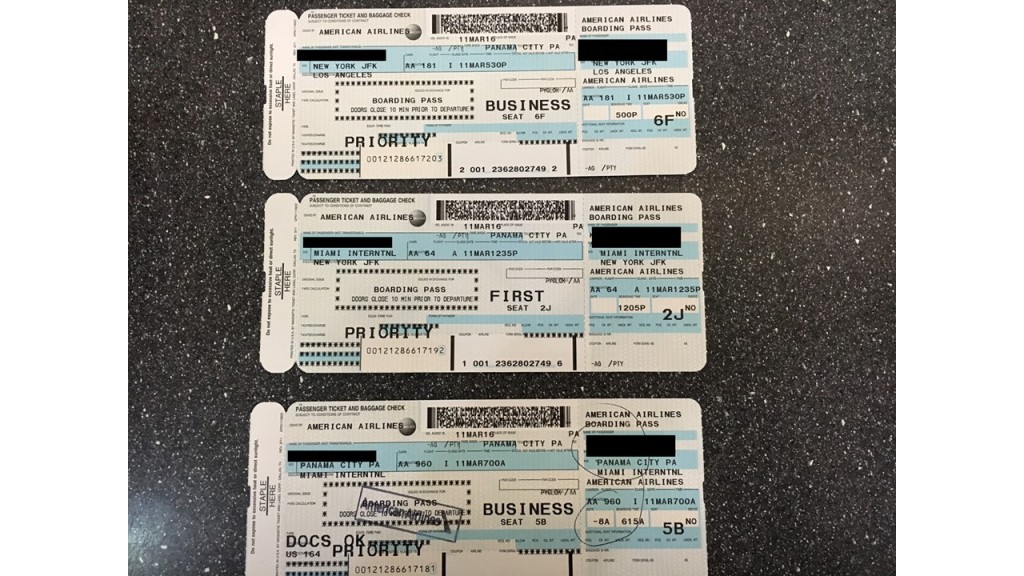 Surprisingly, and confusingly, once you go through security, the first sign you see is for Admirals Club, directing you to the right. Then, a second sign confirms you're walking in the right direction. I decided to see if there was a ghost of this lounge somewhere, but alas, there was nothing.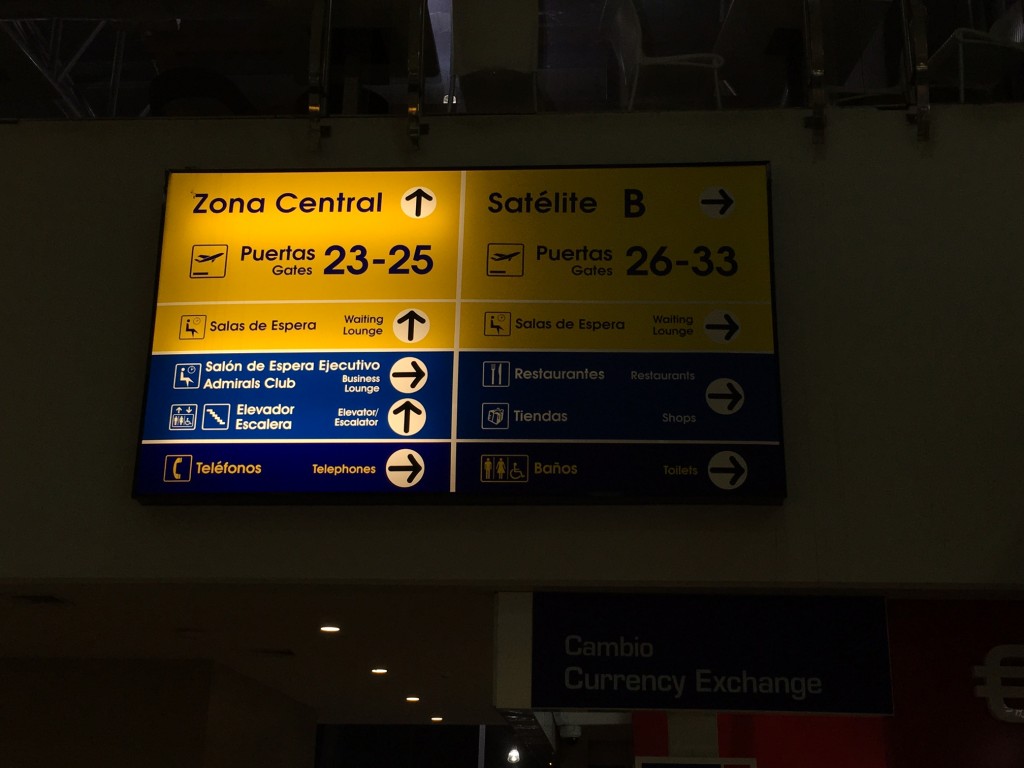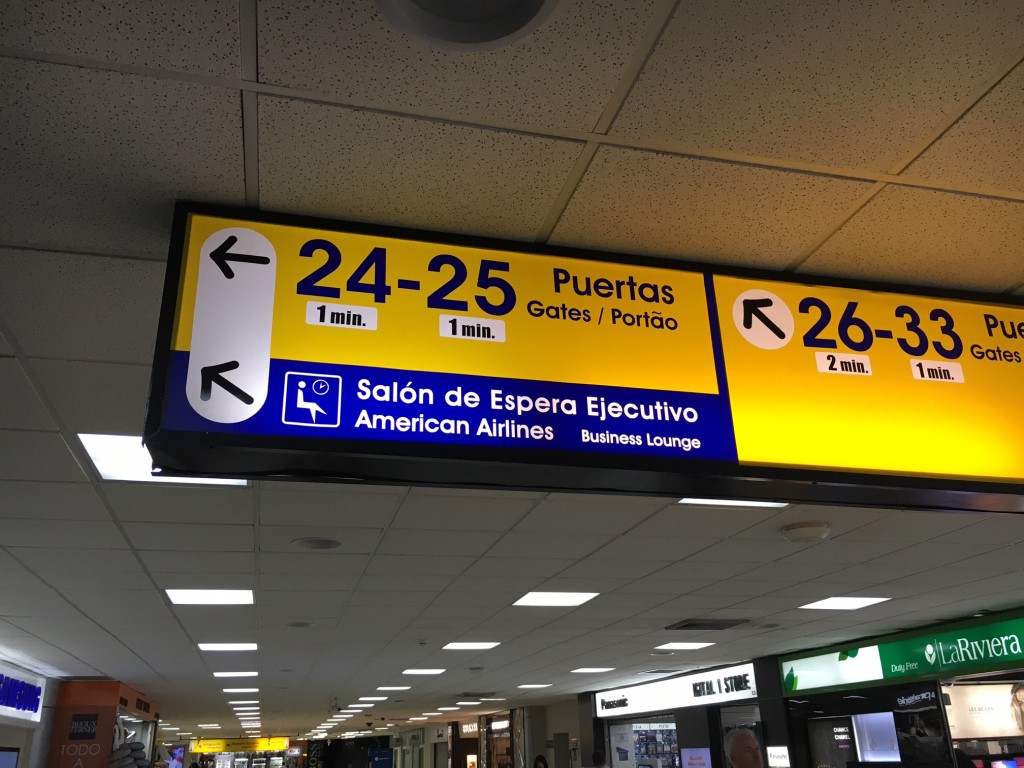 Not to worry, I was going to make my own lounge. The egregiously overpriced Dunkin Donuts coffee and breakfast sandwich (nearly $10!) combined with plenty of empty seating near the windows allowed for some good working time and even made for a nice photo of United and Copa planes basking in the Panamanian sunrise.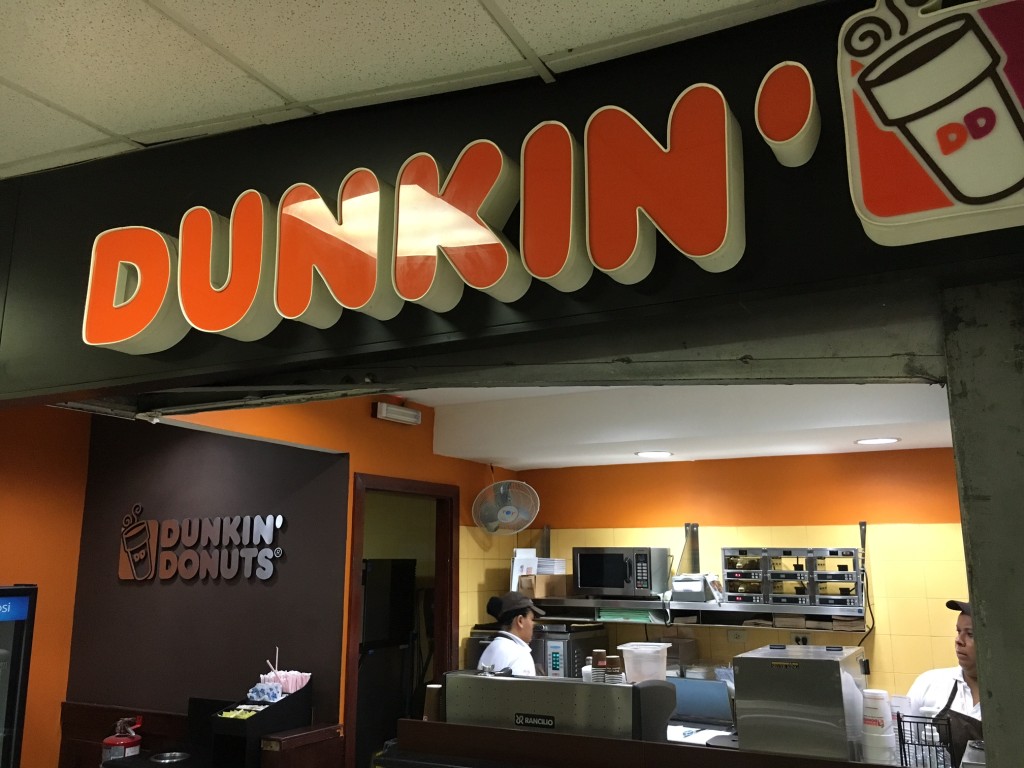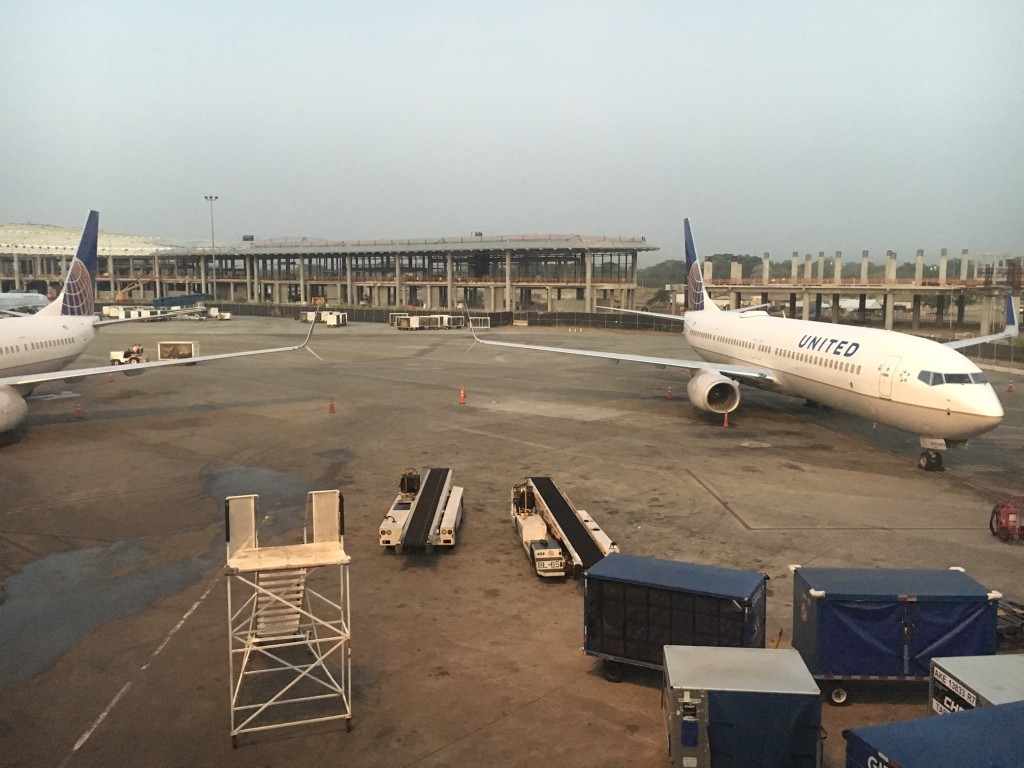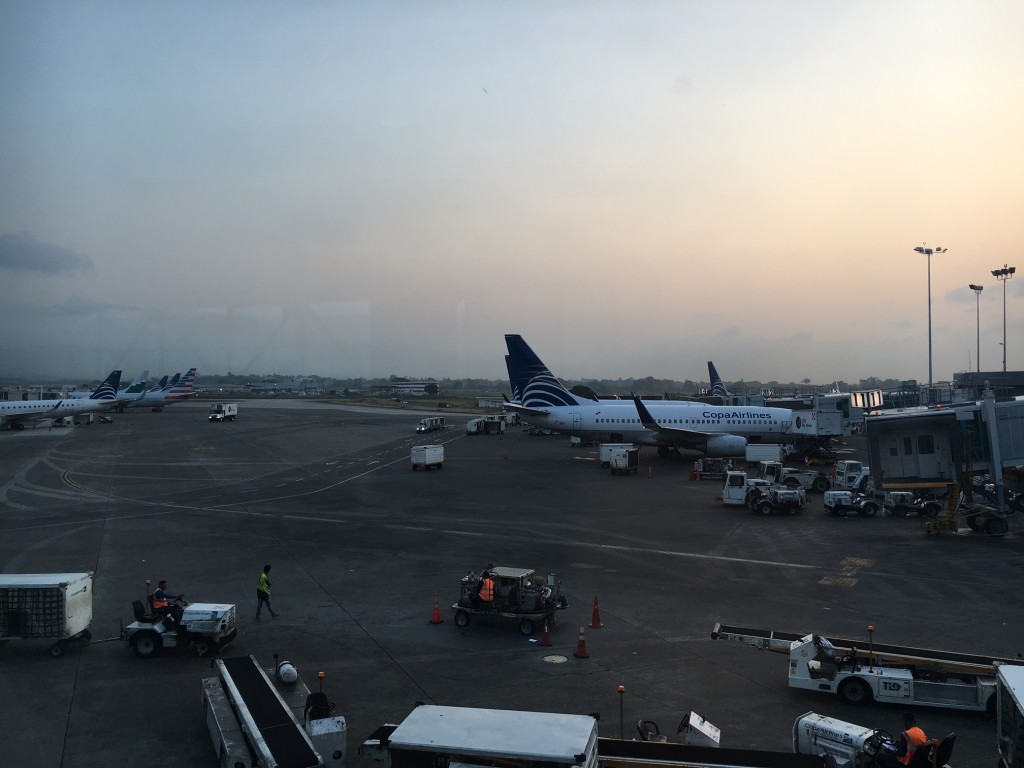 I also realized that I didn't quite know where on the map I was, so a cursory glance at Google maps made me understand that I was the closest to both the Atlantic and the Pacific that I've ever been.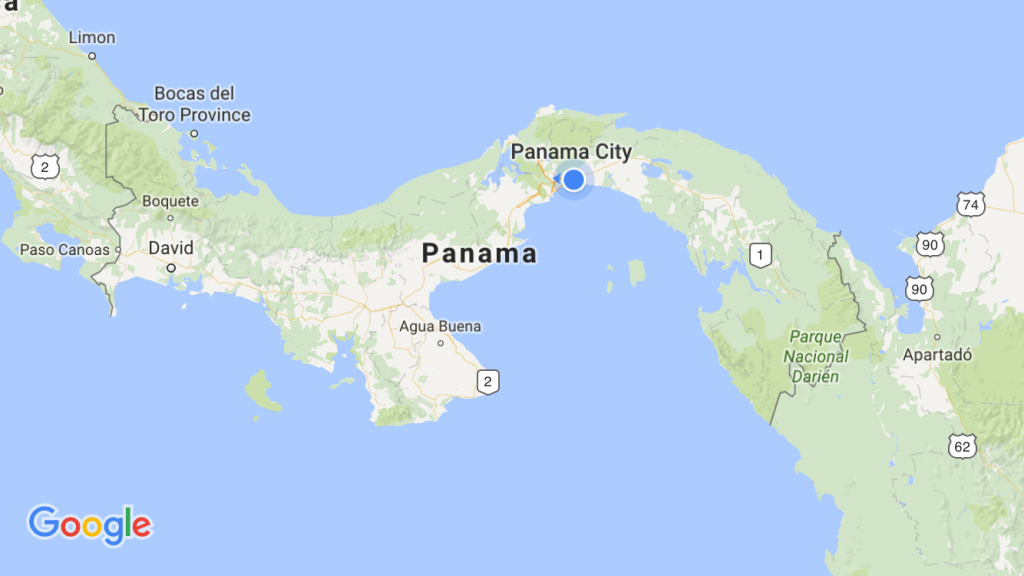 Annoyingly, the signage at PTY is outdated and just piss poor. I had a heck of a time trying to find my gate, which was not marked in the main concourse. This chewed up a bit of time, and I had to book it in order to make the flight. Obviously, as in most non-US airports, you have to go through a separate security check when boarding a US-bound flight, so that took up some time. I was the last person in Business to board, but there were still a few Y passengers trickling in. Our plane was a different 737-800 than the inbound one, which (as I was informed by the wonderful folks at FlyerTalk) was sporting a heritage livery. This one was your plain vanilla AA.
I don't remember a pre-departure drink, perhaps because I was still delirious from the early hour of the morning. The plane pushed back on time and soon we were climbing up to 30,000 feet and towards breakfast, which I was really excited about.
I ordered pancakes, which were delicious and even made the coffee taste OK.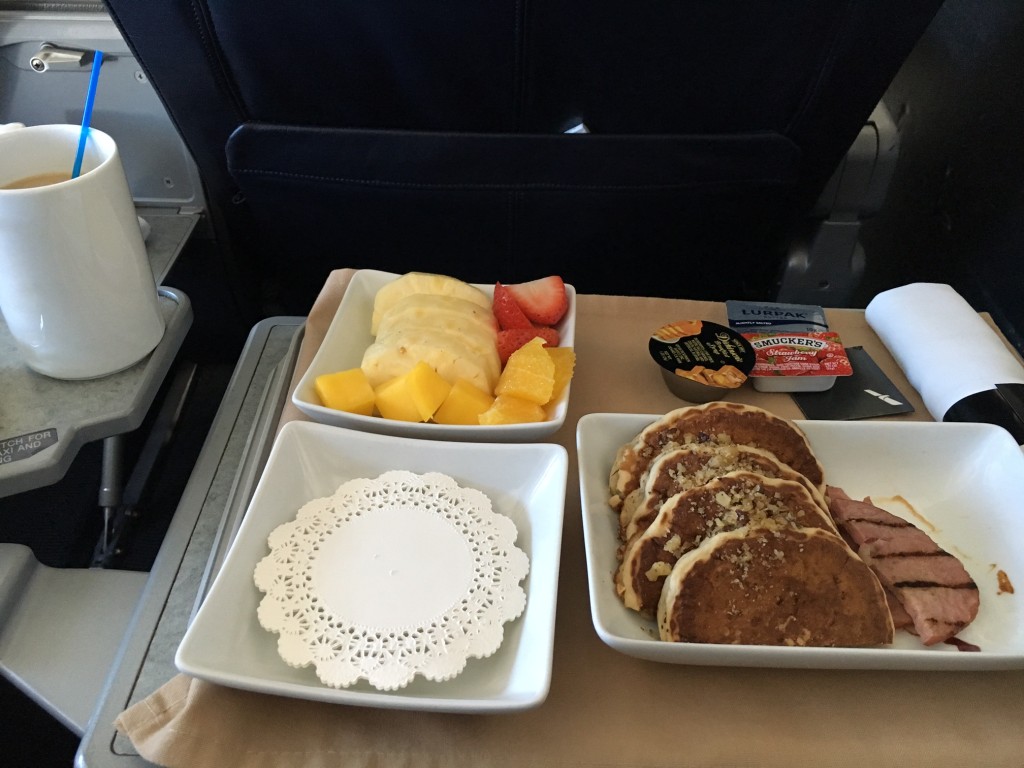 After breakfast, I caught up on sleep a bit, which allowed me to mitigate anger toward the non-existent IFE.
We landed in Miami on time and disembarked promptly. The low clouds hung over the parked airplanes, but otherwise the weather was calm and I knew my journey back to NYC and LA would be a smooth one.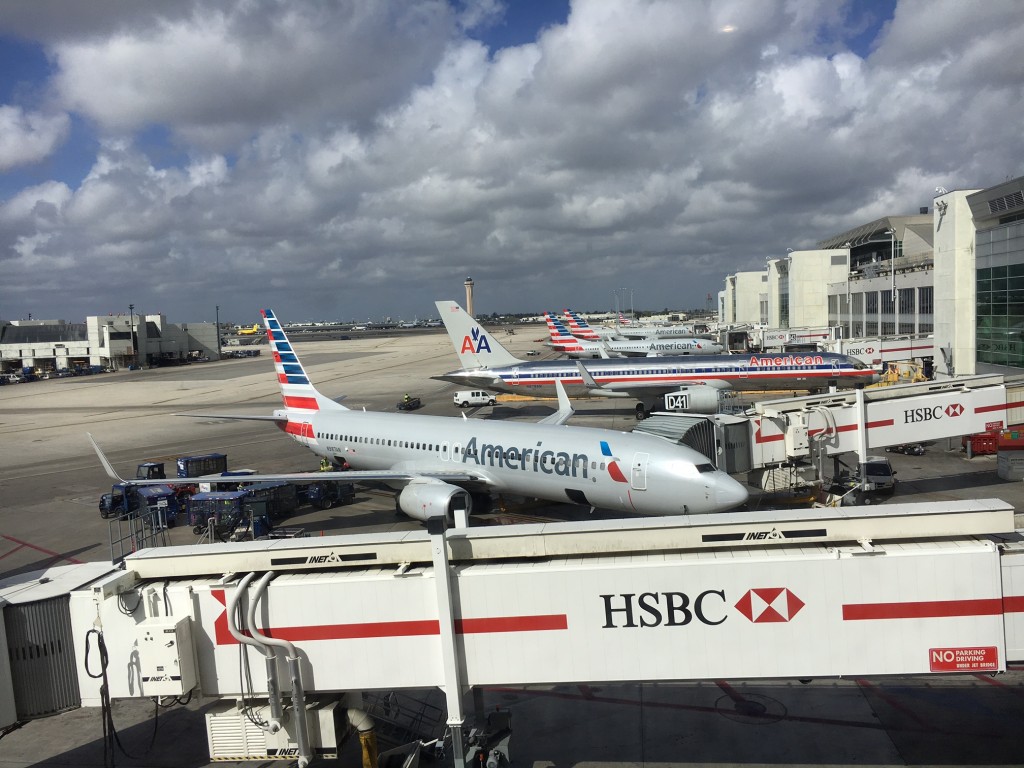 MIA – JFK and JFK – LAX
In an attempt to wrap up this report, I'll condense the writing.
I didn't linger in the Miami Admirals Club for too long and did make the point of taking the train to my gate.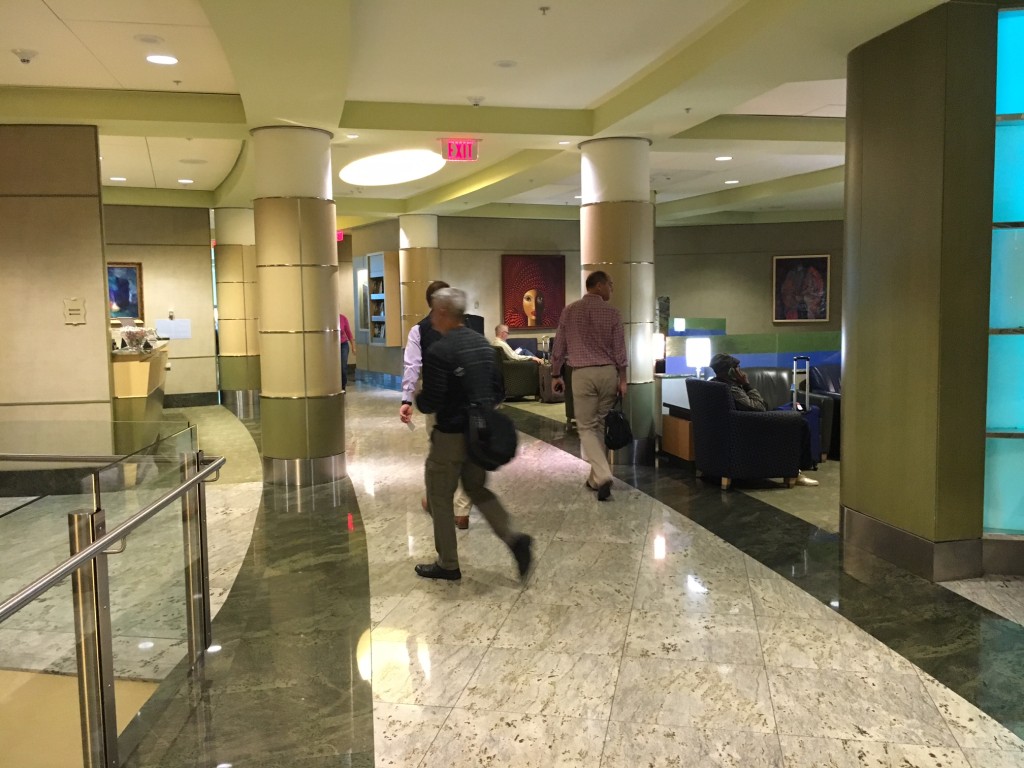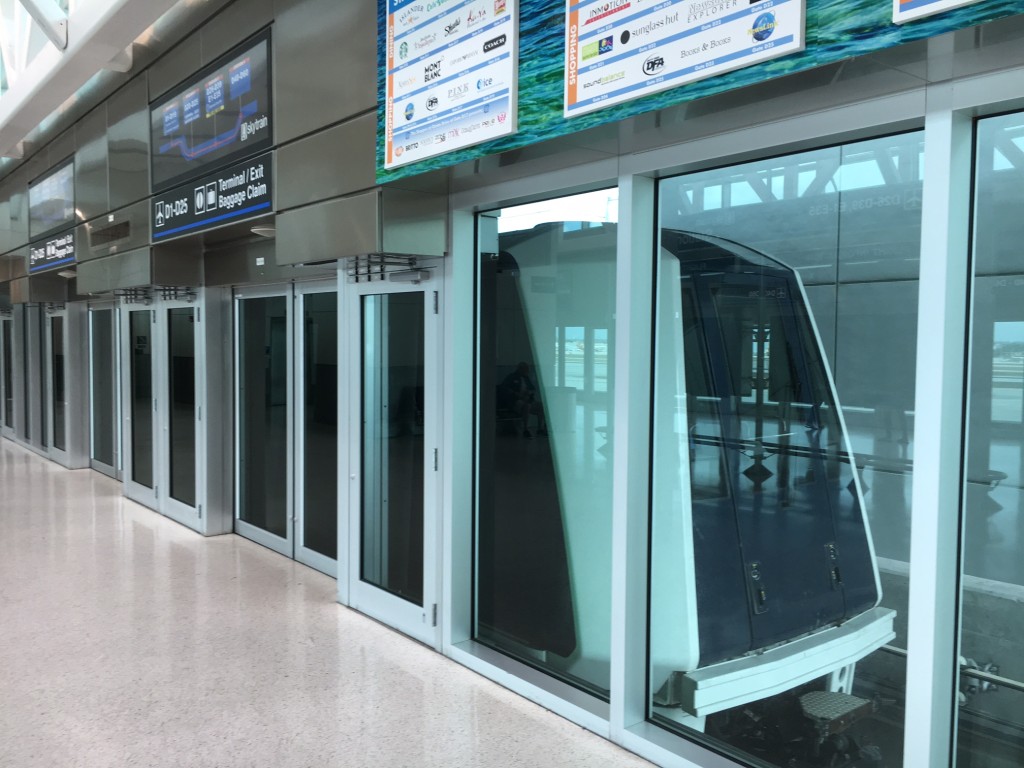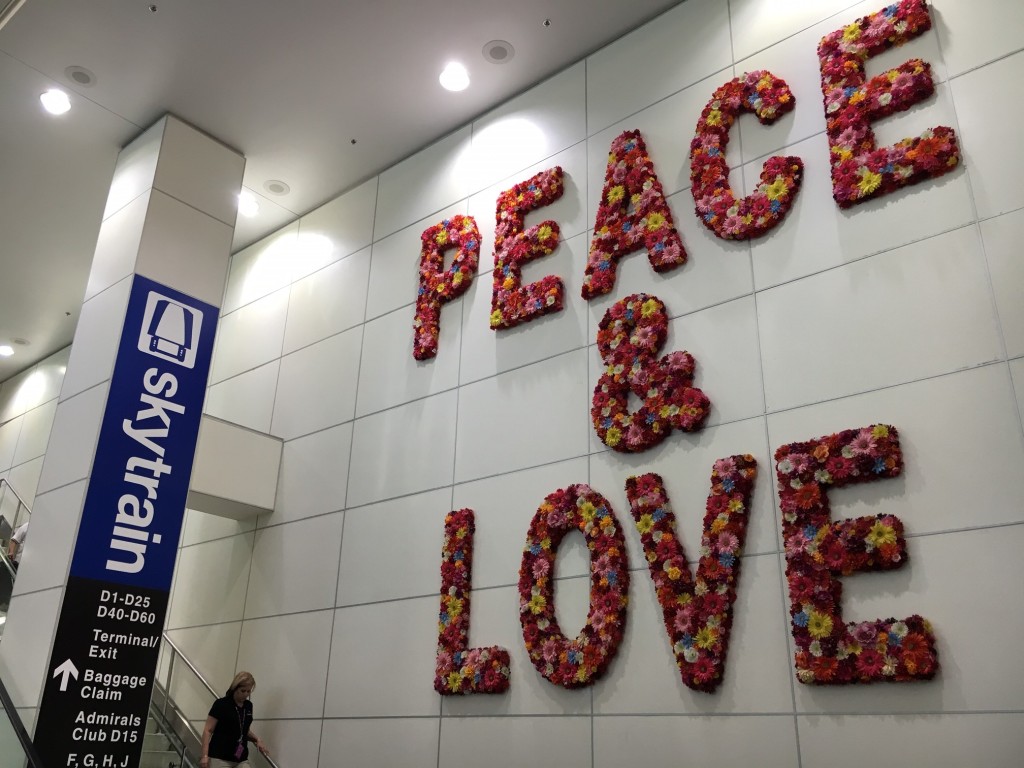 This is also when I got my 2nd tweet from @AmericanAir regarding this MR.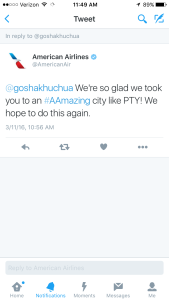 The flight from Miami to JFK was on a Boeing 767-300 that was continuing onward to Zurich. I had the front-row seat (2J) in Business, which featured a fully lie-flat seat and ample private space, with no neighbors.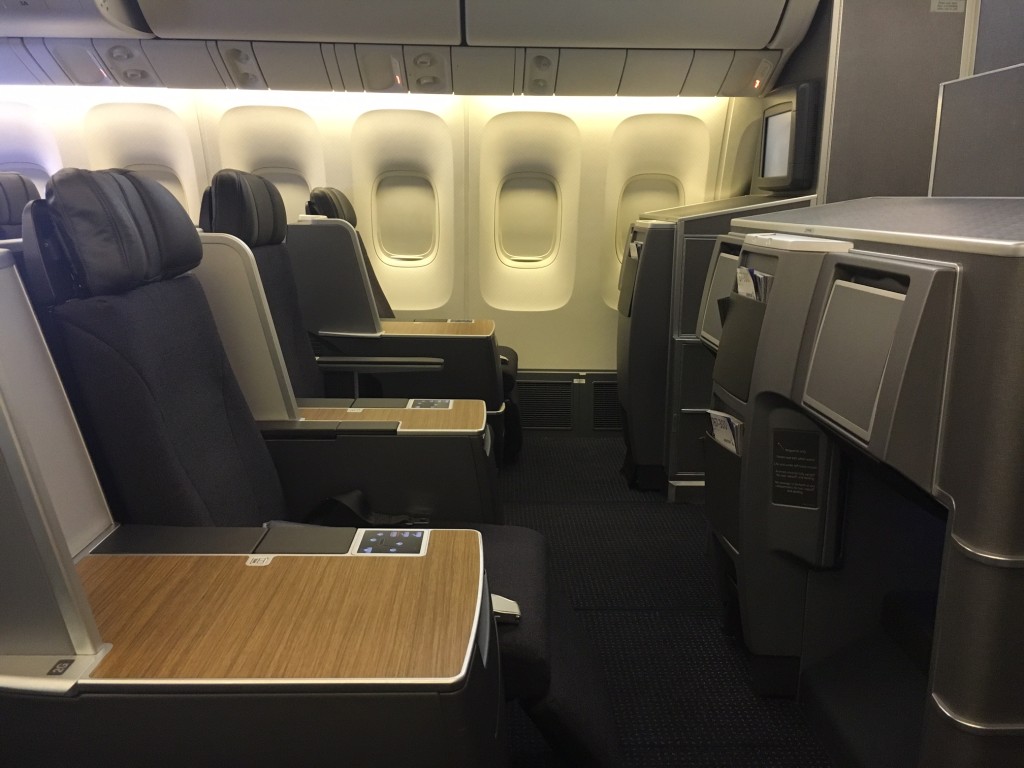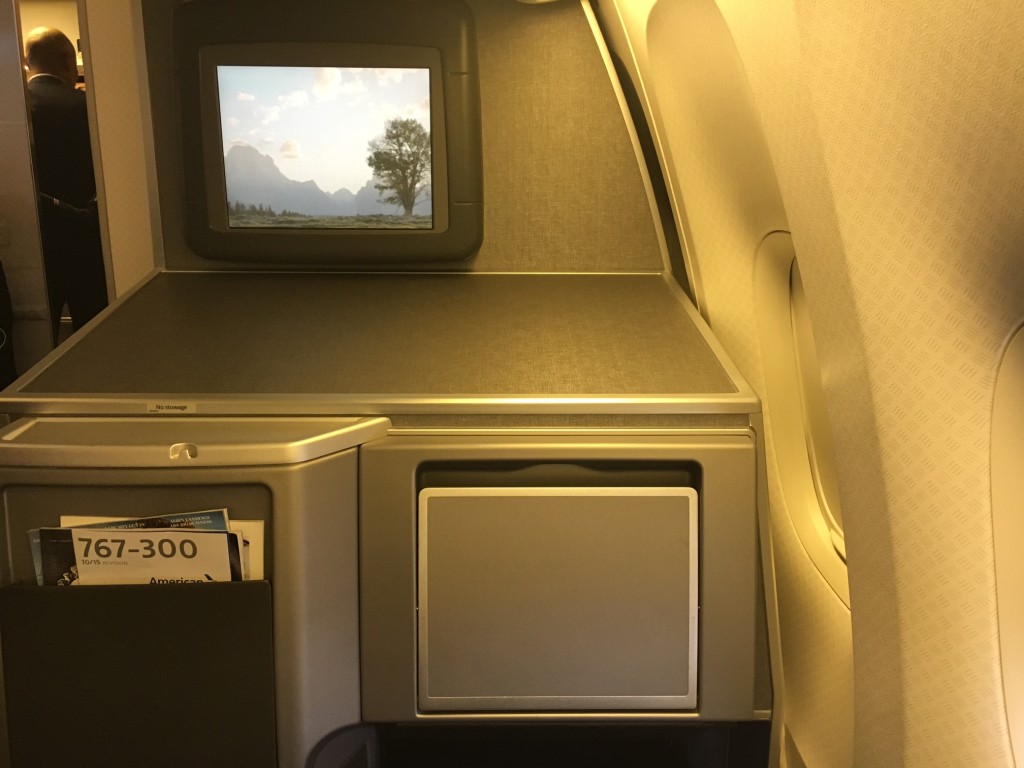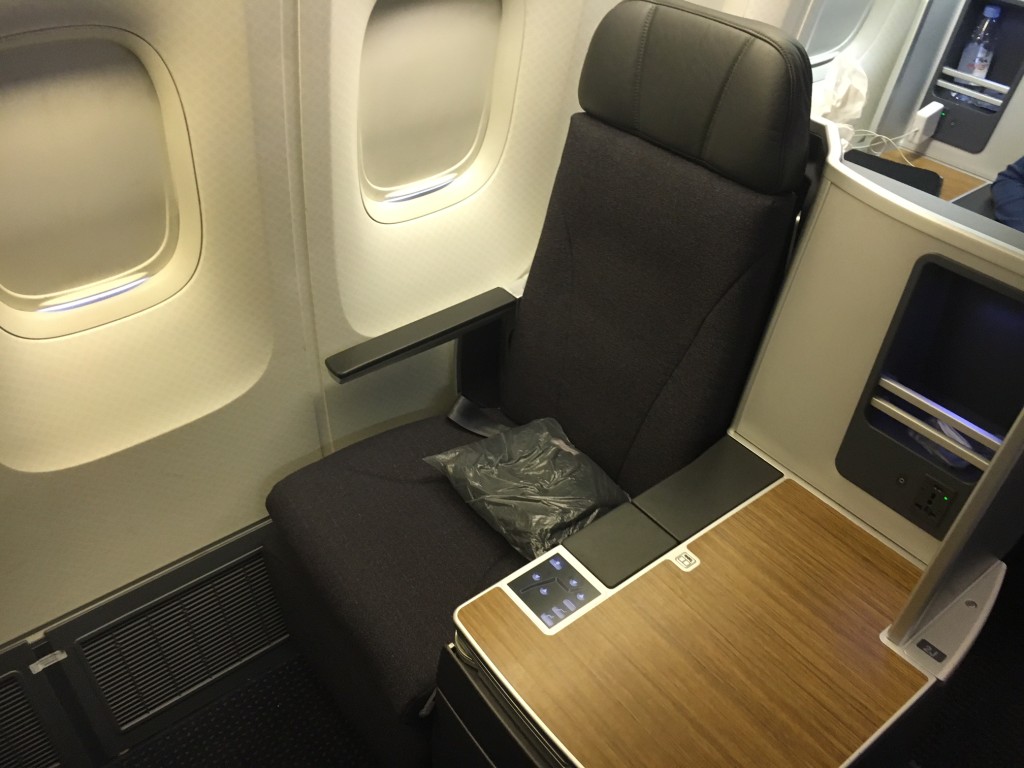 Amazingly, this bird does not have AVOD, however I heard that tablets are passed out on the TATL flights, so American solves this issue. Given that I had zero entertainment (aside from the 1970s-style swing out table), I waited for the meal and then went to sleep.
The flight to LAX from JFK was the highlight of my trip!
After boarding the plane, I noticed that the FAs in the J cabin were very friendly and I decided to see if I could cross off a bucket list item. Though I was quite nervous, I thought that being in J gave me a better chance of putting in the request with a relatively relaxed FA to see if I could make the trip to the flight deck.
I was sure I wasn't the first to ask and was surprised by the FA's surprise to my request.
"Why do you want to visit the flight deck?" she asked me, somewhat alarmed. This wasn't going well already!
Taking a deep breath, I tried to explain that I knew this is a request that is normal and that I've heard that pilots are more than happy to have visitors to the deck. I also felt like I needed to tell her that I only wanted to do it on the ground, and that I was not insisting.
She definitely gave me a head to toe look, to make sure I wasn't suspicious in any way, and then told me to wait. A few minutes later she returned, saying that I could go now and that Captain Peter would be waiting for me!!
As I made my way through the F cabin, I saw the Captain waving at me enthusiastically, motioning to come through. As I did, he vigorously shook my hand and right away told me to get into the left seat.
My heart was racing. This was unreal!
As I climbed into the prime seat on this A321T, I almost knocked the controls above, and the pilot rushed to put his hand between my chrome dome and the various buttons.
He introduced me to his first officer and told me to fish out my phone for pictures, while telling me to put my hand on the thrust controls. As he snapped a few pictures, both pilots asked me if I was starting or ending my journey and I told them that I was on the tail-end of a crazy trip.
They were surprised and asked why I went to PTY for only a few hours. I felt myself blush, but told them that it was for status. Together, in unison, the two pilots screamed out, with total glee "HE IS ON A MILEAGE RUN!" and had a great long laugh. As I left, they both high fived me and as I walked through F, back to my seat in J, I could hear Captain Peter yelling "That's awesome – you're on a mileage run!"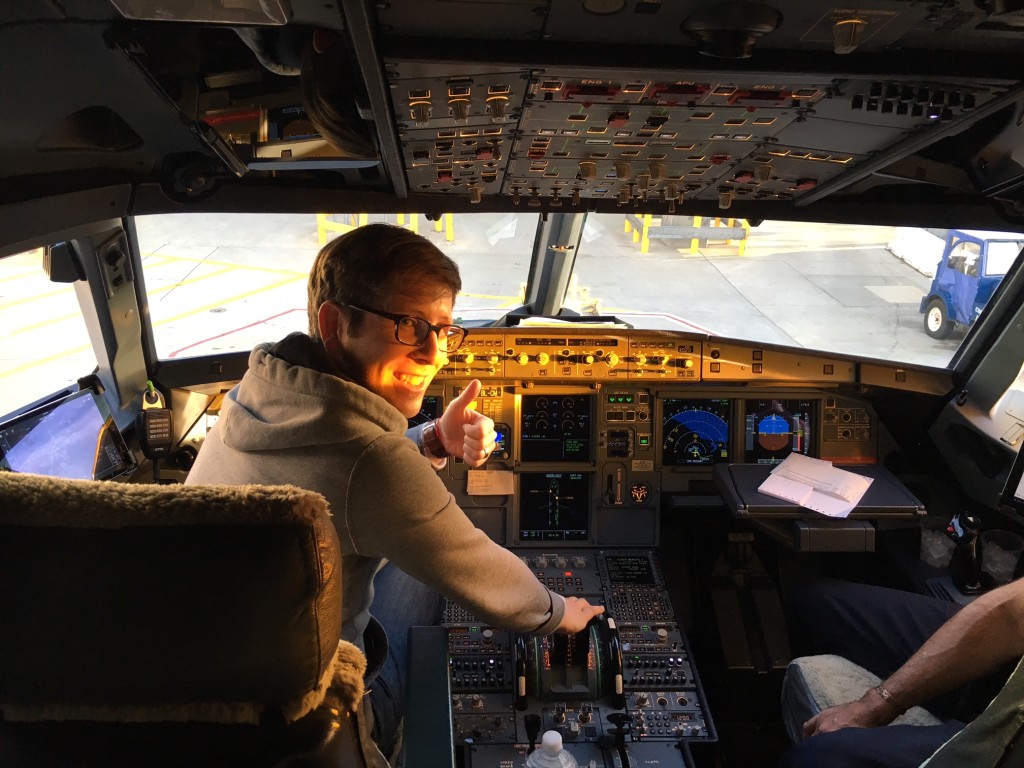 I was beyond thrilled, both by the experience but also by the total friendliness of the two pilots. I know that I will not forget this experience and it, above all else, has left the most positive of images of my first MR on American Airlines.
I fired off a tweet to this effect, and promptly heard back from @AmericanAir, which made me feel like I had someone from their social media team flying shot gun with me the whole time.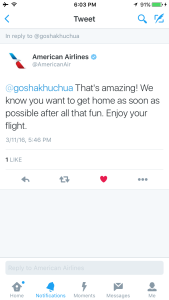 Our plane took off into the New York sunset, making the return flight to Los Angeles a truly wonderful end to the whole trip.