Why do we still tip?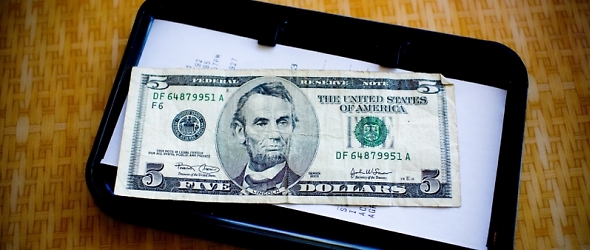 *warning: this is a bit of a rambling blog and I don't intend to have a definitive answer to the problem I discuss.
Tipping in America has reached a weird level. Perhaps, when you know no other setup, it seems normal to tip regardless of the level of service or to start tipping for things that weren't normally meant to be tipped for (like hailing an Uber). From time to time, mainstream news publications rally behind a service industry worker who was apparently slighted by a jerk-off customer. The most recent example – the "LOL" tip – is gathering the scorn of the Twitteratti.
Obviously, the big difference in the tipping culture between the U.S. and the rest of the world is that here, waiters and waitresses do not make a minimum wage salary. Instead, the majority of their income is derived from tips. It is strange, though, that for as much noise and complaining that this setup seems to create, that nothing has been done in decades to change this. At the end of the day, what difference do I, the customer, experience, if I pay a tip or the salary is baked into my final bill?
It stands to reason that the upside of being tipped more than 15% is much more attractive and commonplace than the occasional downside of receiving a LOL. The inherent risk of a small tip is definitely there and puts more of an onus on the wait staff to do a good job, however it should not come as totally unexpected that sometimes you will fail at delivering a good service and your tip might be reduced or zeroed out.
Tips are meant to reward good service, really. Giving someone something on top of the bill is meant as a recognition of a job well done, of going above and beyond, and of knowing that even a small amount of money will make a difference. But in the States, this is not how we behave. Instead, sub-mediocre service is, somehow, still entitled to at least a 15% tip. And that number has been creeping up. Now you routinely see automated tipping options of 18 and even 20% as the lowest amount. This culture of tipping, and tipping more, is weirdly bemusing and infuriating. No longer can you reward good service with a tip of 20% – a fifth of the total bill. You now have to strive for 25 or 30% in order to show gratitude, and that is a lot of money.
There is also an accepted practice of tipping in advance to buy good service (mostly at bars and clubs), which is really akin to bribing. It basically asks for service that you should expect to receive normally, but your extra $20 up front ensures that you get to skip an invisible line and to feel special. And this is not a substitute for tipping in the end either.
Why are we so addicted to tipping and why do we constantly try to find new ways to tip? Is it because of the growing schism in our society? Is it because so many of us have gone through the service industry ourselves on the way to starting our careers elsewhere? We seem to be painfully aware of how little the food and beverage industry pays and we try to compensate on individual basis by tipping and over-tipping. Does it make us feel good about ourselves?
In Europe, where restaurant and bar staff are paid a living wage, tipping is in place to reward truly good service. By my observation, the service levels on average are worse there than they are in the US, but not to the point where it's worth paying 20-30% of the bill to improve. It makes it very easy to decide how to tip: if the service exceeded your expectations, you tip. If it exceeded your expectations by a lot, you tip more. But you don't have to face the moral quandary of feeling like you need to tip even when the staff or the restaurant didn't meet the basic expectations.
Maybe a better way to handle issues is to ask the manager to come over and complain to them that you had a crappy experience and to seek the reduction of the overall bill. In this case, the customer needs to separate the server and the restaurant as two different entities who provide two very different and unrelated services. If the food was great, but the service so-so, then the waiter gets a small tip (or not one at all). But if the waiter tried his or her best to manage your expectations while the kitchen struggled to get your order right, you as a customer should seek a reduced bill while leaving the server's tip intact.
Usually, as has been my experience, the two services are tightly interlinked and when one fails, the other does too. It becomes easy for the customer to exact revenge through a small tip, but it doesn't spread the punishment around equally. Again, this is the flaw in the U.S.-style tipping system that, more often than not, provides a greater upside to the workers than a salaried structure would.